Southern Faux Fish and Chips
Cookbook
Published by Page Street Publishing Co.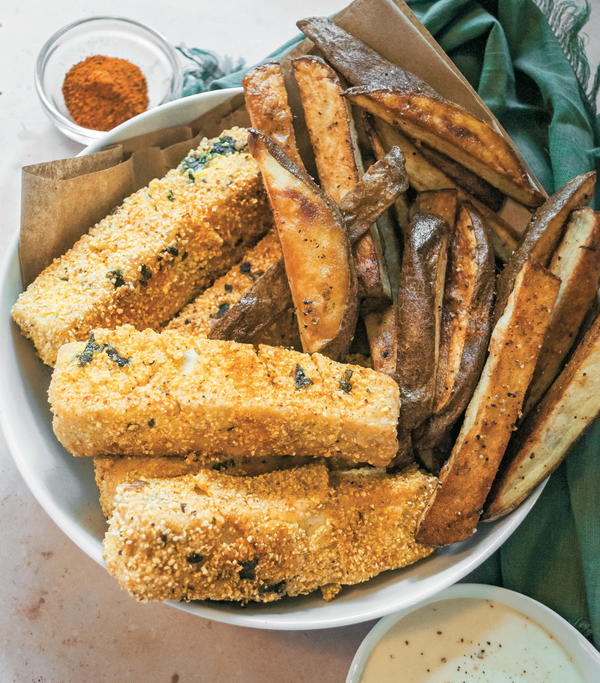 Southern Faux Fish and Chips
My family spent many a summer in Kentucky when I was a kid. There, we would attend at least one good fish fry. Hushpuppies and cornmeal-crusted catfish were abundant. Marinate, score with a knife, crust and fry some tofu and you have an amazing representation of what you can experience at a good old-fashioned fish fry.
Serves3
Ingredients
Southern Faux Fish
1 (16-ounce) [480 g] block extra-firm or super-firm tofu, pressed (see page 37)
1 cup (240 ml) almond milk
2 teaspoons (10 ml) fresh lemon juice
Pinch of salt, plus more as needed
Pinch of black pepper
Pinch of cayenne pepper
1 1/2 cup (255 g) cornmeal
1/2 cup (60 g) all-purpose flour
1 teaspoon Old Bay Seasoning, plus more as needed
2 teaspoons (6 g) kelp powder (see Hot Tips on page 46)
Vegetable oil, as needed
Chips
4 large russet potatoes
2 tablespoons (30 ml) olive oil
1 teaspoon salt
1/4 teaspoon black pepper
White Barbecue Sauce
1 cup (220 g) vegan mayo
2 tablespoons (30 ml) apple cider vinegar
2 tablespoons (30 ml) water
1 teaspoon prepared vegan horseradish
1 teaspoon Dijon mustard
1 teaspoon agave syrup
1/2 teaspoon salt
1/2 teaspoon black pepper
1 teaspoon garlic powder
Instructions
Slice the tofu twice down the middle lengthwise to make 3 large pieces. Slices those 3 pieces widthwise to create 6 rectangles.

In a large bowl, whisk together the milk, lemon juice, salt, black pepper and cayenne pepper.

Add the tofu to the bowl, pressing the tofu down into the milk mixture. Let the tofu marinate while you make the chips. Toss the tofu frequently to make sure it is marinating evenly.

To make the chips, preheat the oven to 450°F (232°C).

Wash the potatoes and cut them into small wedges. Arrange the potatoes in a single layer on a medium baking sheet. Drizzle the potatoes with the olive oil and sprinkle them with the salt and black pepper. Toss to coat.

Bake the potatoes for 15 minutes, flip them and bake for another 10 minutes, or until the potatoes are all golden brown.

Once the tofu has been marinating for at least 20 minutes, combine the cornmeal, flour, Old Bay Seasoning and kelp powder in a large zip-top bag. Shake to mix the ingredients together.

In a large skillet over high heat, bring 1 inch (2.5 cm) of the vegetable oil to 350°F (177°C).

Remove a piece of tofu from the marinade, making sure it is wet all over. Score the top of the tofu with a knife in a crosshatch pattern. Be sure to make very shallow scores; if you stick the knife in too deep, the tofu will fall apart.

Add the scored tofu to the cornmeal mixture, seal the bag and toss it to fully coat the tofu. Place the coated tofu on a plate. Repeat this process with the remainder of the tofu.

Add 2 or 3 pieces of tofu to the oil and fry them on each side for 2 to 3 minutes, or until the tofu is golden brown and crispy.

Transfer the fried tofu pieces to a paper towel and sprinkle them with more salt and Old Bay Seasoning. Repeat this process with the remainder of the crusted tofu.

To make the white barbecue sauce, whisk together the mayo, vinegar, water, horseradish, mustard, agave syrup, salt, black pepper and garlic powder in a small bowl. Taste and adjust the seasonings.

Serve the faux fish and chips with the white barbecue sauce on the side.
Hot Tips:
If you have a hard time finding kelp powder, you can use about 1⁄4 cup (60 g) of finely chopped nori sheets.

If you would prefer to oven-fry the tofu, preheat the oven to 450°F (232°C). Spray a medium baking sheet with nonstick cooking spray. Place the tofu on the prepared baking sheet and spray the tofu with nonstick cooking spray. Bake the tofu for 15 minutes, flip it and bake another 10 to 15 minutes, until the tofu is brown and crunchy.
YOUR RECENTLY VIEWED RECIPES
Free recipes, giveaways, exclusive partner offers, and more straight to your inbox!