Brown Butter Sweet Potato Gnocchi with Sage, Spinach, and Hazelnuts
Cookbook
Published by Page Street Publishing Co.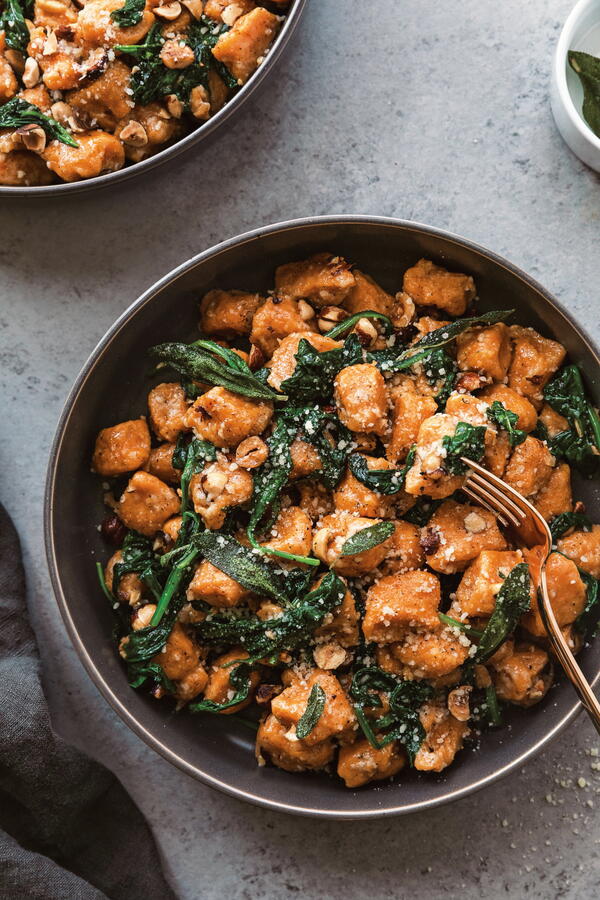 Brown Butter Sweet Potato Gnocchi
Making gnocchi at home is the easiest thing ever, and homemade is so much better than store-bought. The toasted hazelnuts with the brown butter, savory fried sage, and slightly spiced sweet potato gnocchi is pure perfection. And don't worry—I added some spinach so you get your greens. This dish is comfort food that's actually pretty good for you!
Serves2
Ingredients
2 medium sweet potatoes
2 cups - 2 1/2 cups (250 to 313 g) all-purpose flour
1 teaspoon salt, plus more as needed
1/4 teaspoon ground cinnamon
1/4 teaspoon ground nutmeg
2/3 cup (82 g) whole-milk ricotta cheese
1 large egg, whisked
5 tablespoons (75 g) unsalted butter
10 to 12 fresh sage leaves
4 cups (120 g) baby spinach
1/2 cup (90 g) grated Parmesan cheese, plus more as needed
1/3 cup (57 g) unsalted, dry-roasted hazelnuts, coarsely chopped
Black pepper, as needed
Instructions
Preheat the oven to 400°F (204°C). Line a small baking sheet with foil. Pierce the sweet potatoes with a fork several times and place them on the prepared baking sheet. Bake for about 1 hour, or until the potatoes are soft and tender. Slice the potatoes in half and let them cool, then mash the flesh and discard the skins.

In a large bowl, whisk together the flour, salt, cinnamon, and nutmeg. Add the mashed sweet potatoes, ricotta cheese, and egg and mix until a dough forms. You may need to use your hands for this step.

Transfer the dough to a generously floured work surface and cut it into 4 equal pieces. Roll each piece of dough into a long rope, about 3⁄4 to 1 inch (1.9 to 2.5 cm) thick, and cut each rope into bite-size pieces. Set the gnocchi aside.

Bring a large pot of water to a boil over high heat.

Melt the butter in a medium pot over medium heat. Once the butter begins to bubble, 1 to 2 minutes, add the sage leaves and fry for 30 seconds to 1 minute, or until crispy, lowering the heat if the butter starts to get too brown. If the butter hasn't developed brown bits after frying the sage, continue to whisk constantly until the butter develops a nutty aroma and brown bits on the bottom, 1 to 2 minutes. Remove the pot from the heat. Pour all of the brown butter into a small bowl except for 1 tablespoon (15 ml).
Reprinted with permission from Eat More Plants by Molly Krebs, Page Street Publishing Co. 2019.
YOUR RECENTLY VIEWED RECIPES
Free recipes, giveaways, exclusive partner offers, and more straight to your inbox!