Blistered Tomato Galette
This delicious heirloom tomato galette is perfect for lunch, brunch, or dinner.
Cookbook
Published by Page Street Publishing Co.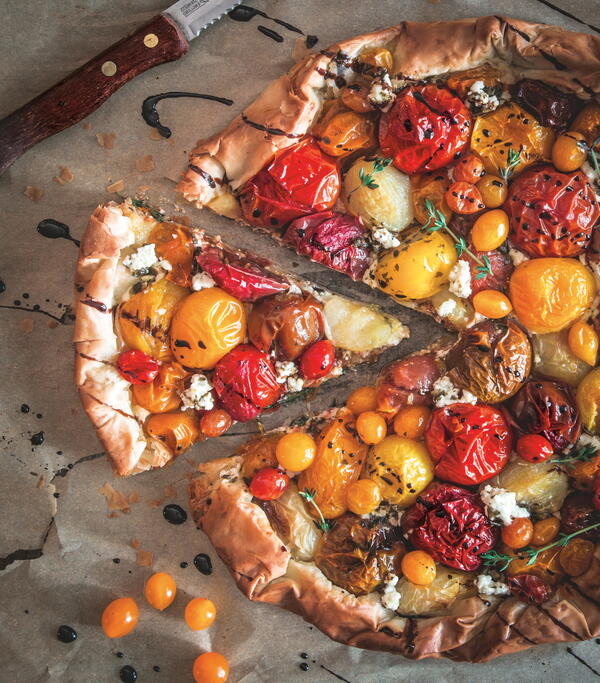 Blistered Tomato Galette
Editor's Note: This delicious heirloom tomato galette is bursting with summer flavor and complemented by a crisp, buttery phyllo dough shell. If you've never made a tomato galette before, this recipe is the perfect one to try. The sweet-and-savory flavors of blistered tomatoes pair perfectly with homemade pesto and ricotta cheese for a brunch or lunch recipe you will make again and again.

This galette is a true natural beauty, featuring a gorgeous bounty of tomatoes in all shapes, sizes and colors, and lemony ricotta and basil pesto nestled in a buttery, ruffled phyllo border. Include as many tomato colors and shapes as you can find but don't spend too much time fussing. This galette already has what it takes to stand out from the crowd.

Featured Decoration: Ruffled Phyllo
Makes1 9-inch (23-cm) freeform galette
Preparation Time1 hr 15 min
Ingredients
1/3 cup + 1/4 cup (79 g) pine nuts, divided
2 cups (50 g) packed fresh basil leaves
1/2 cup (40 g) freshly grated Parmesan cheese
1 tablespoon (15 ml) lemon juice
1 clove garlic, chopped
1/2 teaspoon kosher salt
1/2 cup + 2 tbsp (150 ml) extra-virgin olive oil, divided
2 cups (300 g) cherry tomatoes, various sizes, shapes and colors (such as an heirloom mix)
Kosher salt and pepper, to taste
8 fresh phyllo pastry sheets, or frozen and thawed, at least 16 x 14 inches (41 x 36 cm)
1/4 cup (60 g) unsalted butter, melted
1 cup (250 g) ricotta cheese, drained of excess moisture
1 teaspoon thyme, chopped
Instructions
Make the Basil Pesto
In a small skillet, toast 1⁄3 cup (45 g) of the pine nuts over medium-low heat for 2 to 3 minutes, shaking the pan regularly, until the pine nuts are evenly browned. Remove the skillet from the heat and transfer the pine nuts to the bowl of a food processor.

Add the basil leaves, Parmesan cheese, lemon juice, garlic and salt to the food processor bowl. Pulse the ingredients three to four times to roughly combine. With the food processor running, slowly drizzle 1⁄2 cup (120 ml) of the olive oil through the tube into the mixture. Continue processing until the pesto is well blended but still has some texture, approximately 1 to 2 minutes, scraping down the bowl as necessary.
Blister the Tomatoes
Using a sharp knife or skewer, poke a hole in the top or side of each tomato. In a heavy skillet over a medium-high heat, warm 2 tablespoons (30 ml) of the olive oil until it starts to shimmer. Turn the heat down to medium. Add the tomatoes and give the skillet a shake to coat them in oil. Cook them, undisturbed, for 1 to 2 minutes, or until they start to blister and begin to break down. Shake the pan again and continue cooking until all sides are blistered, an additional 2 to 3 minutes. Remove the tomatoes from the heat and add salt and pepper to taste.
Assemble the Galette
Adjust the oven rack to the middle position. Preheat the oven to 400°F (205°C). Trim the phyllo sheets to 14 x 14 inches (36 x 36 cm). Line a baking sheet with parchment paper. Place one sheet of phyllo on the parchment paper, covering the rest with plastic wrap or wax paper and then a damp towel to prevent the phyllo from drying out as you work.

Using a pastry brush, brush the phyllo sheet with the melted butter. Turn the baking sheet clockwise a one-eighth turn. Place another sheet of phyllo, straight up and down, over the first buttered sheet and brush the second sheet with butter. Continue this process for the remaining sheets of phyllo, rotating a one-eighth turn and brushing the sheet with butter each time.

Spoon the ricotta into the center of the phyllo sheet base and spread thickly to form a 10-inch (25-cm) circle. Drizzle 1⁄3 cup (82 g) of the pesto over the ricotta, reserving any extra for another use.

Decoratively nestle the tomatoes on top of the ricotta and pesto mixture, paying attention to balancing the colors and sizes of tomatoes.

Lift one edge of the phyllo border and fold it inward, squeezing the phyllo gently in your hand to create a ruffled border around the ricotta and pesto. Continue working your way around the galette until the tomatoes and filling are completely surrounded by the phyllo. Sprinkle the chopped thyme and the remaining 1⁄4 cup (34 g) of pine nuts over the tomatoes.

Brush the border gently with any remaining melted butter. Place the galette in the oven and bake for 25 to 30 minutes, or until the tomatoes have blistered and the phyllo is a deep golden brown.

Allow the galette to cool for 10 minutes before serving.
To Make Ahead or Store
The galette is best served within 3 hours of baking (it tends to get a bit soggy after that). You can rewarm and crisp up the galette by placing it on a baking sheet in a preheated 350°F (175°C) oven for 10 minutes.
Reprinted with permission from Pie Style by Helen Nugent, Page Street Publishing Co. 2020.
YOUR RECENTLY VIEWED RECIPES
Free recipes, giveaways, exclusive partner offers, and more straight to your inbox!