6 Tips for Storing Leftover Thanksgiving Turkey
Don't let leftover turkey go to waste! Follow the tips below to make the most of what you have left.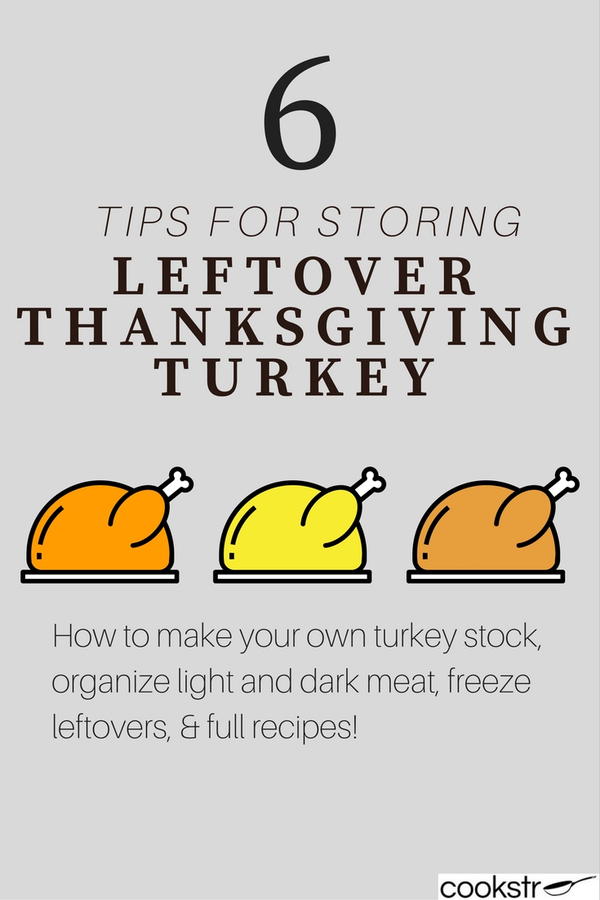 Storing Leftover Thanksgiving Turkey
Thanksgiving dinner is a lot of work and it can be tempting to take shortcuts after the meal when it comes to cleaning and leftovers. Nobody really wants to cook after a long day in the kitchen. Turkey can be expensive though and when done right leftover turkey can be just as tasty as the original meal. In order to help you decide what to do with all those yummy leftovers, we have compiled this short list of turkey storing tips for your post-Thanksgiving clean-up. 

Once Thanksgiving dinner is served and everyone's bellies are full, you will inevitably have a ton of leftover turkey to contend with after the festivities. Don't let it go to waste! There are plenty of ways to store leftover turkey and reuse it for days to come. Try the following tips below:
Leftover turkey meat lasts for about 4 days.
This information is important to keep in mind as you follow the instructions below. When deciding how much to freeze and how much to stick in the fridge, seriously consider how much turkey your family will eat over the next week or so. Chances are after day 2 or 3 the kids will start complaining and you may be sick of it, too!
 
Divide and conquer by separating light and dark meat. 
Since people tend to have a preference for white and dark meat, be sure to divide these into two separate containers when placing them in the fridge. This makes it easier for late-night munchers and next-day meals to go smoothly.
 
Be sure to carve the remaining turkey before storing it,
 Chances are that you do not have room for a whole turkey in the fridge with the other leftovers. Carve turkey before you store it.
 
Make sure to freeze some of your leftovers.
Depending on how much you have leftover, it is always a good idea to freeze some of your leftovers. Leftover turkey is only good for so long and chances are you will be sick of turkey by day four. Save some for later!
 
Plan tomorrow's lunch or dinner around leftover turkey.
Most families have a leftover turkey recipe tradition that they eat the next day. Instead of storing ALL your leftovers, set aside exactly how much you will need for your leftover turkey treat. This makes it easier to decide what to do with the rest.
 
Consider making broth with the bones, 
If you have some veggies leftover, it is actually pretty easy to make your own turkey stock! Boil up some stock to stick in the fridge and freeze while you do the dishes or let it simmer in the slow cooker overnight.
Leftover Thanksgiving Turkey Recipes
Most families have a traditional day-after-Thanksgiving turkey recipe they make every single year. Soups and sandwiches are always popular choices! If you're looking to start your own tradition or just want to try something new this year, consider trying out the leftover turkey recipes below!
YOUR RECENTLY VIEWED RECIPES
Free recipes, giveaways, exclusive partner offers, and more straight to your inbox!