Soft Pretzels
Cookbook
Published by Ten Speed Press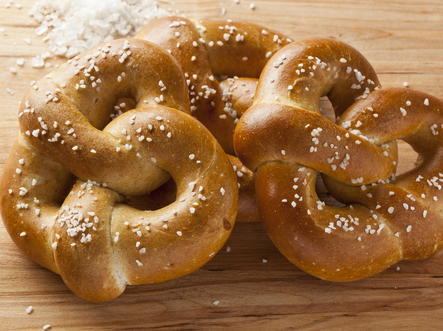 This image courtesy of Shutterstock
Editor's Note: If you thought you could only eat Soft Pretzels in a stadium while watching your favorite team play, then this recipe is for you! This recipe results in pretzels that are warm, tasty, and can be dunked in your favorite dip for a quick snack. You'll want to make these pretzels as appetizers for the next watch party at your house — your family and friends will be suitably impressed with your skills! If you want to expand your culinary skills, then this is a recipe you need to include in your repertoire.

While I love a crunchy rod or stick as much as the next gal, soft pretzels are the go-to carb-and-salt snack to make at home—because few things on this earth taste this good. And while they are at their best fresh, they are still delightful the next day—just rub them with a bit of water and re-bake for a few minutes. The most difficult part of this recipe will be waiting to devour them until they are really and truly cool; the flavor and crust just don't develop until they have rested for a full 30 minutes.

Eat without mustard at your own risk. Oh, and feel free to track down fancy pretzel salt if you wish. Straight-up kosher salt works fine for me.
Makes12 pretzels
Recipe CourseSide Dish, Snack
Taste and TextureChewy, Salty, Sweet
Type of DishBread, Yeast Bread
Ingredients
6 cups (1 pound, 13 ounces) all-purpose flour, plus more as needed
1 packet (2½ teaspoons) active dry yeast
2 tablespoons sugar
1 tablespoon kosher salt, plus more for sprinkling
2 tablespoons vegetable oil
8 cups water
½ cup baking soda
1 egg
Instructions
In a food processor fitted with the dough blade (or a stand mixer fitted with the dough hook), whirl together the flour, yeast, sugar, and salt. With the motor running (at low speed for a stand mixer), drizzle in the oil, then 2 cups of the water. The dough will come together and grab onto the dough hook.

Dust a countertop with flour and knead the dough, pushing it in from the sides and then over from the bottom, for 7 to 10 minutes. It will become less sticky, more cohesive, and slightly shiny; and it will have the texture of an earlobe to the touch. (If it doesn't, add more flour, 1 tablespoon at a time.)

Lightly oil a large bowl and dampen a clean kitchen towel. Heat a cup of water in the microwave and remove it. Roll the dough into a ball, transfer to the oiled bowl, and cover the bowl with the moist towel. Move the bowl into the microwave and let it sit for 1 hour.

Transfer the dough to a countertop lightly dusted with more flour. Stick your finger directly into the center to make a small hole. Use your fingers to widen the hole and work the dough, hand over hand as if you're pulling on a rope, into a large O-shape about 2 inches thick.

Cut the dough into a long rope and then into 12 equal pieces. Working with 1 dough piece at a time, roll into a 22-inch-long rope and fold into a pretzel shape: first, make a tall, skinny U shape, then cross the ends down and across each other to the opposite sides of the U. Pinch the pretzel to hold its shape. Form the other pretzels and let them rest for 20 minutes.

Preheat the oven to 425 degrees F. Line 2 baking sheets with parchment paper.

Bring the remaining 6 cups of water and the baking soda to a rapid boil in a wide-mouthed Dutch oven or other large pot.

Boil the pretzels, one at a time, for 30 seconds each. Don't skip this step: it's what sets a pretzel apart from a doughy roll. Remove the pretzels from the water with a slotted spoon and hold them over the pot to drain well, then place them on the lined baking sheets. Beat the egg with 1 teaspoon of water. Brush the pretzels with this egg wash and sprinkle with salt to taste.

Bake both sheets of pretzels for 15 to 18 minutes, rotating the baking sheets and swapping their places in the oven halfway through. When they're done, the pretzels will be golden brown. Transfer to a cooling rack and allow them to cool for a full 30 minutes-really: this sets their texture.

The pretzels are ready to eat immediately; and they are best eaten within a day. Alternatively; they can be frozen in a zip-top bag for up to 3 months.
2011 Karen Solomon
YOUR RECENTLY VIEWED RECIPES
Free recipes, giveaways, exclusive partner offers, and more straight to your inbox!