Garlic-Scented Crinkle Potato Chips with Homemade Spicy Ketchup
Cookbook
Published by Clarkson Potter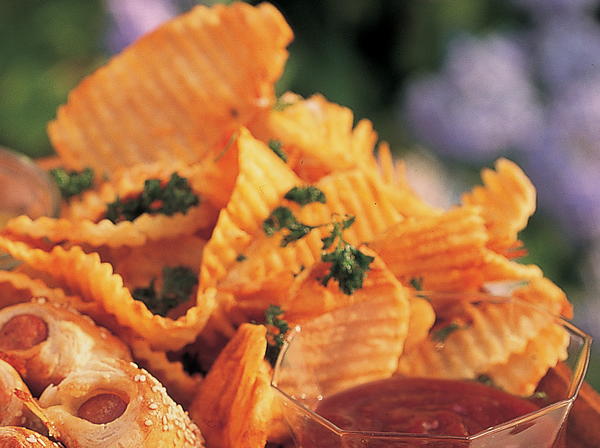 This image courtesy of Mark Ferri
Get ready to caution (more than once) to "slow down, dinner is coming." There is absolutely no way to resist these crisp, extra-long slices of fried potatoes. Serve the spicy ketchup slightly warmed or at room temperature with a spoon, so people can dress these oversized slices. The ketchup recipe can be doubled.
Serves6 to 8 Servings
OccasionCocktail Party, Family Get-together, Game Day
Recipe CourseHors D'oeuvre
Dietary ConsiderationEgg-free, Gluten-free, Halal, Kosher, Lactose-free, Soy Free, Tree Nut Free
EquipmentDeep Fryer, Mandoline
Taste and TextureCrisp, Garlicky, Hot & Spicy, Salty, Tangy
Type of DishCondiments, Dip/spread, Vegetable
Ingredients
2 cups bottled chili sauce (I use Heinz)
1½ tablespoons Asian chili paste (available in Asian markets and some well-stocked supermarkets)
3 tablespoons unsulphured molasses
3 tablespoons packed brown sugar
3 tablespoons apple cider vinegar
¾ teaspoon Worcestershire sauce
Freshly ground black pepper to taste
4 large Idaho potatoes
2 to 4 quarts flavorless cooking oil or highly refined peanut oil
8 garlic cloves
1 generous cup flat-leaf Italian parsley leaves, stems removed and the leaves very dry (optional)
Kosher or sea salt to taste
Instructions
Prepare the ketchup. Combine all the ingredients except the black pepper in a small, heavy-bottomed, nonreactive saucepan. Over medium heat, bring the mixture to a bubble through the center, then reduce the heat to low. Simmer the ketchup gently, uncovered, until it has thickened and the flavors have blended well, about 10 minutes. Stir in a generous amount of black pepper and set aside. You should have about 2 cups ketchup. The ketchup tastes best when either served tepid (warm to the touch) or at room temperature.

Prepare the potatoes. Fill a large bowl with ice water. Scrub the potatoes and either peel them or dry the skins thoroughly. Cut the potatoes into 1/8-inch slices using a handheld crinkle cutter or a sharp chef's knife, and immediately place the slices in the ice water to prevent them from oxidizing (turning brown) and also to remove some of their surface starch.

If using an electric deep-fat fryer, pour in the oil to the designated line and turn to the highest setting (or follow the manufacturer's instructions). Otherwise, fill a 4- to 8-quart heavy-bottomed saucepan half-way with oil. Attach a deep-frying thermometer securely onto the side of the pan (don't allow the tip to touch the pan's bottom). If desired, insert a frying basket into the oil. Heat the oil to 350°F. Working with one batch at a time, take a large handful of potato slices from the water and dry them very well on paper towels. Fry each batch at 350°F. until softened, limp, and only beginning to turn golden, 4 to 6 minutes per batch. Remove the potatoes from the oil by lifting the handle on the frying basket, and carefully shake off any excess oil. Drain the potatoes on paper towels. (Alternatively, use a long-handled slotted utensil such as a wire spider to remove the potatoes from the oil.) Pile the potatoes into a large roasting pan lined with more paper towels and let the slices sit in the roasting pan at room temperature until you're ready for the final frying before serving. Set the pot of oil aside.

When almost ready to serve, place a large, shallow baking sheet in the oven and preheat the oven to 325°F. Reheat the oil until it reaches 375°F. Make a deep slit in the garlic cloves without opening them up, and fry them in the hot oil until they're golden and have flavored the oil, about 3 minutes. Remove them using your slotted utensil and set them aside. Fry the potatoes for the second time, in batches, until they're golden and crisp, 3 to 5 minutes. Drain each batch on paper towels, then transfer them to the preheated baking sheet. Add the garlic to the hot oil, just long enough to reheat fully, then add to the platter of potatoes. Add the parsley to the hot oil, if using, and cook it for 10 seconds (the leaves will turn bright green). Use a triple-mesh wire sieve to retrieve the parsley and, after shaking it to remove any excess oil, add the parsley to the platter of potatoes. Use your hands to help the parsley and garlic filter down through the pile of potatoes. (At first, when you remove the parsley from the oil, it might seem limp, but it will become crisp very quickly. Don't overcook the parsley or the leaves will taste acrid.)

Sprinkle the potatoes with salt and serve them hot with the spicy ketchup.
Timing is Everything
The potatoes can be sliced early in the day and kept in a large bowl of ice water until ready to fry. The potatoes can be fried (for the first time) up to 4 hours in advance of the final frying. After the first frying, keep the limp slices at room temperature, covered loosely, until ready to refry and serve.
Here's the Scoop: On Pairing Cocktail Food with Your Menu
Before you decide on the foods to serve before dinner, choose your dinner menu. Although there are no hard-and-fast rules that apply here, it's best to try to avoid redundancy in flavors so that each can be thoroughly enjoyed. For instance, you wouldn't serve pigs-in-a-quilt before a smoked entree like ham. If you're having mashed potatoes as a side dish, I wouldn't suggest making homemade potato chips, no matter how delicious they are. Also, when you want to serve more than one starter, choose foods with contrasting color and texture. A pile of chilled, poached jumbo shrimp with a spicy cocktail sauce next to a crock of intensely flavored smoked trout spread with a basket of hot garlic toasts would be wonderful. On the other hand, pairing a gorgeous wheel of brie cheese encased in challah dough with a platter of stuffed mushrooms bolognese would seem too heavy and rich. So try to partner something substantial with a starter that's light. Remember, dinner is on its way.
2004 by Lauren Groveman
YOUR RECENTLY VIEWED RECIPES
Free recipes, giveaways, exclusive partner offers, and more straight to your inbox!