Caramel Popcorn with Peanuts and Chocolate
Cookbook
Published by Stewart, Tabori & Chang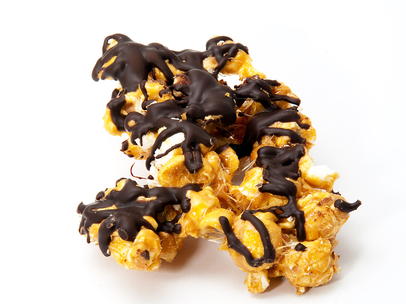 This image courtesy of Shutterstock
By and large, I have never been drawn to popcorn. It is a snack that I rarely think about and only eat a bit reluctantly, if someone offers me his or her bucket at the movies. It was not until Renato introduced me to the voodoo-like nature of homemade caramel popcorn that I understood the allure. The otherwise average kernels turn into something else entirely. The salty peanuts, crunchy popcorn, and dark chocolate form an otherworldly snack that has the overall effect of encouraging epic consumption and borderline hysteria. Finally, since the yield on this recipe is rather large, we encourage you to get out cellophane bags and decorative bows and use a portion of your caramel popcorn for gifts. It makes a great present and will save you a few otherwise unavoidable calories.
Serves24 cups
OccasionBuffet, Cocktail Party, Game Day
Recipe CourseDessert, Snack
Dietary ConsiderationEgg-free, Gluten-free, Halal, Kosher, Soy Free, Tree Nut Free, Vegetarian
Taste and TextureButtery, Chocolatey, Crunchy, Nutty, Salty, Sweet
Ingredients
1 cup unpopped kernels or 24 cups popped corn
1 cup (2 sticks) unsalted butter, cut into chunks
2 cups firmly packed dark brown sugar
½ cup light corn syrup
2 tablespoons unsulfured molasses
½ teaspoon salt
¾ teaspoon baking soda
1½ teaspoons pure vanilla extract
1¼ cups salted peanuts
8 ounces good-quality milk chocolate, melted and tempered (see Notes)
8 ounces good-quality dark chocolate (60 to 72%), melted and tempered (see Notes)
Instructions
If you are starting with kernels, pop them using any method you prefer and let them cool. (We like a hot-air popper.) Preheat the oven to 250 degrees F. Place the popcorn in a large roasting pan. Line a sheet pan with parchment paper.

In a medium saucepan over low heat, start to melt the butter. Add the brown sugar, corn syrup, and molasses, and stir gently with a heatproof spatula. Continue to cook over medium heat, stirring only occasionally, until the mixture starts to boil. Clip a candy thermometer to the side of the pan and bring the syrup to the soft-ball stage, approximately 240 degrees F. Remove the pan from the heat and stir in the salt, the baking soda, and vanilla. Pour the caramel over the popcorn in large streams, then sprinkle with the peanuts. Use your spatula to fold the popcorn until it is completely coated with caramel.

Place the roasting pan in the oven and bake for 15 minutes. Use a spatula to lift, flip, and coat the popcorn in the warm caramel, then continue baking for another 20 minutes. Cool the caramel popcorn in the pan for 5 minutes and transfer it to the lined sheet pan. Cool for approximately 15 minutes and drizzle the milk chocolate and dark chocolate in crisscross patterns over the top. Let the chocolate set before breaking the popcorn into serving-size pieces. Store in an airtight container for up to 1 week.
Notes
This caramel popcorn virtually begs for chocolate, but if you don't want to go through the trouble and time of tempering it, we completely understand. You can just leave it out. Additionally, this recipe was adapted from none other than my Aunt Judy, by way of a Land O'Lakes Butter recipe that she has kept for untold years.
How to Temper Chocolate
I use tempered chocolate in the delicious caramel popcorn, but tempering also comes in handy for homemade truffles, dipping macaroons, and making molded chocolate candy bars and novelties.

The process of tempering chocolate is a lot less complicated than explaining the science of tempering chocolate; however, I feel obligated to give you a brief intro.
What is going on? There are many methods of tempering chocolate, but each is accomplished through a process of melting, cooling, and agitating. Our favorite method is to seed the chocolate. Here, a portion of already tempered chocolate is added to melted chocolate. This helps stimulate the formation of stable beta crystals--or, to put it simply, reduces the temperature of the melted chocolate and helps it come to temper.

Getting started: It is much easier to temper in a cool kitchen. Measure out 1 pound of chocolate-dark or milk, depending on the recipe-and chop into small chunks. I prefer a couverture chocolate that contains at least 32 percent cocoa butter, as it is thinner when melted and ideal for dipping.
Tempering
Place about a quarter of the chocolate in a bowl and set aside. Put the remainder in a large heatproof bowl and place over a pot of simmering water. Melt the chocolate until an instant-read thermometer placed in the middle of the bowl reads 120 degrees F.

Remove the bowl from the heat and add the reserved chopped chocolate. With a rubber spatula, stir the chocolate vigorously without stopping until it has completely melted and cooled to a temperature of 80 degrees F. The chocolate should thicken considerably.

Place the bowl of chocolate back over the simmering water and stir with a spatula. If you are using dark chocolate, bring it to a temperature between 86 and 90 degrees F. If you are using milk chocolate, a temperature between 84 and 87 degrees F works best.

Test the chocolate to make sure it has reached a full temper. Dip a small metal spatula into the chocolate and place it on the counter. The chocolate should begin to set in 3 to 5 minutes and have a satiny shine, without streaks. If the chocolate has not set after 5 minutes or it looks speckled or streaked, you should continue to agitate the chocolate with the spatula until it is properly tempered.

When your chocolate is tempered, you may begin using the chocolate. Keep in mind that tempered chocolate sets up quickly. If you notice the chocolate in your bowl is beginning to harden, place it back over the simmering water to reheat, but only for a few seconds.
2010 Matt Lewis and Renato Poliafito
YOUR RECENTLY VIEWED RECIPES
Free recipes, giveaways, exclusive partner offers, and more straight to your inbox!