Caramel Corn
Cookbook
Published by Sasquatch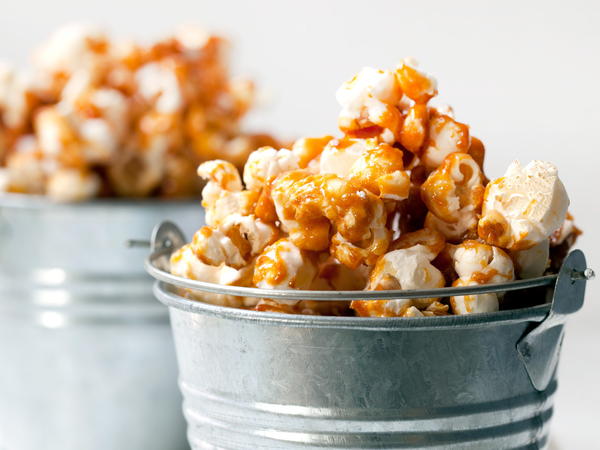 This image courtesy of Laura Ferroni
Editor's Note: Remember eating Caramel Corn as a child? You can relive those childhood memories when you make this gourmet twist on the classic treat! This snack recipe is easy to make and includes a number of optional add-in ingredients. The result is a batch of caramel corn that is made just the way you like it!  You will want to make this popcorn for just about any special occasion, including a game watch party at your house or movie night in the backyard. Your family and friends will be impressed when you share this gourmet take on the beloved snack.

You'll have to add your own prize, but this caramel corn, with the addition of pecans and almonds and a little spice from dried red chile flakes, is far more satisfying than the stale stuff you'll find in the cardboard box.

Taste and TextureChewy, Nutty, Salty, Sweet
Ingredients
1/3 cup (80 grams) unpopped popcorn
1 tablespoon coconut oil
1/3 cup peanuts (optional)
1/3 cup pecans (optional)
1/3 cup slivered almonds (optional)
2 tablespoons water
1 cup (200 grams) cane sugar
½ teaspoon salt
1 tablespoon brown rice or golden syrup
1 teaspoon baking soda
Flake salt (optional)
Dried red chile flakes (optional)
Instructions
Pop the corn in a large, heavy-bottomed pot, or in a popcorn popper, with the coconut oil. Place in a large bowl. The bowl should only be about half full so that you have plenty of room to toss the popcorn to coat.

If you are using the peanuts, pecans, and slivered almonds, toast them lightly in a 350 degrees F oven until fragrant, about 5 minutes, and place them in the bowl with the popcorn.

Line a baking sheet with aluminum foil and set aside.

In a heavy-bottomed pot, bring the water, sugar, salt, and brown rice syrup to a boil over medium-low heat, stirring constantly and using a moistened pastry brush to brush down any errant crystals that form on the side of the pot. Once the sugar is boiling, stop brushing and stir occasionally while bringing the mixture to 310 degrees F. This may take up to 20 minutes, so be patient, keeping the heat on medium-low so that the sugar doesn't burn. Every once in a while, rotate the pot to avoid hot spots. When the sugar reaches 310 degrees F, immediately remove it from the heat and stir the baking soda in briskly.

Pour the caramel over the popcorn and nuts and stir with a spoon to coat. Pour the coated popcorn onto the prepared baking sheet and sprinkle with the flake salt and red chile flakes, if desired. Let the caramel cool and harden before serving.
Note
This caramel corn is naturally gluten-free and vegan.
2012 Lara Ferroni
YOUR RECENTLY VIEWED RECIPES
Free recipes, giveaways, exclusive partner offers, and more straight to your inbox!