Cookbook
Published by Workman Publishing Company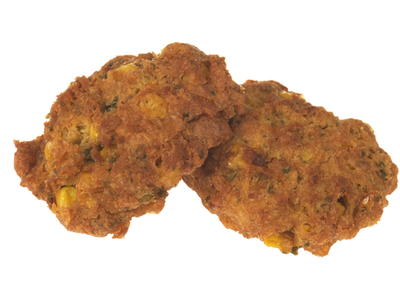 This image courtesy of Shutterstock
Editor's Note: You've probably had corn on the cob and eaten quite a few slices of corn bread. If you're looking for a way to serve corn that's new to you, then this recipe for Fresh Corn Fritters should be at the top of your bucket list this summer! The use of fresh corn will make a tasty and satisfying difference, and will be the perfect accompaniment to anything you plan to grill or cook for dinner. These corn fritters can even be served on their own for dinner; just top with a dollop of sour cream or plain Greek yogurt, and you have a simple and filling dinner that's ready to serve. When corn is in season, you'll love having this easy summer recipe up your sleeve!

Flat, almost pancake-like cakes made with fresh corn cut from the cob, these, fried in oil, are the type of fritter I grew up eating, only they taste even better now because of the super-sweet, very tender corn on the market today. Because contemporary corn is so sweet, these fritters no longer require even a squib of the maple syrup that used to be de rigueur. Hugely delicious, simple to make — and how convenient it is that at the height of fresh corn season, exactly when you don't want to be heating up the oven, they're cooked on the stovetop.

Caution: Occasionally a kernel of the fresh corn will make a loud pop during the cooking process, as the moisture in the kernel turns to steam on contact with the hot fat. Don't be startled, but do stand back a bit so as not to get splashed with hot oil.
Serves2 as the main item, 4 as a small side dish
Recipe CourseMain Course, Side Dish, Snack
MealBrunch, Dinner, Lunch, Snack
Taste and TextureCrisp, Light, Savory
Ingredients
2 eggs
¼ cup milk
Kernels cut from 2 ears of fresh corn, about 1 cup, plus any scrapings of liquid you can get by running a knife blade along the cob
2 tablespoons stone-ground white or yellow cornmeal
¼ cup unbleached white flour
1 teaspoon sugar
¼ teaspoon salt
2¼ teaspoons baking powder
Mild vegetable oil, for frying
Instructions
Whisk together the eggs and milk in a large bowl. Stir in the corn and any corn liquid.

Combine the cornmeal, flour, sugar, salt, and baking powder in a medium bowl. Sift this dry mixture into the wet mixture and stir together to make a batter that is thick but still can be dropped from a spoon.

Pour oil into a heavy cast-iron skillet to reach a depth of ½ inch. Place the skillet over medium-high heat and bring the oil to 365 degrees F, using a thermometer to gauge the temperature (you can also use an electric skillet, which will tell you exactly when you've reached this temp). When the oil has reached 365 degrees F, lower the heat slightly to keep the temperature stabilized, and drop the batter by tablespoonfuls onto the skillet. It will sizzle as it goes into the oil. If the first fritter doesn't sizzle, wait and let the oil get a little hotter before adding more fritters. Don't crowd the skillet, because crowding will bring down the heat; no more than 4 to 6 fritters, not touching, at a time.

Let the corn fritters cook until they are golden and crispy on the underneath side, about 3 minutes. When it's time to flip them, the edges will be colored just slightly and will be noticeably firmer, and the top of the fritter will no longer be moist. Reverse the fritters. Allow about 3 minutes more on side two. As they cook, line a tray with paper towels or torn-open brown paper grocery sacks.

Place the cooked fritters on the paper towels or brown paper and blot them quickly with another piece of paper. Serve immediately, nice and hot.
Variation
Ethereal Souffléed Fresh Corn Fritters: Separate the eggs, adding the yolk in step 1 and the beaten-stiff egg whites at the end of step 2, folding them in ever so gently.
2007, Crescent Dragonwagon
YOUR RECENTLY VIEWED RECIPES
Free recipes, giveaways, exclusive partner offers, and more straight to your inbox!