Candied Jalapeño Hushpuppies with Sweet Butter
Cookbook
Published by Page Street Publishing Co.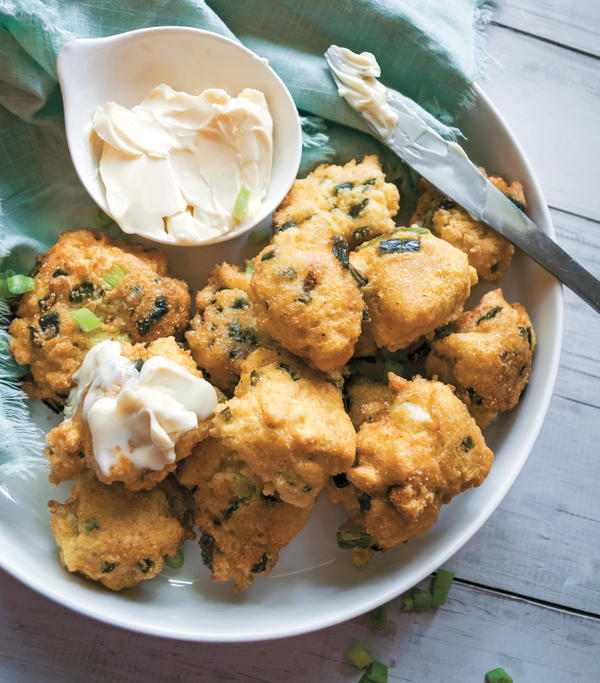 Candied Jalapeno Hushpuppies with Sweet Butter
I grew up eating hushpuppies, and I will never turn one down. I've had some amazing hushpuppies in my time; however, these are the best of the best. They are moist on the inside, super crispy on the outside, and they're sweet with just a little spice. These are without a doubt the hushpuppies you will want to eat forever.
Serves6
Ingredients
4 medium jalapeños
1/4 cup (48 g) vegan granulated sugar
2 tablespoons (30 ml) water
1 cup (170 g) cornmeal
1/2 cup (60 g) all-purpose flour
2 teaspoons (8 g) baking powder
1 teaspoon salt
2 tablespoons (18 g) cornstarch
3/4 cup (180 ml) nondairy milk
1/3 cup (33 g) finely chopped scallions
Vegetable oil, as needed
Sweet Butter
1/3 cup (80 g) room-temperature vegan butter
1 tablespoon (15 ml) agave syrup
Instructions
Trim the stems from the jalapeños. Slice them down the center from top to bottom and scrape out the seeds with a spoon. Dice the jalapeños and add them to a small saucepan.

Add the sugar and water to the saucepan and cook over medium heat, stirring until the sugar has dissolved.

Reduce the heat to low and simmer the jalapeños until the liquid has thickened and candied the jalapeños, about 10 minutes. Turn off the heat (the liquid will thicken more as it cools). Let the candied jalapeños cool completely.

In a large bowl, stir together the cornmeal, flour, baking powder, salt and cornstarch. Pour in the milk and stir to fully combine.

If there is excess liquid in the saucepan containing the jalapeños, drain it. Fold the cooled candied jalapeños and scallions into the batter, making sure they are evenly distributed.

In a large skillet, heat 1 1/2 to 2 inches (3.75 to 5 cm) of oil to 350°F (177°C). There should be tiny bubbles in the oil.

Drop large dollops of the batter into the hot oil, being sure not to overcrowd the skillet. Fry the hushpuppies on each side for about 2 minutes, or until they are golden brown. Place the hushpuppies on a paper towel when they are done, and repeat this process with the remaining batter.

Just before serving the hushpuppies, whisk together the butter and agave syrup in a small bowl.

Serve the hushpuppies with the sweet butter.
YOUR RECENTLY VIEWED RECIPES
Free recipes, giveaways, exclusive partner offers, and more straight to your inbox!