Boardwalk French Fries
Cookbook
Published by W. W. Norton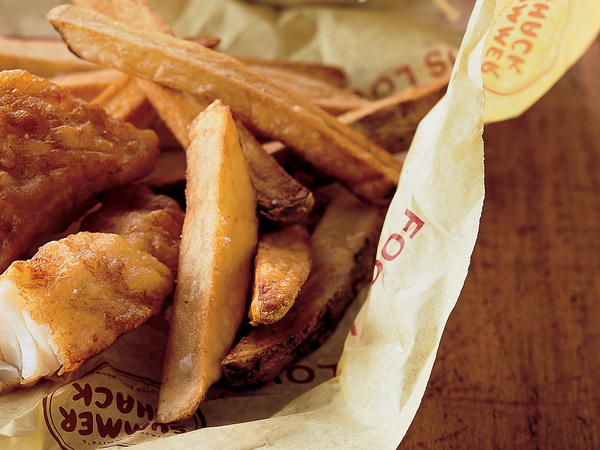 This image courtesy of Kate Sears/Sublime
Editor's Note: Here is a wonderful recipe to learn how tom make your very own french fries. High starch content in the fries is important so they come out crispy and fresh. Older potatoes will yield soggy fries as the natural starches in the potato will convert to sugar and cause this to happen. Russet or Idaho potatoes are recommended to assure your fries come out the best. Do not put cut potatoes in a bowl of water before frying them. This will wash off some of the starch and prevent them from being crisp as well. Frying the potatoes twice is also essential to having good crispy fries on your table.

As a kid, I loved hanging out at the different boardwalks at the Jersey Shore. One of my favorite treats was the oversized French fries sold there, greasy, crispy, and delicious. These are easy to make at home with great success. The only trouble you might run into is when the potatoes are old, during spring and early summer. Over time, the natural starches in potatoes convert to sugar, which will yield soggy fries. The key to successful crispy fries is a high starch content in the potatoes; I recommend that you use russets or Idaho baking potatoes. You can use a medium-starch potato, such as Yukon Gold or Penobscot, but although they will taste great, they won't be nearly as crisp as a baking potato. And don't put the cut potatoes in a bowl of water before frying them—the water will wash the starch off and the potatoes won't be as crisp as they should be. It is important to start by cutting the potatoes lengthwise into even planks, about 3/8 to ½ inch thick. The evenness of the planks is more important than the length of width of the fries; it will ensure even cooking. After the planks are cut, you simply cut them lengthwise into wide fries. Frying the potatoes twice is the key to good crispy fries. For equipment, you will need a 4- to 5-quart Dutch oven and a deep frying thermometer or an electric deep fryer, 2 baking sheets, a Chinese wire-mesh skimmer, and a pair of tongs.
Serves4
OccasionFamily Get-together, Game Day
Ingredients
2 pounds Idaho or russet potatoes of uniform and size and shape (about 6 to 8 ounces each), washed
About 7 cups peanut, canola, or other vegetable oil for deep-frying
Kosher or sea salt
Ketchup or cider or malt vinegar
Cracked black pepper (optional)
Instructions
Line a baking sheet with paper towels. Heat 3 inches of oil to 325°F in a 4- to 5-quart Dutch oven over medium heat or in a deep fryer.

While the oil heats, slice the potatoes lengthwise into ½-inch-thick planks. Stack the planks 2 or 3 high and cut them into ½-inch-wide fries.

Drop all the potatoes into the oil and swirl them with tongs. Fry until the middle of a fry is hot when tested and doesn't snap when broken in half, about 3 minutes. The fries should not pick up much color at all—do not let them brown. Using a wire-mesh skimmer, lift up the fries and drain over the pot, then transfer them to the lined baking sheet and allow them to cool completely at room temperature, at least 20 minutes (or up to 3 hours). Let the oil cool as well.

When ready for the second frying, line a second baking sheet with paper towels. If you want to keep the first batch of French fries warm until they are all cooked, preheat the oven to 200°F. Add additional oil as needed to come 3 inches up the sides of the Dutch oven or deep fryer and heat to 375°F.

Drop half the potatoes into the hot oil and swirl them with tongs. Fry until deep brown, a full 5 minutes or so. Transfer the fries to the lined baking sheet and sprinkle with salt. You can serve them immediately or keep them warm in the preheated oven. Fry the remaining potatoes, making sure to let the oil come back to 375°F before adding the second batch. Drain on the lined baking sheet, sprinkle with salt, and serve hot with ketchup or cider vinegar. I also like black pepper cracked over my fries.
2007 Jasper White
YOUR RECENTLY VIEWED RECIPES
Free recipes, giveaways, exclusive partner offers, and more straight to your inbox!