Shrimp Burger
Cookbook
Published by W. W. Norton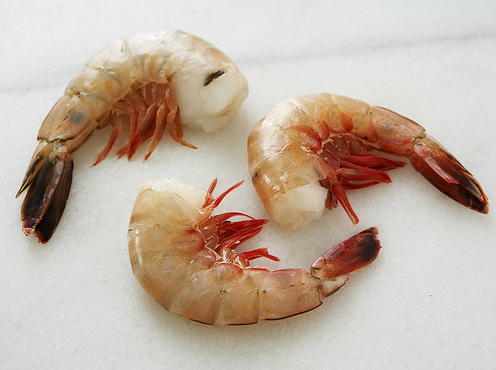 This image courtesy of Joseph DeLeo
In shrimping towns such as Thunderbolt, Georgia, McClellanville, South Carolina, and Morehead City, North Carolina, you can find shrimp burgers, but every place that serves them has a different "secret" recipe. Some shrimp burgers are chunky with diced shrimp and herbs, loosely bound, and pan-fried. Others are like an enormous shrimp dumpling, with a smooth, shrimpy paste enrobed by a crunchy, deep-fried crust. We tested six shrimp burger recipes for a story and found the one Robert Stehling makes at Charleston's Hominy Grill to be the finest, to our tastes. It's the chunkier style of burger, and its genius is its use of lemon zest. When we developed our own shrimp burger recipe, we added corn for texture and a sweetness that draws out the shrimp flavor, and added fresh ginger to give it complexity.
NotesUse a gentle hand when flipping the burgers in the skillet.

What to Drink: A cold, hoppy American ale like a Dogfish Head I.P.A. or a white wine with a little oak are great sips with shrimp burgers.

Buying Fresh Shrimp
In this book, shrimp always appear in the ingredients list as "headless shrimp, shells on," That's for two reasons. First, fish markets and supermarkets most commonly sell fresh shrimp as such, so finding them is easy. Second, keeping the shells on until you're ready to use the shrimp keeps them from losing their natural moisture, which not only carries a great deal of flavor but retains texture by keeping them from drying out. The shrimp shells themselves bear a bounty of flavor, so we often use them.
During shrimp season along the South Carolina coast, people sell shrimp from trucks parked along coastal highway 17. Short of being on the dock when the shrimp boats come in, this may be the most direct route to the freshest shrimp available. You don't have to be intimidated if they're sold with the heads on (they often are). Shrimp heads are easy to remove, requiring just a simple pinch between thumb and forefinger, and they give wonderful flavor to broth. When buying shrimp with heads, note that they spoil quicker and that the heads constitute about 35 percent of the shrimp's weight. So if a recipe calls for 2 pounds of headless shrimp, shells on, buy almost 2¾ pounds whole shrimp with shells to compensate.
Purchase shrimp only according to the count per pound and never by descriptions such as "large" or "medium." We've found these descriptions to fluctuate wildly from shop to shop (and even within the same shop!). A good fish market will always know the count per pound of each variety of shrimp it offers. These are average numbers, of course, which is why they are always expressed as a range. If the market does not know the piece count per pound, ask the fishmonger to place a dozen or so on a scale to see how much they weigh. The size we favor for most recipes is 26 to 30 shrimp per pound, generally considered large. Smaller ones tend to look measly on the plate and to require too much shelling labor. Jumbo shrimp, we find, become tough when cooked, and their texture flattens the flavor.
In some markets you can buy shrimp that are already peeled and deveined. These cost more, and often have been roughly handled. But having someone else peel your shrimp saves a great deal of time, so if that is a deciding factor in whether or not you make a recipe, by all means buy peeled shrimp. But keep in mind that a shrimp's shell and legs make up about 12 percent of its weight, so if you're using peeled shrimp in a recipe that calls for 2 pounds headless shrimp, shells on, you'll require only 88 percent of that weight, or about 1¾ pounds.
Deveining Shrimp
The "vein" of a shrimp is its digestive tract. It is flavorless, harmless to eat, and such a small proportion of a shrimp's weight that it doesn't pronouncedly affect its flavor or its texture; still, some eaters detect a certain grittiness when it hasn't been removed. Whether or not you devein shrimp is a matter of personal preference. We do it only when presentation is paramount. If you have the time and you want to do it, go for it.
You can devein raw shrimp with the shell on or off. Either way, the technique is the same: hold the shrimp between your thumb and forefinger one third of an inch behind where the head was cut off. Place the tip of a sharp paring knife with the blade facing up in the slight indentation at the top of the shrimp's body (which may or may not have a dark spot of vein marking it), and push the blade toward the tail, making a shallow incision the length of the shrimp's back. This cut will expose the dark vein, which you can then remove with the tip of the paring knife.
For4 people

OccasionCasual Dinner Party, Cooking for a date
Dietary Considerationpeanut free, soy free, tree nut free
Taste and Texturecrisp, herby, savory, sweet
Ingredients
2 quarts water
1 recipe Lee Bros. Shrimp Boil
1 pound headless large shrimp (26-30 per pound), shells on
2 tablespoons chopped scallions
¼ cup fresh corn kernels, cut from the cob (about ½ ear)
2 tablespoons chopped fresh flat-leaf parsley
1 tablespoon grated fresh ginger
1½ teaspoons lemon zest (from 1 lemon)
3 tablespoons high-quality store-bought mayonnaise, such as Duke's or Hellmann's
1 cup bread crumbs, preferably fresh (from about 2 slices bread)
Kosher salt to taste
Freshly ground black pepper to taste
Pepper Vinegar to taste (optional)
1 egg, beaten
1½ tablespoons canol a oil
Instructions
In a 3-quart saucepan, bring the water and shrimp boil to a boil over high heat. Turn off the heat. Add the shrimp and let stand until they are just pink, about 2 minutes. Drain and run under cold water to stop the cooking. Peel the shrimp (and devein them if you wish; see Notes: Deveining Shrimp," ) and chop coarsely. You should have 1¾ cups chopped shrimp.

In a large bowl, mix the shrimp with the scallions, corn, parsley, ginger, and lemon zest. Stir in the mayonnaise and bread crumbs and season with salt, black pepper, and pepper vinegar. Add the egg and gently fold with a wooden spoon or rubber spatula until evenly distributed.

Form the shrimp mixture into 4 patties, each 3½ inches in diameter. Wrap the patties in plastic wrap and let stand in the refrigerator for 30 minutes.

Remove the burgers from the refrigerator and unwrap. Place the oil in a ½-inch skillet and heat over high heat. When it shimmers, add the burgers and sauté until both sides are gently browned, about 3 minutes per side. Drain on a dinner plate lined with a paper towel.

Serve on toasted hamburger buns with lettuce, tomato.
2006 Martens Maxwell Inc.
YOUR RECENTLY VIEWED RECIPES
Free recipes, giveaways, exclusive partner offers, and more straight to your inbox!