Taiwanese Seafood Paella
Cookbook
Published by Robert Rose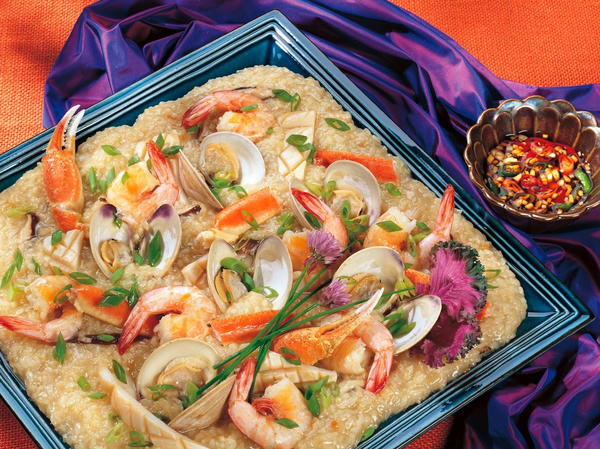 This image courtesy of Mark T. Shapiro
Editor's Note: Here is a divine dish to serve at a dinner party. This seafood gem will add an elegance and set a Taiwanese tone that guests will salivate over. The paella will entertain your taste buds with its generous use of basil and chilies. This dish can be paired with a clear soup for an appetizer and one or two vegetable side dishes to complement the array of seafood it has to offer. The sticky rice that serves as a base wonderfully soaks up the juices of the seafood, making the dish flavorful and lasting for the palette. Your guests will remember this dinner and its thoughtful presentation.

I was served this wonderful seafood and rice dish at a catered outdoor 20-course seafood banquet at the seaside cottage of an old wealthy Taiwanese family into which an American university classmate of mine had married; she was fluent in Japanese and used that colonial tongue to converse with her in-laws. Here I saw the deep impression the 75-year Japanese occupation of the Chinese island had made in Taiwanese culture and food. Japanese seafood preparations were followed by Chinese soups and native Taiwanese cooking, with its lavish use of basil and chilies. The meal ended with this rice dish. The juices of the seafood mingle deliciously with the seasoned sticky rice base. It's an exciting and elegant party dish that could be preceded by a clear soup or simple appetizer and accompanied by one or two vegetable side dishes.
Serves4 to 5
OccasionFormal Dinner Party
Dietary ConsiderationEgg-free, Gluten-free, Lactose-free, Peanut Free, Tree Nut Free
Taste and TextureGarlicky, Herby, Savory, Spiced, Tangy, Umami
Ingredients
2 cups (500 ml) sticky rice
3 tbsp (45 ml) rice vinegar
2 tbsp (25 ml) fine ginger root julienne
2 thinly sliced finger chilies
2 tbsp (25 ml) soya sauce
1 tbsp (15 ml) lemon juice
1 tsp (5 ml) minced garlic
12 dried shiitake mushrooms
4 tsp (20 ml) dried shrimp
½ cup (125 ml) vegetable oil
1/3 cup (75 ml) thinly sliced shallots
1 tsp (5 ml) minced ginger root
1 tbsp (15 ml) Chinese rice wine or dry sherry or sake
8 to 10 oz (250 to 375 g) large shrimps
24 clams or mussels
2 squid, cleaned
1 ¾ cups (425 ml) chicken stock
½ cup (125 ml) green onion rings
½ tsp (2 ml) salt
1  1½ to 2 lbs (750 g to 1 kg) lobster or 1 to 2 crabs
Instructions
Soak sticky rice in 4 cups (1 L) water for 6 to 8 hours. Sticky rice is a round, short-grained rice, often called glutinous or sweet rice. Numerous varieties are grown throughout Asia and in North America we usually can choose between the stickier Japanese variety or the less glutinous Thai one. The Japanese variety, which often is grown in California, is similar to the Taiwanese, but both it and the Thai variety are good for this dish. There are also long-grained sticky rices from Thailand in white, black and red varieties; they are unsuitable here.

Prepare two simple dipping sauces: In a small saucer, combine rice vinegar and ginger julienne; in another saucer, stir together chilies, soya sauce, lemon juice and garlic. Set sauces aside.

Cover mushrooms in cold water and soak 10 minutes or until soft. Drain, discarding liquid. Remove and discard stems; quarter mushroom caps and set aside. Soak dried shrimp in cold water to cover for 10 minutes; drain and set aside. In a saucepan heat oil over medium-high heat; cook shallots until golden. Strain, reserving oil; set shallots aside. In 2 tbsp (25 ml) of the shallot oil cook dried shrimp and ginger over medium-high heat for 30 seconds; stir in mushrooms and cook until browned. Stir in wine; cook until liquid evaporates. Set aside.

Cut legs off shrimp with scissors but keep shells on; devein. Rinse clams or rinse and debeard the mussels. Cut the squid tubes into rings and separate the tentacles into 2 or 3 sections. (Or cut in the Chinese fashion: Cut open the tubes, lay them on the board exterior-side down and score a close crisscross pattern into, but not completely through, the interior flesh; cut diagonally into strips.)

Drain rice; in a shallow casserole dish, carefully mix rice with shallots, mushroom mixture, stock, green onions and salt without browning the rice kernels. Bring to a simmer on the stove, cover well and place in preheated 350° F (180° C) oven. Cook 30 minutes

Meanwhile, prepare lobster or crab. For lobster: pull off claws, divide into 2 sections and crack shells lightly with side of knife; cut tail from body and divide horizontally into 3 sections or split lengthwise; divide body lengthwise into 2 pieces (carefully preserving the tamale and roe). For crab: Remove claws and crack; lift off flap from bottom shell and discard; with a knife or cleaver, carefully pry off the back shell from the body and retain shell with any roe; divide the body in half lengthwise through the middle (discarding the white heart and innards between the two halves), remove the lungs from the outside of each half and cut each half into 2 pieces (2 legs each).

After rice has cooked 30 minutes, put lobster or crab on top of rice; cover and cook 12 minutes longer. Add shrimp and clams or mussels; cover and cook 5 minutes. Add squid; cover and cook 5 minutes longer. Serve with dipping sauces on the side.
1997 Andrew Chase
YOUR RECENTLY VIEWED RECIPES
Free recipes, giveaways, exclusive partner offers, and more straight to your inbox!