Summer Seafood Platter
Cookbook
Published by St. Martin's Press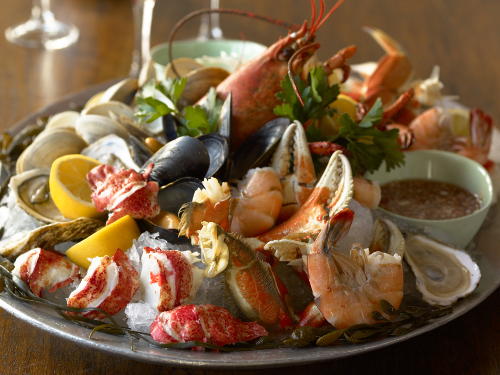 This image courtesy of Christine Schmidhofer
My lifelong friend Ronda is the Queen of the Cold Platter, the Maven of Mixology, the raven-haired Empress of Effortless—if rather expensive--Entertaining. When time is short, which I gather it tends to be with two diminutive little darlings dashing about, her strategy is to forget making it herself, just Buy Buy Buy!

In another life, Ronda was an accomplished, professionally trained cook and food stylist, and this background is evident in the stunning presentation of her every opulent cold-platter buffet. I feel certain that when the petite princesses have flown the coop, she'll get back to actual hands-on cooking, but in the meantime her show-stopping arrangements are inspiration to all of us who'd rather relax over a glass of Prosecco than slave over a hot stove.

"The key here is the appearance of abundance," she says. "Use either one large platter or two; the crucial thing a very generous look, so mound the platter high with ice and then crowd it with your ingredients. Be sure to replenish the ingredients as necessary, removing the shells and carcasses so the platter doesn't start to look untidy. And try to find those adorable toothpicks with a tiny shell on the end!"

Occasional Fresco, Cocktail Party
Ingredients
2 cooked lobsters, cleaned
Abundant crushed ice
16 to 24 raw oysters, shucked
Several fresh, cooked crabs (use king crab legs, dressed crab, whole cleaned Dungeness, or whatever crab is readily available in your region)
1 pound best-quality cooked, shell-on or tail-only shrimp
Other cooked and chilled shellfish as available, such as stone crab claws, clams, mussels, winkles (serve with toothpicks), or crayfish
Fresh seaweed or curly kale, for garnishing the platter
The dipping sauce or sauces of your choice, chosen from the list included here (or this aioli)
Instructions
Constructing the Platter
Remove the tail meat of the lobsters in one piece. Halve each tail lengthwise and slice crosswise about 3/8-inch thick. Pierce each piece with toothpicks.

Crack the lobster claws (save the heads and tentacles for decoration).

Mound the platter(s) with crushed ice.

Begin adding and arranging the shellfish artistically, using the lobster heads as centerpieces (some people will pull off and nibble on the legs, so leave them attached). Group each type of shellfish together, rather than mixing them up. Fill in the gaps with bits of seaweed or kale, making it look like the bottom of the ocean.  Serve.
Wasabi-Mayo
The best store-bought mayonnaise, whisked with a tiny splash of soy sauce and prepared wasabi paste to taste.
Mignonette
Finely chopped shallots in a juicy bath of best-quality red wine vinegar.
Jazzed-up Pesto
Perishable basil pesto from the cold case of your supermarket, with the addition of a touch of anchovy paste, some chopped capers, and a generous drizzle of your most expensive olive oil.
Lagniappe
Make a chunky ceviche out of quartered sea scallops, fresh lime juice, and crushed chile flakes. Place in a scallop shell, small bowl, or several shells or bowls nestled in the ice; provide toothpicks.
YOUR RECENTLY VIEWED RECIPES
Free recipes, giveaways, exclusive partner offers, and more straight to your inbox!