Roasted Shrimp with Feta and Broccoli
Cookbook
Published by Page Street Publishing Co.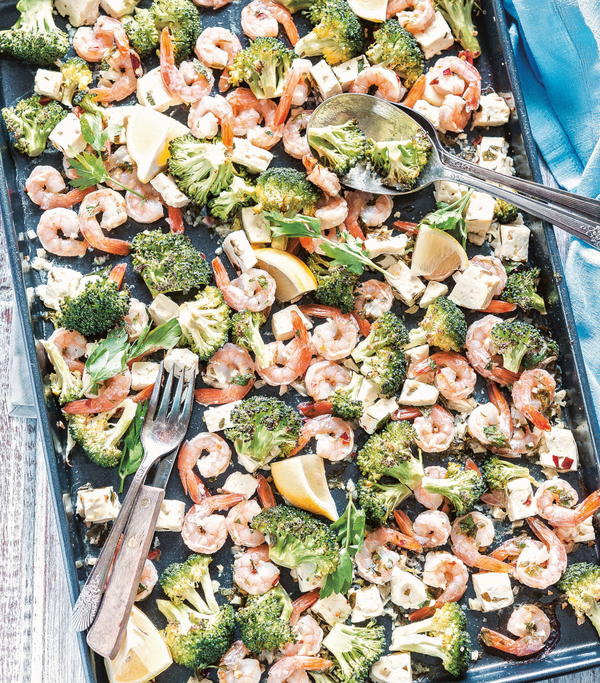 Roasted Shrimp with Feta and Broccoli
This is a really light and easy meal; it comes together in a matter of minutes. Although it's very simple, it's actually quite delicious. As with most of my recipes, if you have a bit more or a bit less broccoli, don't worry. No need to run to a store to buy an extra floret if you only have 3.5 cups (320 g). I also highly recommend using chili flakes— there's not enough to make the dish very hot, but an occasional speck of chili adds a fun dimension to the recipe.

As a side note, while I was developing this recipe for the book, I had an idea of using chunks of avocado instead of broccoli. It was my third attempt at baking with avocado, as it seems to be quite popular. Once again, I was disappointed. I still wanted to use something green, so I switched to broccoli and fell in love with this simple recipe.
Serves2
Ingredients
1/4 cup (10 g) chopped parsley
3 cloves garlic, minced
3 tablespoons (45 ml) olive oil, divided
Zest of 1 lemon
Juice of 1/2 lemon
1 teaspoon chili flakes (optional)
Salt and pepper to taste
1 tub (7 oz [200 g]) feta, regular or light, diced into 1/3-inch (8-mm) cubes
1 pound (455 g) defrosted, cooked shrimp, peeled with tails on
4 cups (365 g) broccoli florets without stems, about 1 head
Lemon wedges for serving
Instructions
Preheat the oven to 425°F (218°C). While the oven is preheating, add the parsley, garlic, 2 tablespoons (30 ml) of olive oil, lemon zest and juice to a large bowl and mix together. Add the chili flakes, if using. Season to taste with salt and pepper, though I personally don't add any extra salt as there's enough in the shrimp and feta. Add the diced feta and defrosted, well-drained shrimp to the bowl and mix well, so that the olive oil–garlic–lemon mixture covers everything.

Brush the remaining tablespoon (15 ml) of olive oil onto a baking sheet. I use an 11 x 17–inch (28 x 43–cm) pan. Transfer the feta and shrimp from the bowl onto the baking sheet and add the separated broccoli florets. Make sure that everything is evenly distributed.

Roast in the oven for 15 minutes, or until feta just begins to melt, broccoli florets are cooked and crispy and shrimp is heated through.

Serve hot with lemon wedges as a light appetizer or add a side of quinoa for a healthy and delicious meal.
YOUR RECENTLY VIEWED RECIPES
Free recipes, giveaways, exclusive partner offers, and more straight to your inbox!