Marinated Octopus Salad with Olive Oil and Lemon
Cookbook
Published by Norton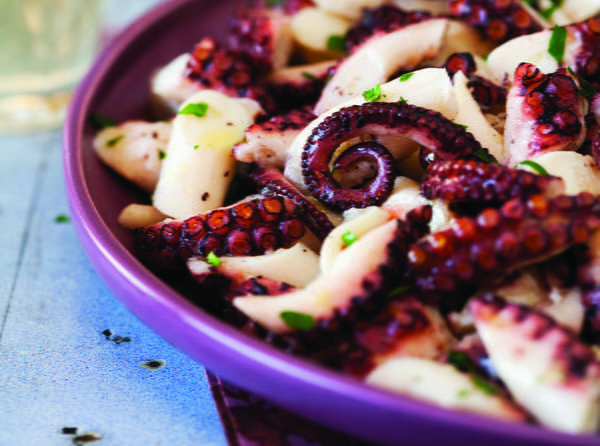 Marinated Octopus Salad with Olive Oil and Lemon
This image courtesy of Sarah Remington
Editor's Note: Make a creative meal for your friends and family with this recipe for Marinated Octopus Salad with Olive Oil and Lemon. The best thing about this seafood recipe is that it will teach you how to cook octopus. After the octopus is cooked to tender perfection, it is tossed with a marinade made from olive oil, lemon juice, parsley, and garlic. These simple ingredients combine with the octopus to make a dish that is easy to make yet entirely elegant and flavorful. Expand your seafood horizons with this easy recipe for Marinated Octopus Salad with Olive Oil and Lemon and you will not be sorry. You'll also love that this octopus salad recipe can be made ahead of time, so that you simply need to serve the salad when company arrives for lunch or dinner.

Fresh octopus is a summer mainstay in Calabria's coastal restaurants and markets. Few people would consider cooking a frozen one out of season; Calabrians eat this tentacled denizen of the Mediterranean enthusiastically, but only when fresh. Because it is so prized, most cooks treat octopus simply. In one typical preparation, it is boiled in salted water to tenderize it, then grilled to give the flesh a charred edge. Alternatively, as I describe here, the octopus is boiled, cooled, sliced, and served as a salad with the most basic of dressings: just olive oil, lemon juice, minced garlic, and parsley. Some cooks add boiled and sliced potatoes to this salad. Either way, octopus is rarely mixed with other seafood or with celery, onion, tomato, or other ingredients typical of seafood salads. Calabrians don't want to mask its briny flavor and pleasantly chewy texture by over-embellishing it.

Octopus is rarely available fresh in the United States, but the frozen product is a more than adequate substitute. You need reasonably large octopus for this recipe—at least 2 pounds (900 grams) each—so the tentacles will be thick enough to make meaty chunks when sliced. The baby octopus available in some markets is too small.

Many people hesitate to cook octopus because they fear it will be tough. If cooked slowly for a long time, it will become tender, although you want to stop the cooking while it still has some "chew." Every culture that enjoys octopus has a different theory on how to tenderize it. Some people slap it repeatedly against a hard surface before cooking it. In the Sicilian beach town of Mondello, near my husband's home, the street vendors dip the octopus into a cauldron of boiling water three times before cooking it, a process they claim makes it tender. I have always done the same, and I can't be sure it makes a difference because I would never not do it.

Octopus salad is an appetizer in Calabrian restaurants. At home, we tend to eat it as a room-temperature second course, after a first course of pasta with clams or Risotto with Fresh Mussels.

Ingredients
2 fresh or frozen octopus, about 2 pounds (900 grams) each
Kosher salt
¼ cup plus 2 tablespoons extra virgin olive oil
3 tablespoons lemon juice
2 tablespoons minced flat-leaf parsley
2 large garlic cloves, finely minced
Instructions
If the octopus is fresh, ask the fishmonger to clean it for you by removing all viscera from the head sac. If the octopus is frozen, it will have been cleaned before freezing. Thaw it slowly in the refrigerator.

Bring 4 quarts (4 liters) water to a boil in an 8-quart (8-liter) pot over high heat. Add 3 tablespoons salt. Working with one octopus at a time, pierce the head with a meat fork and dip the whole creature, tentacles first, into the boiling water. Hold it in the water for about 5 seconds, then lift it out. Repeat the dipping two times. This procedure is said to tenderize the octopus, and it causes the tentacles to curl attractively.

When both of the octopus have been dipped three times, return them both to the boiling water. Partially cover the pot and adjust the heat to maintain a gentle simmer. Cook until the octopus are tender when pierced with a knife, about one hour. If you aren't sure, cut off a small piece from a tentacle and taste it. It should offer a little resistance to the tooth, but it shouldn't be chewy. When the octopus are done, cover the pot, remove from the heat, and let them cool completely in the water.

At this point, if you do not like the gelatinous dark skin or the tiny suction cups on the tentacles, you can easily rub them off with your fingers. Italians tend to leave these parts intact. Cut the tentacles on the diagonal into 1-inch (2½-centimeter) pieces. Cut the head into ½-inch-wide (12-millimeter-wide] slices.

Put the sliced octopus in a bowl and add the olive oil, lemon juice, parsley, garlic, and 1½ teaspoons salt. Stir well. Let marinate at room temperature for one hour, then taste, adjust the seasoning, and serve. If you like, you can marinate the octopus up to 2 days before serving. Keep it refrigerated, but remove from the refrigerator about 30 minutes before serving to take the chill off.
Notes
Suggested wine: Pietracupa Greco di Tufa, Campania. A white wine with some richness and robust acidity to stand up to the meaty octopus and the lemon notes in the dish.
Additional Notes from the Editor: Where to Purchase Octopus
When you were reading the recipe for octopus salad, you likely thought "This dish sounds great, but where can I purchase octopus?" It might not be such a difficult task to find the octopus, as it's likely you can order the delicacy from a trusted specialty seafood supplier either in your immediate area or online. Another option is to contact a local gourmet grocery store in your area; if they can't source the octopus, it is likely they can give you recommendations for a vendor. Plan accordingly when placing an order for octopus, too, as seafood suppliers may require a few business days to process the order and ship it to your doorstep. This is definitely one task you don't want to leave for the last minute!
2010 Rosetta Costantino and Janet Fletcher
YOUR RECENTLY VIEWED RECIPES
Free recipes, giveaways, exclusive partner offers, and more straight to your inbox!