20 Easy Seafood Recipes
These easy fish and shellfish recipes are perfect for any occasion!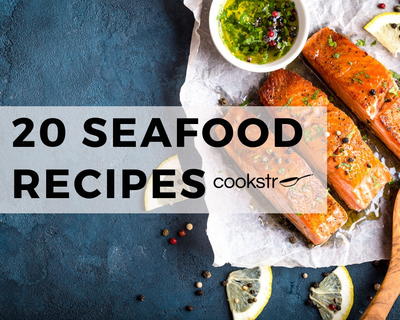 The seaweed is always greener... when you're having seafood for dinner! These 20 Easy Seafood Recipes are the perfect way to incorporate fish into your and your family's diets. Easy fish recipes can be a lighter alternative to red meat — and can taste great, too.

Fish and seafood are chock-full of important nutrients and fatty acids that your body needs. Incorporating fish and seafood meals can also be an easy way to keep things interesting during the week and keep your family from getting bored with the same old chicken dinners!

Fish might be a problem for picky eaters, but there are so many different flavors and textures out there that you're sure to find one that works for the whole family. Start with the basics and work your way towards more complex and exotic seafood recipes.

Whether you prefer fish or shellfish recipes, you're bound to find the perfect dish in this collection! The next time you need to think of dinner ideas, don't order delivery — just make these seafood recipes instead!
Table of Contents
Seafood Soups and Stews to Warm You Inside and Out
These seafood soup recipes would make for a great starter course, but they're also delicious as the main course! From favorites like clam chowder to fancy recipes like bourride, these fish and shellfish soups are a surefire hit. Incorporating some seafood into a classic soup recipe takes the guesswork out of cooking, and they're a must-have on a chilly day! These seafood recipes for soups and stews are also a great way to incorporate an assortment of fish and shellfish into one dish. Serve these soups with a loaf of fresh-baked bread and some steamed vegetables, and you'll have a hearty dinner that's ready to eat!
Seafood Appetizers for Any Event
Start the meal off right with these delicious seafood appetizers! From crab dip to calamari, these restaurant favorites are easy to recreate in your very own kitchen. Impress your guests from the very start — they'll love these seafood appetizer recipes as much as we do. You'll find these easy appetizer recipes are full of flavor and will be a welcome addition to almost any menu you have planned for your event. If you'd like, you can even serve some of these seafood recipes as a light meal; just add a fresh green salad or steamed vegetables, and that's it!
Fish Dishes for Lunch or Dinner
Fish should be a staple in your diet all year-round, not just on Fridays during Lent. These easy fish recipes will help you switch up your family's dinner routine and get on board with all the nutritional benefits fish has to offer! They're perfect for a lighter meal, and can be served with side dishes for a truly special dinner party. You will also love learning how to prepare and cook an assortment of fish with these easy recipes, too. From the classic fish and chips to grilled salmon and everything in between, you'll want to keep these fish recipes right at your fingertips.
If you're stuck in a rut with meal planning, then this recipe is just what you need. Serve this dish with couscous and steamed vegetables for a complete meal.
Grilled Salmon with Fresh Blueberry Corn Salsa
Featuring a wide array of flavors, this recipe for grilled salmon is perfect for anyone who cooks on the grill all summer. The blueberry corn salsa will add a complex flavor profile everyone will love!
This restaurant-style shrimp dish is sure to become a family favorite once you make it for yourself. The Chinese flavors in this dish make it a great addition to your usual weeknight rotation, and everyone will appreciate that this dish can come together in less than an hour. 
Shellfish Recipes for Special Occasions
Crab, clams, and lobster, oh my! These shellfish recipes are a scrumptious way to get a little shellfish in your life. Shellfish instantly makes a meal a little more sophisticated, and these easy shellfish recipes are so fun to eat as a family or to cook for a date! If it's possible, pay a visit to your local fishmonger so you can select the freshest shellfish available. When serving shellfish dishes, you will want to make sure you have the right tools on hand to crack the shells safely and carefully. Don't forget to include finger bowls with water and lemon slices so you can keep your fingers clean!
What is your favorite seafood recipe?
YOUR RECENTLY VIEWED RECIPES
Free recipes, giveaways, exclusive partner offers, and more straight to your inbox!