Basic Whole Roasted Rainbow Trout
This recipe is perfect for cooking a whole trout at once!
Cookbook
Published by W.W. Norton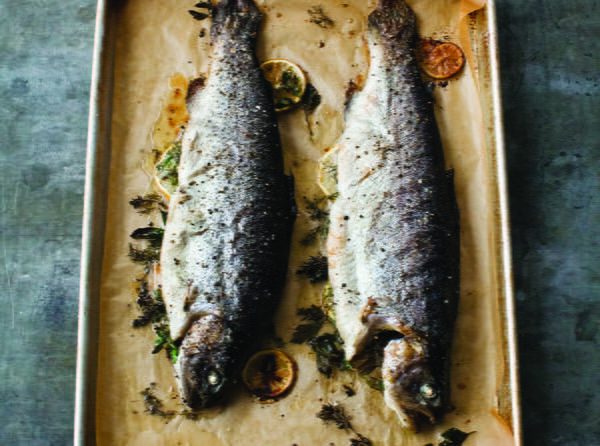 Basic Whole Roasted Rainbow Trout
This image courtesy of Quentin Bacon
Editor's Note: This Basic Whole Roasted Rainbow Trout recipe makes for a light and tasty dinner. As far as fish recipes go it's simple to prepare, and the mild flavor is perfect for pairing with the side dish of your choice (or with a sweet and fruity relish, like the one below). The author of this easy fish recipe has also included a few serving suggestions, which are listed below. If you've never roasted fish before, then this recipe is just what you need. As this recipe can serve two, you could consider making this fish recipe for a special occasion at home.

Even though I know that commercial rainbow trout comes from fish farms, the sight of the speckled, shiny fish with a pinkish line running from gill to tail (the bit of color that earns them their name) makes me wistful for camping trips and freshwater streams. Thankfully, I don't have to deal with the vagaries of trying to cook the fish over a campfire (not to mention the gutting and cleaning in the great outdoors), and instead can rely on a hot oven to roast them to perfection. Brushing the surface with a little melted butter before roasting helps the skin to crisp and brown up.

Rainbow trout fillets vary from ivory to pink, but the flavor is always mild and tasty. For a light meal, serve the fish as is. For something fancier, try the Tomato-Orange Relish recipe that follows. Good accompaniments for roasted trout are rice (pilaf is especially nice) and sautéed summer squash.

This recipe for Tomato-Orange Relish comes from my friend Roy Finamore, who coauthored a fish cookbook and knows a thing or two about what tastes good alongside fish. He made this to serve with my roasted whole trout, but it's also wonderful spooned on a sear-roasted salmon or tuna fillet. The relish is thick, almost like a jam, and its flavor is remarkably fresh, bright, citrusy, and sweet, especially when made with tomatoes picked at the height of the season. While the relish can be refrigerated overnight, it will lose some of its zing; for best flavor, let it come to room temperature before serving.

The recipe can easily be doubled—just use a bigger skillet.



Serves2
Occasional Fresco, Birthday, Buffet, Buffet Meal, Card Night, Casual Dinner Party, Cooking for a date, Formal Dinner Party
Ingredients
Trout
2 whole trout (about 12 ounces each), cleaned, gutted, and preferably boneless
Kosher salt and freshly ground black pepper
4 to 6 thin lemon slices
4 sprigs fresh herbs, such as flat-leaf parsley, dill, thyme, or a combination
1½ tablespoons unsalted butter, melted
Tomato-Orange Relish
1½ tablespoons extra virgin olive oil
¼ cup minced shallots
½ pound ripe beefsteak tomatoes, peeled, seeded, and chopped (see Notes)
1 tablespoon vodka or grappa
½ teaspoon chopped fresh thyme
Kosher salt and freshly ground black pepper
½ teaspoon finely grated orange zest
2 tablespoons fresh orange juice
1 teaspoon capers, drained
Are you ready to try even more delicious fish and seafood recipes? Then you'll want to explore these 
Instructions
To Make the Trout:
Heat the oven: Position a rack in the center of the oven and heat to 450 degrees F (425 degrees F convection). Line a heavy-duty rimmed baking sheet large enough to hold the fish with parchment paper.

Season the fish: Check the inside of the fish to make sure it's clean. If necessary, give the fish a quick rinse. Season the inside with salt and pepper. Layer the lemon slices inside and top with the herbs, folding the stems if necessary so they fit. Brush the butter over the entire outside surface of the fish and season all over with salt and pepper.

Roast the fish: Roast until the skin is crispy and browned and the flesh is opaque but still moist at the thickest part of the back (check by inserting a knife along the backbone of the fish, at the thickest part, and prying the top fillet away from the bone; it should come away easily but still be moist nearest the bone), 18 to 20 minutes, depending on the thickness of the fish. An instant-read thermometer inserted in the thickest part should read 130 to 140 degrees.

Serve: Transfer the fish to serving plates and serve immediately.
To Make the Tomato-Orange Relish:
Heat a small skillet (6-inch works well) over medium-high heat. When the pan is hot, add the oil and shallots. Sauté, stirring often, until the shallots are translucent but not browned, about 1 minute. 

Add the tomatoes, vodka or grappa, thyme, a pinch of salt, and a grinding of pepper. Bring to a gentle boil, then lower the heat and simmer, stirring every once in a while, until the tomatoes have thickened and there is little to no liquid left in the pan, about 6 minutes. ​

Remove from the heat and stir in the orange zest, orange juice, and capers. Taste and season again with salt and pepper. 

Transfer the relish to a serving bowl and let cool to room temperature before serving. The relish tastes best at room temperature (not hot), so make this at least 30 minutes ahead of serving.
Notes:
Wine: Light, citrusy whites, such as Pinot Grigio, Albarino, and Gruner Veltliner.
Peeling and Seeding Tomatoes:
I tried to shorten Roy's orginial tomato relish recipe by not bothering to peel and seed the tomatoes, but the bits of skin are unpleasant and the flavor isn't as refined (at least now you know this extra work is worth it and not some chefs affectation). In fact, many recipes featuring fresh tomatoes benefit from this step. Fortunately, there's a quick method for slipping off the skins without paring away any of the delicious flesh.

Bring a medium pot of water to a boil. Have ready a mixing bowl filled with ice water. Using a sharp knife, cut an X in the bottom (blossom end) of each tomato; you only really need to score the skin, so try not to cut too deeply. When the water boils, lower a few tomatoes in and keep them in the hot water for about 30 seconds. Remove with a slotted spoon and transfer immediately to the ice water to stop them from cooking. After about 30 seconds, remove from the water and, starting at the X, where the skin is loose, peel the skin off. If the skins don't slip off easily, return the tomatoes to the boiling water for another 15 seconds. The objective is to release the skin without cooking the tomato.

To seed the tomatoes, cut them crosswise across the equator-in other words, halfway between the stem end and the blossom end. Holding one half in your hand over a bowl, squeeze very gently, and with a fingertip of the other hand pry the seeds out of each segment. Next remove the core and chop the tomato as directed in your recipe.
More Trout Recipes from Cookstr.com
One of the best things about cooking trout is that it is a relatively cheap fish to buy. Unlike other seafood like salmon or crab, trout is pretty easy to find most places with water. Both freshwater and sea trout are popular dishes. Another great thing? Unlike some other fattier fishes, trout tend to be much lower in mercury levels, making the meat just a little bit safer.
2011 Molly Stevens
YOUR RECENTLY VIEWED RECIPES
Free recipes, giveaways, exclusive partner offers, and more straight to your inbox!