Collard Greens Pot Pies
Cookbook
Published by St. Martin's Griffin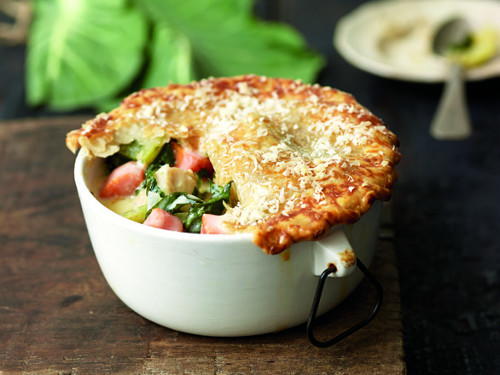 This image courtesy of Ellen Silverman
You already have a favorite pot pie recipe? OK, but mine is better. Yours was passed down for generations? Oh, that's sweet . . . but mine is still better. Why? Because mine is stuffed with collard greens, of course! This slightly bitter, hearty green breaks up the richness of the traditional dish but leaves the classic pot pie flavor as the star. And best of all, you'll leave your meal feeling great when you think about the massive amount of greens you just ate. The bottom line is, I win for best pot pie and, if you make this your new favorite pot pie recipe, then you'll be a winner too.
Serves4 people

Ingredients
2 tablespoons olive oil
1 pound boneless, skinless chicken breast halves
2 teaspoons kosher salt
1 teaspoon ground black pepper
4 tablespoons (½ stick) unsalted butter
1 cup coarsely chopped celery
1 cup coarsely chopped carrots
1 cup coarsely chopped yellow onions
1/2 cup dry white wine
1 pound collard greens (8 to 10 leaves), coarsely chopped
1/4 teaspoon ground nutmeg
6 tablespoons all-purpose flour 3 cups chicken stock
2 cups milk
1/3 cup chopped fresh flat-leaf parsley
Two 9-inch pie crusts (not baked)
1 large egg
1 tablespoon water
1/4 cup grated Parmesan cheese (1 ounce)
Instructions:
Heat the oil in a large saucepan over high heat. Sprinkle the chicken on all sides with 1 teaspoon of the salt and ½ teaspoon of the pepper. Add the chicken to the pan and cook, turning once, until browned on both sides and cooked through, 10 to 12 minutes. Transfer the chicken to a plate and set aside to rest.

Reduce the heat to medium, add the butter to the pan, and cook until melted. Stir in the celery, carrots, onions, and remaining 1 teaspoon salt and cook until the vegetables are soft and tender, 5 to 7 minutes.

Stir the wine into the vegetable mixture, scraping any brown bits stuck to the bottom of the pan with your spoon to release them. Cook for a few minutes until most of the wine has evaporated, then stir in the collards and nutmeg. Cook until the collards are wilted and soft, 3 minutes.

Preheat the oven to 425°F. Add the flour to the pan with the vegetables and stir to combine well. Cook for 2 minutes. Whisk in the stock and milk and bring the liquid to a simmer. Continue to simmer until the mixture thickens, about 3 minutes. Meanwhile, chop the chicken into bite-size pieces. Add the chicken and parsley to the thickened vegetable mixture and stir to combine.

Spoon the vegetable mixture into four 3½-inch oven-safe bowls (like a French onion soup bowl), dividing it equally. Lay the 9-inch pie crusts on a work surface and then, from each crust, cut 2 rounds sized to fit generously over the pot pie bowls. Place a crust on each bowl and crimp it to the edge. Whisk the egg and water in a small bowl and then brush this wash over each crust. Sprinkle the Parmesan evenly over the tops, reserving a bit to add before serving if you wish. Using a small sharp knife, cut a couple of slits in the top of each pot pie. Bake the pot pies until the crusts are brown, about 30 minutes. Dust with the reserved Parmesan and serve.
Keep It Simple
The white wine can easily be replaced with chicken stock or even water.

The nutmeg gives the dish a special, but subtle, flavor and really complements the greens, but you can leave it out if you don't have it on hand.

You can bake this dish in 1 or 2 large casseroles (or deep-dish pie plates) instead of in individual bowls. If you need to, be creative and piece the pie crusts to cover! It's finished baking when the crust is brown and the filling is bubbling.

Make this an under-500 calorie meal by baking or poaching your chicken with no oil, and using a reduced-fat milk instead of whole. It will all still be creamy and delicious and you won't feel as bad about having seconds (or thirds in the case of my husband).

Make it ahead! Once you have put the crust on, stop! Cover the pot pies with aluminum foil and freeze for up to 2 months. When you're ready to dig in, preheat your oven to 400°F and put the pot pies in with the foil still on. Bake for 40 minutes, remove the foil, and then add the egg wash and Parmesan and bake for 20 to 40 minutes more depending on the size of your dish. (If you don't have freezer-to-oven casseroles, use disposable pans.)
YOUR RECENTLY VIEWED RECIPES
Free recipes, giveaways, exclusive partner offers, and more straight to your inbox!