The Best Barbecue Sauce
Cookbook
Published by Clarkson Potter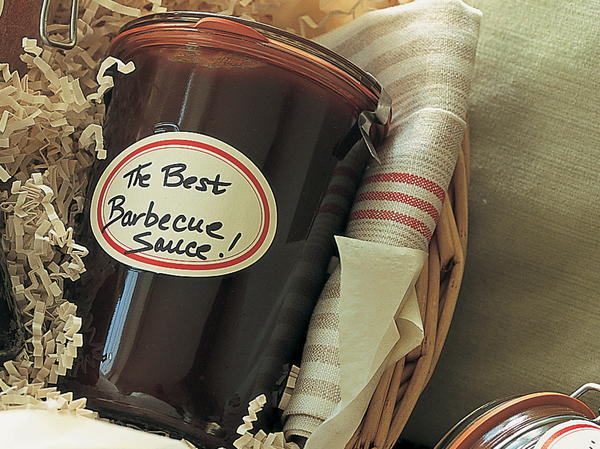 This image courtesy of Mark Ferri
Yeah, I know that other people say that their barbecue sauce is the best, but I mean it! Seriously, whether I use this rich, red, and robust mixture to dress a pair of succulent butterflied chickens or on pork ribs, it's always a huge success, clearly indicated by the hefty pile of bare bones left on people's plates. This sauce doubles perfectly and keeps well for ages, so I usually make a really big batch and store it in the refrigerator to use throughout the year. Unlike most barbecue sauces, which are too assertive for my family, this one tastes so great that we also use it as a table condiment. Try it spooned alongside a simple roast loin of pork and even grilled mushrooms. And if you want to make a friend for life, give a quart-size jar of this sauce to that special someone any time of the year.
NotesTiming is Everything:

This sauce can be fully assembled and stored in the refrigerator for six months.

Here's the Scoop: About "Blip, Blap, Blood"

Often, I'm asked by my students, "How will I know when a sauce [or any mixture] has thickened enough to be removed from the stove?" It's a good question, since insufficient cooking limits flavor development, while letting a sauce simmer too long causes it to overreduce and scorch on the bottom. The best way to understand when your sauce has thickened enough is to be aware of the sounds of your sauce as it bubbles. When a sauce starts to simmer, the bubbles quickly rise to the surface and pop abruptly, saying "blip, blip, blip." As this continues, natural evaporation eliminates more of the water content, so the bubbles rise more slowly, with a "blap, blap, blap" sound. More simmering means even more evaporation of water, leaving your sauce with a considerably deeper color and a sluggish voice that says "bloop, bloop, bloop." It's this evaporation of water that helps intensify and meld flavors and also gives body to a sauce. Unless your recipe instructs you otherwise, keep the heat low and stir occasionally to prevent scorching. And pay attention to the position of the lid. Covering a sauce completely as it simmers will cause too much condensation, diluting flavors and inhibiting reduction. Simmering uncovered, or with the cover ajar, is always better.

Dietary Considerationegg-free, gluten-free, lactose-free, peanut free, tree nut free
Taste and Texturegarlicky, hot & spicy, sweet, tangy, tart, umami
Type of DishCondiments, barbecue sauce, sauces
Ingredients
2 cups ketchup
2 cups bottled chili sauce (I use Heinz)
1 generous cup minced yellow onion
8 large garlic cloves, minced
1/3 cup dark brown sugar
1/3 cup unsulphured molasses
¼ cup mild-flavored honey
2 rounded tablespoons Dijon mustard
2 teaspoons Worcestershire sauce
¼ cup soy sauce, preferably tamari
½ cup apple cider vinegar
2 generous tablespoons Bovril (beef extract), available in well-stocked supermarkets and Asian grocery stores (optional)
1 or 2 fresh habanero chiles (also called Scotch Bonnets) or jalapeños, pierced several times with a fork, or 1 to 2 teaspoons hot pepper sauce (optional)
Freshly ground black pepper to taste
Instructions
Combine all the ingredients except the black pepper in a 2½-quart, heavy-bottomed, nonreactive saucepan. Stir well to combine and place the pan over medium heat with the cover ajar. Bring the mixture to a full simmer, then turn the heat to low. Simmer until the sauce is thickened and the color deepens considerably, about 30 minutes, stirring occasionally (see Note). Uncover, stir in a generous amount of black pepper, and remove the saucepan from the heat. Let the sauce cool, uncovered, until just warm. (While cooling, lay a clean kitchen towel over the pan to prevent debris from falling into the sauce.)

Pour the sauce through a triple-mesh wire sieve that's positioned over another bowl and, using the flat edge of a wooden spatula, force the sauce through, leaving the onions, garlic, and chiles behind. Discard the solids, pour the sauce into jars, and affix their lids. Store the sauce in the refrigerator.
2004 by Lauren Groveman
YOUR RECENTLY VIEWED RECIPES
Free recipes, giveaways, exclusive partner offers, and more straight to your inbox!