Chile de Arbol (Hot Sauce)
How to make hot sauce with dried peppers.
Cookbook
Published by William Morrow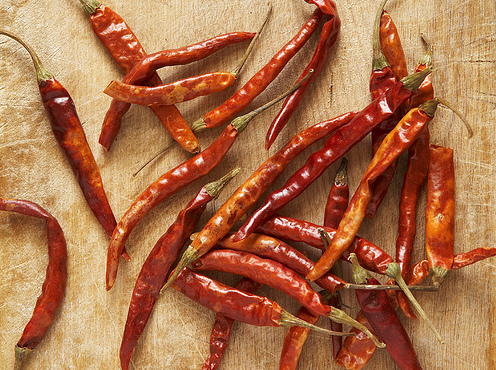 This image courtesy of Joseph DeLeo
From the Editor: If you're looking for a delicious way to learn how to make hot sauce, you've stumbled upon the right recipe. Created by Rick Bayless himself, this homemade hot sauce recipe shows you how to make hot sauce with dried peppers. Try the recipe one of our reader's described as "low/medium heat on the finish that is quite pleasant on the palate".

It stands in corked liter liquor bottles in markets through west-Central and Northern Mexico, waiting to be taken home to sprinkle on tacos, tostadas or the lot of other snacks, or to dash into soup. It lasts indefinitely, unlike the uncooked vegetable-chile blends that also go on the table; it's the closest you'll get to Tabasco sauce—and it is a lot better.

Ingredients
Chiles de Àrbol: They're available in most Mexican markets. But if you can't find them, a good sauce can be made with any small, dried hot pepper, like the Mexican chiles japoneses or the common little ones frequently labeled just "chile peppers" in the grocery store. For a milder hot sauce, replace ½ ounce of the chiles de àrbol with 2 chiles guajillos or 1 large California or New Mexico chile.

Timing and Advance Preparation
Preparing the sauce takes about 30 minutes. Stored in the refrigerator, it will last indefinitely—even getting better after several weeks. Or pour it into sterilized canning jars, seal and process in a water bath; store indefinitely at room temperature.

Regional Explorations
The labels on commercially made bottled hot sauce in Mexico commonly list chile de àrbol as well as the thin, piquant guajillo called pulla, plus, of course, vinegar and spices. In the small west-coast state of Nayarit, a bottle of locally made liquid fire plainly listed sesame seeds and pumpkinseeds among the ingredients; I have added them to my simple well-flavored standard and it makes the best sauce I've had.
Taste and TextureHot & Spicy, Spiced, Tangy
Type of DishCondiments, Sauces
Ingredients
1¼ ounces (about 50 to 60 mixed-size) dried chiles de arbol
1½ tablespoons sesame seeds
2 tablespoons shelled pumpkin seeds (pepitas)
¼ teaspoon cumin seeds (or a generous ¼ teaspoon ground)
4 large allspice berries (or about 1/8 teaspoon ground)
2 cloves (or a big pinch ground)
1 teaspoon dried oregano
1 scant teaspoon salt
2 large cloves garlic, peeled and roughly chopped
¾ cup cider vinegar
Love Spicy Food & Hot Sauce?
Then you're going to love our fantastic collection of traditional Mexican favorites. 

>> Check it out: 30+ Easy Mexican Food Recipes
Instructions
The chiles and seeds. Stem the chiles, then roll them between your thumb and fingers, pressing gently to loosen the seeds inside. Break in half, shake out as many seeds as possible, then place in a blender jar.

Heat an ungreased skillet over medium-low. Measure in the sesame seeds and stir for several minutes as they brown and pop; scoop into the blender jar. Add the pumpkinseeds to the skillet. When the first one pops, stir constantly for several minutes, until all are golden and have popped up into a round shape.

Blending the sauce. Pulverize the cumin, allspice and cloves in a mortar or spice grinder, then add to the blender jar along with the oregano, salt, garlic and vinegar. Blend for several minutes, until the mixture is orange-red and feels quite smooth when a drop is rubbed between your fingers.

Straining and ripening the sauce. Strain through a medium-mesh sieve, working the solids back and forth and pressing them firmly; there will be a fair amount of chile seeds, skins, sesame hulls and other debris to discard, but be careful that there is no liquid trapped within them.

Stir in ¾ cup water, then pour into a bottle, cover and let stand for 24 hours before serving.
1987, 2007 Rick Bayless and Deann Groen Bayless
YOUR RECENTLY VIEWED RECIPES
Free recipes, giveaways, exclusive partner offers, and more straight to your inbox!