Muffuletta for a Picnic or a Boat-nic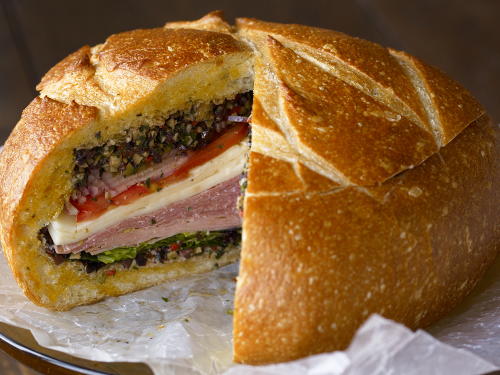 This image courtesy of Christine Schmidhofer
Serves5 to 6

Ingredients
For the Chopped Olive Salad:
1 cup finely chopped green brine-cured olives
1 cup finely chopped black brine-cured olives
1/2 cup extra-virgin olive oil
1/3 cup chopped flat-leaf parsley
2 teaspoons finely chopped fresh marjoram
2 teaspoons finely chopped mint
2 cloves garlic, very finely chopped
1 roasted red bell pepper (from a jar), drained and finely chopped
1/4 teaspoon freshly ground black pepper
2 tablespoons fresh lemon juice
For the Muffuletta:
1 large round soft French or Italian loaf (about 9 inches in diameter)
2 cups baby salad greens (arugola, red leaf, etc.)
4 ounces thinly sliced mortadella
4 ounces thinly sliced Genoa salami
6 ounces thinly sliced provolone
1 plum tomato, sliced about 1/4-inch thick
½ cup paper-thin-sliced red onion (optional)
Instructions
In a bowl, toss together the green and black olives, olive oil, parsley, marjoram, garlic, roasted pepper, lemon juice, and pepper. Cover and refrigerate for up to 8 hours, or overnight if desired.
Remove the top quarter of the loaf of bread, slicing it horizontally with a long serrated knife. Scoop out most of the soft inner crumb from the sides and bottom of the loaf, leaving about a 1/2-inch outer crust (a small serrated knife is useful in this operation).  Scrape a little of the bread out of the lid, leaving a thicker wall.

Drain the chopped olive salad, pressing down hard and reserving the juices. Use the juice to generously brush the inner walls of both the top and bottom of the loaf (don't brush the very bottom—it'll get enough juice). Spread half the drained olive salad in the bottom of the cavity. On top, make an even layer of the salad greens, then, in concentric circles, the mortadella, salami, and provolone, pressing down firmly as you go. Then tuck (actually, cram is a better word) the sliced tomatoes and, if using, the sliced onion around the edges, filling up the resulting gap. Finish with the remaining olive salad, poking it into any gaps remaining and mounding it up higher than the top of the opening.

Place the top cap of bread over the salad, press down firmly, and wrap tightly several times with plastic wrap. Place on a platter, cover with another platter, and weight the top platter with about 2 pounds of weight (a few large cans will do the trick). Chill for at least 1 or up to 6 hours. Unwrap and carefully cut into wedges with a large serrated knife.
Mise-en-Place
To save time, you can make the olive salad the night before. Or, you could substitute a well-made store-bought tapenade for the base of the olive salad, but be sure to add the fresh herbs, garlic, roasted pepper, and lemon juice to brighten it up. Assemble the muffuletta from 1 to 6 hours (better) before cutting and serving.
YOUR RECENTLY VIEWED RECIPES
Free recipes, giveaways, exclusive partner offers, and more straight to your inbox!