Caesar Salad
Cookbook
Published by Harvard Common Press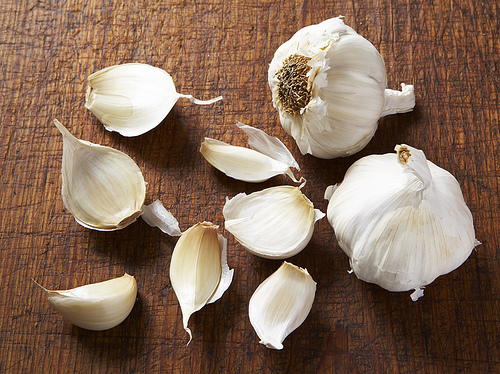 This image courtesy of Joseph DeLeo
Editor's Note: What can be more classic than the much-loved Caesar Salad? The unique salad recipe can be served for lunch or dinner. It is also elegant enough to be served on its own at a casual lunch party with friends, but can serve as an accompaniment to a main dish if you'd like to plan for a heartier meal. This recipe requires some preparation, which will pay off in a refreshing salad that you and your family will enjoy. This salad recipe will be one that you will want to make again and again. 

This famous mix of romaine lettuce, garlic, olive oil croutons, Parmesan cheese, Worcestershire sauce, and, often, anchovies sounds like the most Italian of all salads. It was in fact created by an Italian, but he was an immigrant—Caesar Cardini, who owned a series of restaurants in Tijuana, Mexico, just across the border from San Diego. At Caesar's Place, on the July Fourth weekend in 1924, Cardini, having run out of ingredients for main courses, concocted the salad as a main course, arranging the lettuce leaves on a plate with the intention that they would be eaten with the fingers. Later Cardini shredded the leaves into bite-size pieces. It was the first main-course salad in the United States, where salads had previously been served only as a side dish.

Caesar Salad became particularly popular with the Hollywood movie crowd that frequented Tijuana during Prohibition, and it was a featured dish at Chasen's and Romanoff's in Los Angeles. Caesar Salad went on to be voted the "greatest recipe to originate from the Americas in fifty years" by the International Society of Epicures in Paris. Cardini, who died in 1956, was always adamant that the salad should be subtly flavored and argued against the inclusion of anchovies, whose faint flavor in his creation he believed may have come from the Worcestershire sauce. He also decreed that only Italian olive oil and imported Parmigiano be used. In 1948 he established a patent on the dressing, which is still packaged and sold as "Cardini's Original Caesar Dressing Mix," distributed by Caesar Cardini Foods Culver City, California.

The following recipe is the original and does not include anchovies.
Serves6
OccasionCasual Dinner Party, Game Day
Recipe CourseAppetizer, Main Course
EquipmentFood Processor, Mortar And Pestle
Taste and TextureCheesy, Garlicky, Salty, Savory, Tangy
Type of DishFirst Course Salad, Main Course Salad
Ingredients
4 garlic cloves
12 tablespoons olive oil
2 cups diced Italian bread
2 medium heads romaine lettuce
½ teaspoon salt, preferably kosher
2 large eggs
Freshly ground black pepper
Juice of 1 lemon
1 teaspoon Worcestershire sauce
¼ cup freshly grated Parmigiano-Reggiano cheese
Instructions
Preheat the oven to 250 degrees F.

In a small bowl, mash 2 of the garlic cloves in 3 tablespoons of the olive oil. Baste the diced bread with the oil and garlic mixture, and place the cubes in a shallow baking pan. Bake, basting two more times, until the croutons are crisp, 8 to 12 minutes.

Meanwhile, separate the lettuce leaves, rinse them gently, shake them dry, and refrigerate in a plastic bag until ready to serve.

Mash the remaining 2 garlic cloves, and combine them with ¼ teaspoon of the salt and 3 tablespoons of the olive oil in a mini processor or a mortar. Process to a puree, and then strain.

Place the strained garlic oil in a sauté pan over medium heat. Add the croutons, heat briefly, and toss. Then turn them into a serving bowl and set aside.

Bring a small pot of water to a boil, add the eggs, and boil for exactly 1 minute. Remove the eggs from the water.

Place the letttuce leaves in a very large bowl, and pour 4 tablespoons of the olive oil over them. Stir with large motions to coat. Sprinkle the lettuce with the remaining ¼ teaspoon salt, 8 grindings of black pepper, and the remaining 2 tablespoons olive oil. Toss again, and add the lemon juice and Worcestershire sauce. Break the eggs into the salad, toss, and add the Parmigiano-Reggiano. Toss again and top with the croutons. Serve on chilled plates.
2000 John Mariani and Galina Mariani
YOUR RECENTLY VIEWED RECIPES
Free recipes, giveaways, exclusive partner offers, and more straight to your inbox!