Sweet Corn Soup
Cookbook
Published by Harvard Common Press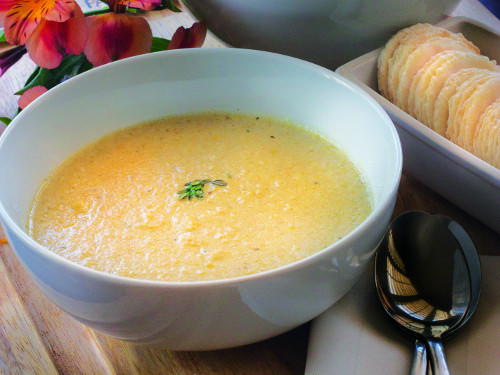 To me, there is something bold and regal about a freshly picked ear of yellow corn. It stands tall, wrapped tightly in a husky robe with a scruffy little tuft of brown "hair" poking out from the crown. Peeling back the layers and removing the strands of silk reveal a golden treasure chest of nuggets of tightly packed flavor. Scraping those corn kernels away from the cob as the milky juices release is a sweet prize reserved only for those in the know.

Truth be told, there is nothing mysterious about my corn soup, but I can tell you that there is something very special about the ingredients in it. The hands of Louisiana farmers harvested these ears of corn, and I can taste the quality—and the love. I urge you to make it with adherence to its simplicity and to stay true to the goodness of its fresh ingredients.
Serves4

Ingredients
8 ears yellow corn, husks and silk removed
8 tablespoons (1 stick, or 112 g) unsalted butter
1 cup (160 g) diced yellow onion
1 cup (120 g) diced celery
1 tablespoon (10 g) minced garlic
1 tablespoon (2 g) chopped fresh thyme
1 teaspoon granulated sugar
1 teaspoon freshly ground white pepper
Pinch of cayenne pepper
Kosher salt
1 cup (235 ml) chicken stock
2 cups (475 ml) half-and-half
Fresh thyme sprigs
Crispy crackers
Instructions
With a sharp knife, cut the corn from the husks as close to the cob as you can. Place the corn kernels in a bowl.

In a cast-iron pot over medium-high heat, melt the butter. Add the onions and celery. Stir the mixture and cook just until the onions turn translucent, about 5 minutes. Add the garlic, thyme, and corn. Stir until the corn begins to soften and then add the sugar, white pepper, cayenne, and the chicken stock. Season with salt to taste. Bring to a boil and then immediately lower the heat to a simmer. Add the half-and-half and continue cooking until the soup begins to thicken, about 35 minutes. Remove from the heat, pour into a heatproof bowl, and let cool.

Pour the cooled soup into a blender, up to the halfway point. Blend on high speed until completely smooth. Pour the mixture back into the pot. Repeat until all the soup is blended. (Or if you have an immersion blender, use that right in the pot.)

Reheat the soup over medium-high heat until it reaches a simmer. Ladle the soup into individual bowls. Garnish each with a sprig of thyme and serve with crispy crackers.
YOUR RECENTLY VIEWED RECIPES
Free recipes, giveaways, exclusive partner offers, and more straight to your inbox!