Punched-Up Potato and Leek Soup
Cookbook
Published by Ten Speed Press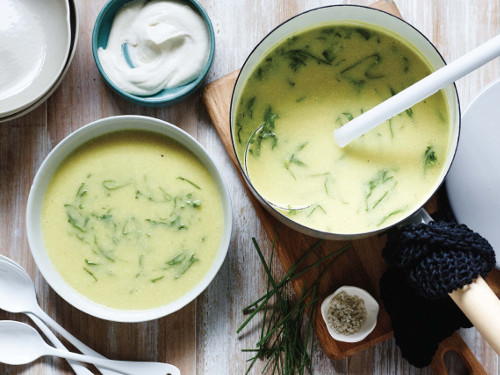 This image courtesy of Anson Smart
Roasted garlic and a touch of curry pull the classic potato-and-leek combo up to a new level. Resist the urge to overcommit to curry, because this soup sings when it's subtle. (The turmeric boost will up color, flavor, and anti-inflammatory ammo.) Lemon juice brightens the blend, a dollop of sour cream adds a beautiful tang and creaminess, and chives chime in with bite. Depending on the character of your potatoes, stir in more sour cream, and for a richer texture go with that drizzle of olive oil. For crunch, top with the crushed cashews.
Serves8 as a starter, 6 as a main

Recipe CourseAppetizer, Main Course
Ingredients
1 medium head garlic
1 teaspoon plus 2 tablespoons extra-virgin olive oil or grapeseed oil
2 large leeks, roughly chopped (white and pale green parts)
1⁄4 cup (33g) diced celery
3⁄4 teaspoon natural salt, plus more to taste
6 cups (1kg) peeled and diced yellow potatoes (6 medium)
1 1⁄2 cups (150g) chopped cauliflower florets
8 cups (1.9 l) vegetable broth
1 teaspoon mild yellow curry powder
1 tablespoon fresh lemon juice, plus more to serve
1⁄2 cup (70g) raw unsalted cashews
1 cup (44g) firmly packed baby spinach cut into ribbons
2 tablespoons finely chopped chives
Optional Boosters
1⁄4 teaspoon ground turmeric
Extra-virgin olive oil
1⁄2 cup (75g) roughly chopped raw unsalted cashews
Instructions
Preheat the oven to 350°F (180°C).

Remove the papery outer layers from the head of garlic, leaving it whole, with all cloves connected. Trim 1⁄4 inch (6mm) off the top of the head to expose the cloves. Drizzle with the 1 teaspoon of olive oil. Wrap the head in parchment paper, then in aluminum foil (to allow the garlic to steam and not burn, and to reduce aluminum transfer), and roast for 40 to 60 minutes, until tender. Allow to cool, then squeeze the garlic pulp out of the skins and set aside. You should have 2 to 3 tablespoons of roasted garlic.

Rinse the diced potatoes to wash off some of the starch.

Rinse the diced potatoes to wash off some of the starch.
In a large saucepan, heat the remaining 2 tablespoons of olive oil over medium heat and sauté the leeks and celery with 1⁄4 teaspoon of salt for about 5 minutes, until soft and translucent. Add the potatoes, the cauliflower, roasted garlic pulp, and 7 cups (1.65 l) of the vegetable broth. Increase the heat to high and bring just to a boil. Reduce the heat to medium-low and simmer for 10 to 15 minutes, until the potato and cauliflower are just tender. Immediately remove the saucepan from the heat (to reduce the starch build-up) and allow the soup to cool slightly; stir in the curry powder, the turmeric boosters, and cashews, and allow to cool for a few more minutes.

Working in batches, pour the soup into your blender with the remaining vegetable broth and puree on high for 30 to 60 seconds, until smooth and creamy. (For conventional blenders, remove the small center lid cap and cover the opening with a kitchen towel so steam can escape while you blend.) Return the soup to the saucepan and warm it over low heat. Stir in the lemon juice and the remaining 1⁄2 teaspoon salt, then tweak the lemon juice and salt to taste. Stir in the spinach for 30 seconds just to wilt it.

Ladle the soup into bowls and swirl 1 teaspoon of sour cream through each serving. Garnish each bowl with 1⁄4 teaspoon of the olive oil booster, a sprinkle of the cashew booster, and 1⁄4 teaspoon of the chives. Pass additional sour cream, lemon juice, and olive oil along with the remaining chives at the table.
Nutritional Facts (per serving, based on 8 servings)
calories 208 kcal | fat 8.3 g | saturated fat 1.1 g | sodium 281.2 mg | carbs 30.3 g | fiber 4.2 g | sugars 2.7 g | protein 5.4 g | calcium 60.8 mg | iron 2.3 mg
Reprinted with permission from The Perfect Blend, copyright 2016 Tess Masters. Published by Ten Speed Press, an imprint of Penguin Random House LLC.
YOUR RECENTLY VIEWED RECIPES
Free recipes, giveaways, exclusive partner offers, and more straight to your inbox!