Mushroom and Barley Soup
Cookbook
Published by Flatiron Books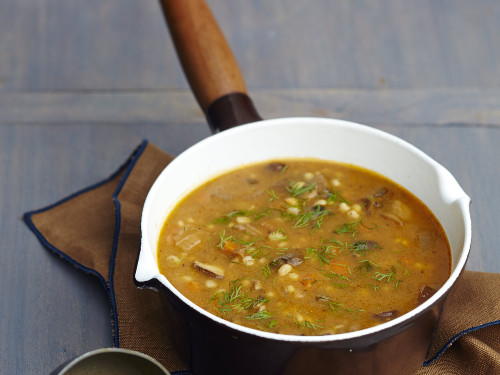 This image courtesy of Lauren Volo
Part of what made mushrooms—one of the primary flavoring agents of Ashkenazi cuisine—so popular was the fact that they could be foraged from the forests, free of charge. They also possess a meaty, umami character. The best foragers, often peasant women, would gather extras after a rain spell and sell them at markets.
 
Among the types of mushrooms eaten by Jews in Europe, porcinis (often referred to as cèpes, from the French) were quite common. Even after Jews immigrated to North America, where they relied mostly on North American ingredients for cooking, there was a robust mushroom trade for imported porcinis from the Old World. "Mushrooms were one of the few things they [Jews] bothered to bring in from the Old Country," explains food historian Jane Ziegelman. "There was even a little mushroom wholesale district on Houston Street."
 
This recipe is best made with porcinis, both dried and fresh, but a variety of mushrooms, including shiitakes and even portobellos, will taste great. The dried mushrooms give this soup particular depth. Also note that the barley is cooked separately from the broth, to ensure a soup that isn't gummy or porridge-like, as mushroom barley can sometimes be.
Serves8

Ingredients
2½ tablespoons vegetable oil
½ cup pearl barley
8 cups vegetable broth, store-bought or homemade
4 sprigs fresh dill, plus chopped fresh dill for garnish
½ ounce dried mushrooms (about ¾ cup loosely packed)
½ cup boiling water
1 large carrot, peeled and diced
1 celery stalk, diced
1 small onion, diced
1 pound fresh porcini mushrooms, stems removed, quartered
1 teaspoon kosher salt
1 teaspoon freshly ground black pepper
Instructions
In a small nonstick saucepan, heat ½ tablespoon of the oil over medium heat. Add the barley and toast it, stirring frequently, until it becomes fragrant and flecked with dark brown spots, about 7 minutes. Pour in 1 cup of the broth and add 1 sprig of the dill. Bring to a boil, then cover and simmer over medium heat until the barley is cooked through but not soft, about 25 minutes. Remove from the heat, discard the dill sprig, and drain any remaining liquid from the grain. Set aside.

While the barley is cooking, place the dried mushrooms in a small bowl and pour the boiling water over them. Let them rehydrate for about 25 minutes, then strain through a fine-mesh strainer into a bowl, reserving the liquid and slicing the reconstituted mushrooms into small pieces.

In a large stockpot, heat the remaining 2 tablespoons oil over medium heat. Add the carrot, celery, onion, and porcinis. Sauté, stirring frequently, until the onion starts to brown, about 10 minutes. Add the rehydrated mushrooms, reserved mushroom soaking liquid, remaining 7 cups broth, the salt, pepper, and remaining 3 sprigs dill and simmer until the vegetables are soft, 25 to 30 minutes. Remove and discard the dill sprigs. Stir in the barley. Salt to taste.

Serve the soup garnished with chopped fresh dill. It tastes best when reheated the next day.
YOUR RECENTLY VIEWED RECIPES
Free recipes, giveaways, exclusive partner offers, and more straight to your inbox!