Lobster Bisque with Cognac
Cookbook
Published by Quarry Books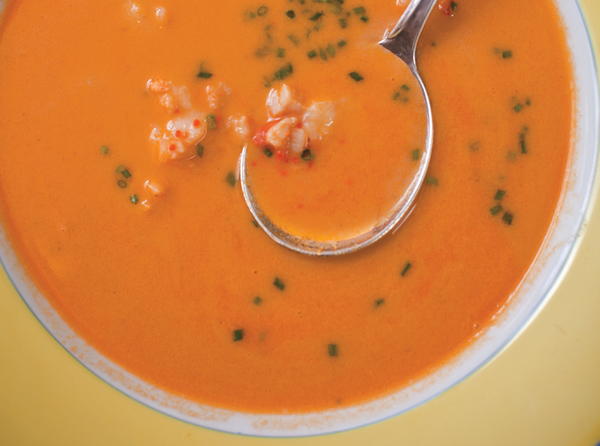 This image courtesy of Steve Legato
In French cuisine, a bisque is a velvety smooth, creamy, highly seasoned soup that is classically made from crustaceans, especially lobster and crayfish, but also crab and shrimp. By extension, other smooth, creamy soups, especially if thickened with white rice, may also be termed bisque (see Tomato Bisque with Basil and Fennel, page 62). In making this lobster bisque, you'll be extracting every bit of flavor from the lobsters including their shells and their delicious roe, if you can find mature female lobsters. Although this is a rather complex soup to make-that is, preparing live lobsters and then chopping or grinding their shells, which contain a surprising amount of flavor-the results are superb and fit for the most elegant of dinners. The bisque also freezes surprisingly well.
Recipe CourseAppetizer, Main Course
Dietary ConsiderationEgg-free, Peanut Free, Soy Free, Tree Nut Free
Ingredients
2 live lobsters (or crayfish) (1/2 pounds, or 680 g, each), preferably female for their beautiful and delicious roe
2 tablespoons (30 ml) olive oil
6 tablespoons (89 ml) Cognac
1/2 cup (120 ml) Madeira or dry sherry
2 carrots, peeled and sliced
2 ribs celery, trimmed and sliced
1 medium onion, cut into rough chunks
2 ripe red tomatoes, quartered
4 cloves garlic, halved
Bouquet garni (see Notes): 3 sprigs tarragon, 2 sprigs thyme, 1 sprig flat-leaf parsley, and 1 bay leaf
2 tablespoons (32 g) tomato paste
3 quarts (3 L) shrimp or chicken stock
3 tablespoons (42 g) unsalted butter, softened
1/4 cup (31 g) all-purpose flour
1 cup (235 ml) white wine
2 cups (475 ml) heavy cream
Salt, white pepper, and cayenne pepper
Thinly sliced chives and/or cooked lobster roe, for garnish
Instructions
Place one live lobster on a work surface with its head facing your non dominant hand.

Grip the lobster on the back of its thorax, or main body shell (the lobster's claws will have been secured by rubber bands). Look for the place where two sections of shell meet. Plunge the point of a sharp chef's knife between the shell sections. This will kill the lobster instantly although it will often keep moving.

Split one of the lobsters lengthwise from head to tail. Separate the two halves. Remove and discard the two halves of the "sand sac" (the small bag) from inside both sides of the head, which is the lobster's stomach, and the long fingerlike spongy gills from underneath the main body portion. Repeat the process for the second lobster.

Remove the dark green roe sacs and reserve. (The more mature the female lobster, the darker and more abundant the roe will be.) Cook the roe, crumble it, and reserve.

Cut or twist off the claws from both lobsters. Break up the claw shells by hitting with a meat pounder or a hammer.

Cut off and reserve the lobster tail sections (two halves from each lobster). Separately, cook the tail pieces in oil until the meat is opaque and the shells curl up. Cool and reserve.

In a large saute pan or rondeau (as shown here), heat the olive oil till it's just beginning to smoke. Cook all the obster pieces except the reserved tail sections, at high heat till they turn bright red. Add the Cognac and Madeira and flambe, taking care to keep your face averted when lighting.

Add the carrot, celery, onion, tomatoes, garlic, and bouquet garni to the pot. Cook together 5 minutes.

If using a skillet, scrape the lobster vegetable mix to a large heavy-bottomed soup pot. Add tomato paste and Chicken Stock and bring to a boil. (If using a rondeau, add the liquid directly to the contents of the pot.) Simmer 1 hour, stirring occasionally to prevent sticking.

Strain out solids, reserving both solids and broth separately and reserve pot-it is not necessary to wash it. Chop the solids into smaller pieces using a heavy chef's knife or cleaver. The smaller the pieces, the more flavor you'll be able to extract from the shells.

Mix the lobster pieces and broth together in a large soup pot.

Make a beurre manie (a soft paste of the butter and flour).

If available, add the lobster roe to the paste, reserving some for garnish, if desired.

Mash the roe together with the butter and flour to make a creamy paste.

Whisk the beurre manie into the broth to thicken it. Add the white wine and bring back to a boil. Then, reduce heat and simmer 1 hour or until the lobster shells have given off their flavor, skimming as necessary and stirring occasionally.

Skim off any foamy impurities that rise to the surface and discard.

Meanwhile, cut the cooked tail meat into thin crosswise slices and reserve for garnish.

Strain the mixture first through a colander, sieve, or china cap, pressing down firmly with the back of a ladle to extract all the good flavors. Dird the solids. Strain a second time through a fine sieve or china cap for smooth texture and to make sure no shell pieces remain.

Transfer the strained liquid to large pot. To finish the bisque, stir in the cream, bring back to a boil, and season with salt, white pepper, and cayenne to taste. It should be fluid and creamy, thick enough to lightly coat the back of a wooden spoon.

Ladle bisque into hot soup plates and sprinkle with reserved sliced lobster meat, chives, and any reserved cooked roe. Serve immediately.

Store refrigerated up to 3 days. This soup may be frozen.
Notes
Save for Stock: Carrot, celery, onion and tomato trimmings, garlic skins, herb stems
Making a Bouquet Garni
A bouquet garni is a small bundle of aromatic ingredients such as herbs, peppercorns, and orange zest strips. This bundle is tied with kitchen string; enclosed in a piece of cheesecloth or undyed muslin; placed in a tea strainer, a coffee filter, or a special small net bag; or in traditional French kitchens, wrapped in leek leaves. The bouquet garni is added to soups, stocks, sauces, and stews, where it infuses the food with its aromas and is removed before serving. Most commonly, a bouquet garni will include parsley, thyme, and bay leaf, but often it includes basil, rosemary, sage, savory, and tarragon as well.

You will need:
• 6 to 8 sprigs flat-leaf parsley
• 2 bay leaves
• 2 to 3 sprigs basil
• 3 to 4 sprigs thyme, marjoram, or savory
• 2 strips orange zest (one-quarter of an orange), cut using a potato peeler with a minimum of bitter, white pith
 
Make a compact bundle of the herbs and orange zest strips.

Either tie securely with kitchen string or place in a piece of muslin and tie shut. This makes it easy to remove the bundle after cooking.
2013 Quarry Books
YOUR RECENTLY VIEWED RECIPES
Free recipes, giveaways, exclusive partner offers, and more straight to your inbox!