Lilya's Summer Beet Borscht
Cookbook
Published by Flatiron Books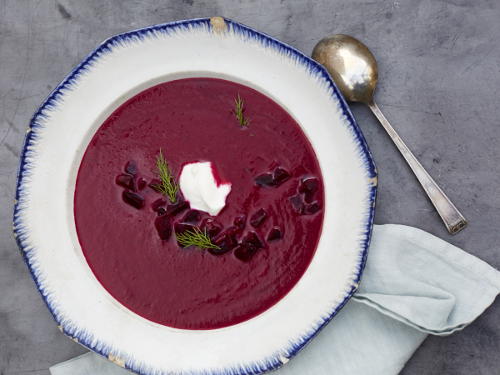 This image courtesy of Lauren Volo
One summer day, Jeffrey and I headed to Little Odessa in Brighton Beach, Brooklyn. We were visiting our business partner Jackie's ninety-two-year-old Russian-born great-aunt, Lilya. She had immigrated to Brighton Beach from the Soviet Union in 1989. Lilya was known for her borscht, and shed invited us to spend time with her while she salted and seasoned three varieties of the soup. At ninety-two, she was extraordinary, foisting shots of vodka on us and showering us with words of wisdom. We left Brighton Beach inspired and feeling lucky to have met her. She passed away a couple of years later. We developed this recipe with her in mind. This beet borscht is perfect served chilled on summer days or served hot in the colder months. The ideal borscht, writes Aleksandar Hemon in the New Yorker of his Bosnian family traditions, "contains everything . . . and it can be refrigerated and reheated in perpetuity, always better the next day . . . The crucial ingredient . . . is a large, hungry family, surviving together." Jeffrey thinks that this recipe should utilize rossel (the brine from fermented beets, otherwise known as beet kvass) instead of vinegar to add tang, since traditionally borschts coveted sour flavor was cultivated by first fermenting the beets. But I disagree. I like the flavor that vinegar adds, even if it isn't as Old World. This recipe uses vinegar (I won!), but if you'd like to be more old school and first wait a week to ferment your beets, follow the Beet and Ginger Kvass recipe (page 290) but omit the ginger. And while this recipe calls for roasting beets and adding them to the soup, it also tastes great without roasted beets. Just cut the beet amount to 1 pound if omitting the roasting step.
Serves6 to 8

Ingredients
2 pounds whole beets, scrubbed but unpeeled
2 carrots, unpeeled and coarsely chopped
2 celery stalks with leaves, coarsely chopped
2 medium onions: 1 quartered, 1 diced
5 garlic cloves: 2 left whole, 3 minced
2 dried bay leaves
2 tablespoons kosher salt
2 tablespoons whole black peppercorns
2 tablespoons caraway seeds
9 cups cold water
2 tablespoons olive oil
3 tablespoons honey
3 tablespoons apple cider vinegar
Sour cream, storebought or homemade, or crème fraîche, for garnish
Chopped fresh dill, for garnish
Instructions
Preheat the oven to 400ºF. Wrap 1 pound of the beets individually in aluminum foil and set on a baking sheet. Roast until they can be easily pierced with a fork, 40 minutes to 1 hour, depending on the size of the beets (larger beets take longer). The skin should peel off easily under cold running water. Dice the beets into bitesize pieces and refrigerate until serving.

While the beets are roasting, in a large soup pot, combine the remaining 1 pound beets, the carrots, celery, quartered onion, whole garlic cloves, bay leaves, salt, peppercorns, caraway seeds, and 9 cups water. Bring to a boil, then reduce the heat to low and simmer for 1 hour. Remove from the heat.

Fill a large bowl with water and ice. Remove the boiled beets from the pot and place them in the ice-water bath. When cool, peel and coarsely chop them. Strain the broth through a fine-mesh strainer into a large bowl, discarding the solids.

Rinse and dry the soup pot and set it over medium heat. Add the olive oil and diced onion and sauté until the onion is fragrant, about 3 minutes. Add the minced garlic and sauté for 3 to 5 minutes more, until the onion begins to turn golden. Add the beet broth and coarsely chopped boiled beets to the pot and simmer over low heat, covered, for about 20 minutes.

Remove from the heat and puree the soup in the pot using an immersion blender. (Alternatively, transfer it in small batches to a standing blender and puree—just be careful!) Add the honey and vinegar and simmer over very low heat for 5 minutes.

If serving hot, place 2 tablespoons of diced roasted beets in the bottom of each bowl and then ladle the hot soup over them. Garnish with sour cream and chopped fresh dill. If serving chilled, remove from the heat and let the soup cool completely and then refrigerate overnight. Be sure to stir the soup well and taste immediately before serving. Once cooled, many soups require a touch more salt. If necessary, add more salt, a teaspoon at a time. As with hot borscht, place 2 tablespoons of the roasted beets at the bottom of the bowl and ladle the soup on top. Serve garnished with sour cream and chopped fresh dill.
YOUR RECENTLY VIEWED RECIPES
Free recipes, giveaways, exclusive partner offers, and more straight to your inbox!