Egg Flower Soup with English Peas and Sweet Corn
Cookbook
Published by Tuttle Publishing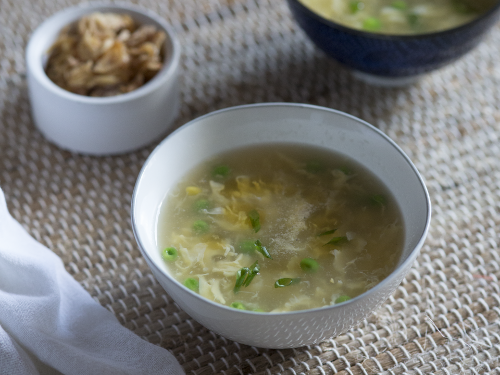 Egg Flower Soup with English Peas and Sweet Corn
This soup is perfect for a cold, dreary day or anytime you want an easy light lunch. Depending on where you live, you may find fresh English peas and sweet corn available at the same time-they are absolutely delicious in this soup. Shelling peas isn't my favorite thing to do, so I always look out for the already-shelled English peas sometimes sold at grocery stores. To save time, or if you can't find one or the other, frozen peas or sweet corn are fine.
Makes4 Servings

Ingredients
1 tablespoon cornstarch
3 tablespoons water
4 cups low-sodium vegetable stock
2 thin slices fresh ginger
1 large ear fresh sweet corn
1 cup shelled English peas
1 teaspoon granulated sugar (optional)
2 eggs, lightly beaten
2 teaspoons soy sauce
1 teaspoon Chinese cooking wine or dry sherry
Sesame oil (optional)
Freshly ground white or black pepper
2 tablespoons finely chopped green onion (scallion), green and white parts
Instructions
Stir together the cornstarch and the water in a small bowl to form a slurry. Set aside.

Heat the stock and ginger in a medium saucepan over medium heat until it starts bubbling gently, about 3 minutes.

While the stock is simmering, scrape the corn kernels from the cob. Stand the cob tip-down on your cutting board (or in the hole of a bundt pan). Use a sharp chef's knife to shave kernels off the cob with a quick downward motion. Rotate and shave off another section. Try to get as close to the cob as you can without cutting into it. Finally, scrape the cob to remove remaining kernels and flavorful milky liquid. You'll get about 1 1/2 cups (450 g) of kernels and juice.

Add the peas and the corn kernels and liquid, followed by the soy sauce, cooking wine and sugar, if using. Continue simmering until the vegetables are tender, 1 to 2 minutes.

Stir the cornstarch mixture and pour it slowly into the saucepan, stirring the soup until it thickens and starts bubbling again.

Drizzle the eggs around the saucepan in a steady stream through a pair of chopsticks or a fork. Stir in one direction until skinny ribbons form. Remove from the heat. 
 

Divide the soup into 4 to 6 soup bowls. Drizzle with sesame oil, if using, sprinkle with pepper and garnish with green onions.
Tips
1 pound (500 g) English pea pods will yield 1 cup of shelled peas. Shell them just before cooking: Break off the stem and pull the fibrous string down the length of the pod. Press each pod between your thumb and forefinger and push out the individual peas.
Copyright 2017 Patricia Tanumihardja
YOUR RECENTLY VIEWED RECIPES
Free recipes, giveaways, exclusive partner offers, and more straight to your inbox!