Creamy Cape Cod Clam Chowder
Updated December 30, 2021
Cookbook
Published by W. W. Norton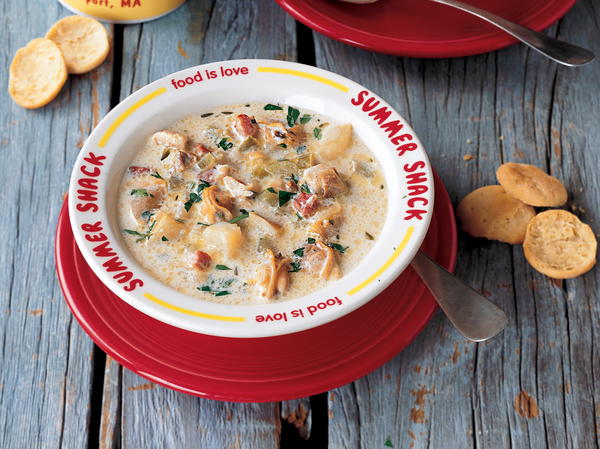 This image courtesy of Kate Sears/Sublime
On Cape Cod, clam chowder means quahog chowder. Quahogs are large hard-shell clams, also known as chowder clams, and they are abundant on the Cape. Quahogs have a wonderful flavor that makes a distinctive chowder. Chowder is a dish of humble origins and if often relies on "found foods" like fish you catch yourself or clams you dig. Clam chowder is like apple pie in that everyone has his or her concept of what it should be like (usually people like their mother's version best). In the spirit of true home-style chowder making, this recipe depends on potatoes to lightly thicken the chowder; no other starch is added. I use salt pork, which imparts a mild richness to the chowder; you can substitute bacon for a smokier flavor. This chowder can be served in small cups as a starter or in larger bowls as a main course. Serve toasted common crackers (see Notes), Pilot crackers, oyster crackers, or saltines on the side for a little crunch.
Makes3 quarts; Serves 12 as an appetizer or 6 to 8 as a main course.
Recipe CourseAppetizer, Main Course
Dietary ConsiderationEgg-free, Gluten-free, Peanut Free, Soy Free, Tree Nut Free
Taste and TextureCreamy, Herby, Meaty, Rich, Salty, Savory
Ingredients
10 pounds small quahogs or large cherry-stone clams
2 cups water
4 ounces meaty salt pork, rind removed and cut into small (1/3-inch) dice
2 tablespoons unsalted butter
2 medium yellow onions (about 12 ounces), cut into ½ -inch dice
2 cloves garlic, finely chopped
2 stalks celery (4 ounces), cut into 1/3-inch dice
5 to 6 sprigs fresh thyme, leaves removed and chopped (1 tablespoon)
1 large dried bay leaf
2 pound Yukon Gold, Maine, PEI, or other all purpose potatoes, peeled and cut into ½- to ¾-inch dice
2 cups heavy cream
Freshly ground black pepper
Kosher or sea salt if needed
¼ cup chopped fresh Italian parsley
4- to 6-quart pot with a tight-fitting lid
Fine strainer
Instructions
Scrub the clams and rinse well. Place them in a large pot, add the water, cover, and turn the heat to high. Once you see a little steam escape from the pot, let the clams cook for about 5 minutes. Remove the lid and quickly move the clams around in the pot so they will cook evenly, then cover and cook for 5 minutes more, or until the clams open.

Pour off the broth and reserve. After it has settled a bit, strain the broth, leaving the bottom ½ inch of broth (and sediment) in the container. You should have about 4 cups. Remove the clams from the shells, place in a bowl, and refrigerate until cold.

Dice the clams into small (1/3- to ½ -inch) pieces. Cover and refrigerate.

Rinse and dry the pot and heat over low heat. Add the salt pork and cook until crispy and brown. Add the butter, onions, garlic, celery, thyme, and bay leaf and sauté, stirring occasionally with a wooden spoon, for about 10 minutes, until the onions are softened but not browned.

Add the potatoes and 4 cups reserved clam broth. The broth should just barely cover the potatoes; if it doesn't, add more broth or water. Turn the heat to high, cover the pot, and boil vigorously for about 10 minutes, until the potatoes are soft on the outside but still firm in the center. Smash a few potatoes against the side of the pot and stir them into the chowder to lightly thicken it.

Remove the pot from the heat and stir in the cream and diced clams. Season with black pepper; you may not need salt (the clams usually add enough of their own). If you are serving the chowder within the hour, just let it sit and "cure." Otherwise, let cool to room temperature and refrigerate it; cover it after it has chilled.

When ready to serve, reheat the chowder slowly over medium heat; do not let it boil. Ladle into cups or bowls and sprinkle with the parsley.
Notes
Working Ahead: All chowders improve after they are made, so allow at least an hour from the time the chowder is cooked until it is served.  You can make the chowder 1 or 2 days in advance. Reheat it slowly; never  let it boil.

Toasted common crackers: Common crackers are small round crackers (1 to 2 inches in diameter) made with a yeast dough, which gives them a rich flavor and a hollow center. Taditionally they are split open with a fork or knife and the halves are then buttered and toasted in the oven (about 15 minutes at 350°). They are served as a side to chowder, adding a much needed crunch. These crackers have been made commercially for more than two hundred years, so nobody really makes them at home anymore. Common crackers, along with the famous Pilot cracker (Nabisco) and "hard bread" of Maritime Canada, are deeply rooted in the history of chowder making. They are the descendants of hardtack, or ship's biscuits, which were nothing more than baked bricks made of flour and water. Hardtack was a necessity, because it was the only way that flour would keep from rotting on ships or in damp coastal areas. In early days, crackers were added right into the chowder; as potatoes became popular, the crackers worked their way out of the bowl and onto the side, where they are still served as a crispy garnish for chowders and soups.
2007 Jasper White
YOUR RECENTLY VIEWED RECIPES
Free recipes, giveaways, exclusive partner offers, and more straight to your inbox!