Chinese Rice Soup (Congee)
You'll love this yummy Asian rice soup recipe. Serve as an main course or as an appetizer.
Cookbook
Published by Houghton Mifflin Harcourt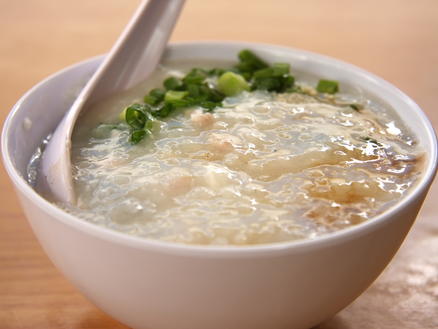 This image courtesy of Shutterstock
Editor's Note: Meaty and hearty, this recipe for Chinese Rice Soup (Congee) is a great way to add some spice to your next lunch or dinner. The easy soup recipe requires a little bit of prep work, but the results will be worth it. You can serve this soup on its own for a hearty main course; it will also be a great addition to your next dinner party with friends. It's also an economical recipe, as you can simply use the leftovers from yesterday's roast. If you like things a bit spicy, then you're sure to love the use of chilies in this recipe!

Many of my books and Chinese friends describe congee as more a porridge than a soup. I think of it as a soup, since the word porridge has an unpleasant Oliver Twist sound about it and conjures up images of low-end British boarding schools. I'm drawn to this soup by the assortment of garnitures rather than the soup itself. Since the soup contains only rice and water, its real function is as a soothing backdrop for sometimes fiery condiments. I use congee as a medium for slices or strips of leftover roast meats, thinly sliced raw meats, and leftover or fresh vegetables. This soup can, of course, be made with broth instead of water — in fact, Chinese-American Grace Young, in her lovely book The Wisdom of the Chinese Kitchen, describes a version made with the broth from the leftover Thanksgiving turkey carcass.
 


Makes6 first-course or light main-course servings, depending on which condiments you use

OccasionBuffet, Buffet Meal, Casual Dinner Party
Recipe CourseAppetizer, Main Course
MealBreakfast, Dinner, Lunch
Taste and TextureLight, Savory
Type of DishHot Soup, Soup
Ingredients
1½ cups Jasmine or Carolina rice (this is one of the few instances where Basmati isn't an appropriate long-grain variety)
2 quarts broth or water, or more as needed
1 teaspoon salt or more to taste
4 ounces pickled Chinese vegetables (see Notes), rinsed and finely chopped
1 bunch of scallions, both green and white parts, finely chopped
Leaves from 1 bunch of cilantro
3 tablespoons finely chopped hot fresh chilies, such as Thai chilies or serrano chilies, or 5 tablespoons milder (but still hot) chilies such as jalapeños
Soy sauce (even though this dish is Chinese, I prefer Japanese dark soy sauce)
1 pound pork tenderloins, the thin end of a beef tenderloin, lean steaks, or leftover meats
2 tablespoons peanut oil or more as needed (if you're sautéing raw meat as a condiment)
Salt
Pepper
Instructions
Rinse the rice by putting it in a strainer and running cold water through it, then combine it with the broth or water in a heavy-bottomed pot. If you're using water, add the salt. If you're using broth, taste it first and only add salt to taste. Bring to a simmer and simmer gently for about 20 minutes. Let the rice sit — don't cover it — for about 30 minutes more. Reheat the soup just before serving — you may also need to thin it with more broth or water because it thickens as it sits. Taste the soup and add more salt if it needs it.

Arrange the condiments in separate bowls. If you're using raw meats, slice them into thin strips about 2 inches long. The shape isn't terribly important because the cuts suggested here are very tender.

Heat the oil in a wok or iron skillet over high heat until it ripples and just begins to smoke, then add half the meat. Stir rapidly, working over high heat, until the meat is lightly browned, 1½ to 2 minutes. Season the meat with salt and pepper. Repeat with the remaining meat, adding more oil to the wok if needed.

If you're using leftover meats, cut them into bite-size cubes or strips and serve them cold. Arrange the meats, hot or cold, in bowls along with the other condiments.

Ladle the soup into hot soup plates and set the condiments in the middle of the table.
Chinese Pickled Vegetables
These Chinese salt-cured vegetables are sometimes called Szechuan preserved vegetable, preserved turnips, or preserved radish. The easiest way to find them is in 12-ounce cans labeled "Szechuan Preserved Vegetable," but if you live near a Chinese market you should be able to find them in tubs.

I have to admit that preserved vegetables can be scary looking and not terribly appetizing, but they do wonders when chopped and simmered in a soup. Several kinds of vegetables are used, but the most common is a knobby-looking root — usually called mustard — covered with a reddish paste. A second type with an entirely different flavor has wilted leaves covered with specks of salt that in Chinatown they again call mustard or radish.

Although I've included soup recipes calling for a particular kind of preserved vegetable, the best — and most interesting — approach is to go to an Asian market and see what you can find. Whatever variety you turn up, be sure to rinse it thoroughly under cold running water to eliminate excess salt before chopping it up for the soup pot.
Other Asian Soup Recipes
Once you start making soup, you can't stop! Consider taking a look at these recipes for even more ideas on serving up soup for lunch or dinner. 
Asian Gazpacho: You'll love the use of garlic, chilies, and onions in this take on the classic gazpacho recipe. Full of flavor, this recipe is one you need to try this summer.

Thai Coconut Broth: This easy broth recipe can be incorporated in a wide assortment of soups. This vegetarian broth recipe is one you'll want to keep stored in your refrigerator.

Lemongrass Chicken Pho: You can't go wrong with this easy soup recipe! Even though this recipe has more than 15 ingredients, don't let that deter you. You'll be ready to make restaurant-quality soup in no time.
2001 James Peterson
YOUR RECENTLY VIEWED RECIPES
Free recipes, giveaways, exclusive partner offers, and more straight to your inbox!