Basic Chicken Soup
Cookbook
Published by Warner Books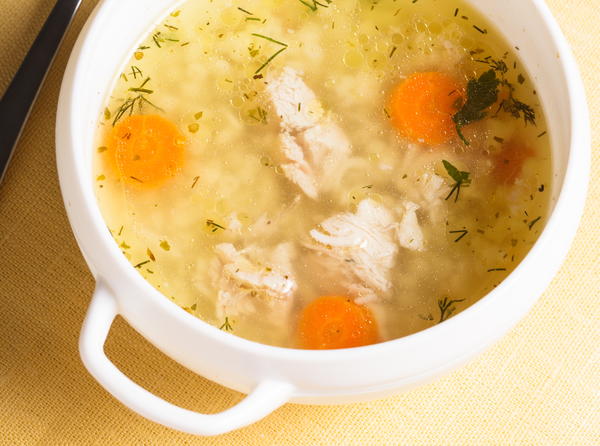 This image courtesy of Shutterstock
Editor's Note: This winter, warm up inside and out with a bowl of homemade Basic Chicken Soup. This easy soup recipe takes some time to prepare, but will result in a bowl of homemade soup that you'll want to slurp up when it's ready. If you want to save some time in the long run, then consider making part of this recipe in advance. Doing so will make it so much easier to get dinner on the table during a hectic week! Notes from the author regarding how to prepare the chicken follow the recipe's instructions.

The vegetables included here, as well as the optional ones listed, make up what are known as pot vegetables or soup greens.
Serves6 to 8 first-course servings, or 4 to 6 main-course servings

OccasionCasual Dinner Party, Family Get Together
Recipe CourseAppetizer, Main Course, Side Dish
Taste and TextureHerby, Meaty, Rich, Savory
Type of DishChicken Soup, Soup
Ingredients
One 5-to-6 pound fowl, or 7 to 8 pounds of broilers, with neck and all giblets except liver
10 to 12 cups water, as needed
2 medium carrots, scraped and quartered
2 or 3 celery stalks with leaves, whole or cut in half
1 medium yellow onion, whole or cut in half, peeled or unpeeled
3 parsley sprigs, preferably the flat Italian type
8 to 10 black peppercorns
2 to 3 teaspoons coarse salt, or 1 to 2 teaspoons table salt, or to taste
Chopped fresh parsley and/or dill
You can never have too many soup recipes! If you'd like to warm up inside and out this winter, then you'll want to see these 
Instructions
Clean, trim, and singe chicken (see Notes below). Quarter the chicken if necessary (see Note below). Place quartered chicken in a close-fitting 5-quart soup pot. A whole chicken should fit into a 6-to-7 quart pot. Add 10 cups water if you use broilers or 12 if you use fowl. Cover pot and bring to a boil. Reduce to a slow simmer and skim foam as it rises to the surface. Soup should cook at a smile (see Notes below).

When foam subsides, add all remaining ingredients with only 1 teaspoonful of salt. Cook chicken until it is loosening from the bone. If chicken is quartered, allow about 1 ¼ hours for cooking broilers and 2 ½ to 3 hours for a fowl. If you cook the chickens whole, allow an extra 15 minutes for broilers and 30 minutes for the fowl. Add more water during cooking if chicken is not seven-eighths covered. Turn chicken 2 or 3 times during cooking. Add salt gradually, tasting as the soup progresses.

Remove chicken, giblets, and bones and set aside. Pour soup through a sieve, rinse pot, and then return soup to pot if it is to be served immediately. Skim fat from surface of soup if it is to be served without being stored, following directions for skimming (see Notes below).

Soup can be prepared in advance up to this point. If you are going to store the soup, strain it over a bowl, but do not skim. Cool thoroughly, uncovered, then cover and place in refrigerator. Store wrapped chicken separately in the refrigerator. Discard (or nibble on) giblets, bones, and soup vegetables.

Chicken can be reheated in soup, either in quarters with bones and skins for a lusty dish, or trimmed of bones and skin and cut into smaller, easily spooned pieces.
Notes
Rinse chicken under running cold water and trim off excess fat, especially around cavity and neck, and any bits of tubes, raggedy innards, excess skin such as the crop, and livery globs along the inside backbone that will turn bitter during cooking. Pat the chicken dry. To get rid of the excessive chicken odor, sprinkle the chicken inside and out with salt (preferably coarse), lemon juice, or a little brandy, depending on the particular dish to be prepared. Then loosely wrap the bird in waxed paper or plastic wrap and store it in the meat drawer or in the lowest (coldest) part of the refrigerator until cooking time. Rinse before cooking. After 24 hours, re-rinse chicken and either cook it or rewrap and store in the refrigerator for no more than two additional days.

Commercial chickens usually are free of features, but examine them anyway, especially if you buy a fowl and certainty if you buy a free-range or fresh-killed chicken. Using fingers or tweezers, pluck out any feathery vestiges or stubby pinfeathers and check carefully around wings, drumsticks, and along the back for the fine hairs that must be singed. To singe a chicken, hold it above a moderate flam or coil of a stove burner and rotate it, letting the wings or legs hang lower if necessary. It is unwise to singe a chicken more than 5 or 6 hours before it will be cooked. The heat tends to melt the fat in the skin, and when that fat has broken down, the meat spoils more rapidly. A chicken that is to be frozen or stored for more than 5 or 6 hours should be singed just before it is cooked.

Instead of cutting it into complete quarters, I disjoint the chicken. To do that, cut skin around hindquarters and pull back from carcass until disjointed. Cut skin and flesh free of backbone. Break off lower half of backbone. Whole breast with wings and upper backbone are in one piece, for a total of four pieces. It requires no more water to be covered and results in moister, more flavorful breast meat.

A smile is at a low simmer — a sort of twinkling, trembly, faint rippling just below the surface. If cooked too rapidly, soup becomes cloudy and the chicken meat will become tough, as will all protein cooked at high heat.

Skimming fat from soup with a stainless-steel spoon can be done at several points. Some can be skimmed off as it appears during cooking. Or, if you prefer, it can be done after cooking. Adding a couple ice cubes to hot soup will aid the process. First skim with a spoon, tipping the pot to remove as much fat as possible. Then use sheets of clean, dry paper towels as blotters; lay them gently, one at a time, over the surface of the soup. As each sheet absorbs fat, remove it carefully and replace with a clean piece of towel.

The cooler the soup, the easier it will be to degrease. Easiest of all is the skimming of soup that has been chilled, as the coagulated fat virtually lifts off. However, if soup is to be stored for one to three days in the refrigerator, it is best to remove the fat just before cooking, as it is a protective layer that keeps air away from the broth. Similarly, if you freeze chicken soup, scrape off the fat just before thawing; if it has been frozen for more than week, be sure to remove and discard fat completely before heating, because it never totally freezes can impart a musty flavor to the soup. It is neither possible nor desirable to remove all fat from chicken soup. Not to worry, as it adds much of the flavor.
1995 by Mimi Sheraton
YOUR RECENTLY VIEWED RECIPES
Free recipes, giveaways, exclusive partner offers, and more straight to your inbox!