Southern-Style Biscuits
Cookbook
Published by Chronicle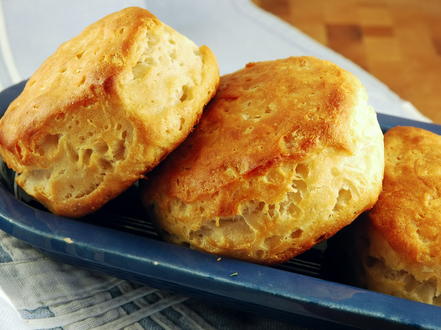 This image courtesy of Shutterstock
Editor's Note: Whether you're serving a bowl of soup for dinner or want an easy quick bread recipe to include on your Thanksgiving table, these Southern-Style Biscuits are just what you need! Versatile as can be, these homemade biscuits can be served morning, noon, and night. If you really want to save some time and cut down on prep work while still baking homemade biscuits, then check out the recipe author's suggestions for making these biscuits in advance, located below the recipe's instructions. To achieve the most authentic Southern-Style Biscuits, take a look at the suggestions for brands of flour to use from the recipe's author. 

The lightest, loftiest, and most tender biscuits are always made with Southern flour, such as White Lily or Martha White brands, which are milled from soft wheat flour. Though this flour is readily available in the Southern states and Texas, it is harder to obtain in other regions of the country. I order mine online from www.smuckers.com. An alternative, though not quite as good, is to substitute 2 cups of self-rising all-purpose flour and increase the baking soda to 1 teaspoon.

I need to thank Leslie Cole, staff writer at The Oregonian, for a timely "FOODday" article on pie crusts. She discussed leaf lard, a high-quality lard rendered from the prime pork fat called leaf fat. She writes. "It's creamy, mild, and a far cry from the greasy blocks of commercial lard sold at supermarkets, which are partially hydrogenated, highly processed, and not what you want in your pie-making bag of tricks." It's not what you want in your biscuits, either. Call your local butcher shop and ask for leaf lard. It's more readily available then I realized, and worth the extra effort.
MealBrunch, Dinner, Lunch
Taste and TextureButtery, Light
Type of DishBiscuits, Bread, Quickbreads
Ingredients
Vegetable oil cooking spray
2 cups Southern self-rising flour
½ teaspoon sugar
¼ teaspoon baking soda
¼ teaspoon kosher or sea salt
¼ cup packed ice-cold lard or vegetable shortening
2 tablespoons ice-cold unsalted butter, diced
2/3 to ¾ cup buttermilk
All-purpose flour for dusting (see Notes below)
Instructions
Preheat the oven to 475 degrees F. Spray a rimmed baking sheet or 9-inch pan with the cooking spray.

For light biscuits, spoon the flour into a measuring cup and sweep the back of a table knife across the top to level the flour and get an accurate measure. Place the flour in a large bowl. Add the sugar, baking soda, and salt and Whisk to blend. Scatter the lard and butter pieces over the top. Using a pastry blender or 2 knives, cut the lard and butter into the flour until the mixture resembles coarse meal with the bits of fat about the size of small peas. Make a well in the center of the flour, and add the buttermilk, stirring just to blend well.

Dust a work surface with all-purpose flour and turn the dough out onto the prepared surface. Fold and pat the dough gently to build up the layers, making 5 or 6 turns, just until the dough holds together and can be rolled out, using as little additional flour as possible to keep the dough from sticking. Using your fingertips, gently press the dough into a circle about ½ inch thick.

Using a 2½-inch, sharp-edged biscuit cutter, cut straight down without twisting the cutter to form biscuits. (If you twist the cutter the biscuits will be lopsided.) Reshape any remaining dough and out more biscuits. Place the rounds on the prepared baking sheet, 1 inch apart for crusty-sided biscuits or almost touching for soft-sided biscuits. Bake for about 12 minutes until golden brown. Serve warm, or rewarm just before serving.
Do Ahead
Of course, biscuits straight from the oven are the ideal, but that gets complicated on Thanksgiving Day. Here are some do-ahead options:

*Make the biscuits early in the day and rewarm them just before serving.
*Or make the dough, cut the biscuits, place them on a baking sheet, and cover and refrigerate; then bake just before serving.
*Or you can also make the biscuits a couple days ahead, underbake them a bit, and freeze them. Then without thawing them, finish baking to heat them through.
Notes
It is important to switch from self-rising flour to all-purpose flour for shaping the biscuits because the leavener in the self-rising flour would make the outside of the biscuits taste bitter.
2008 Diane Morgan
YOUR RECENTLY VIEWED RECIPES
Free recipes, giveaways, exclusive partner offers, and more straight to your inbox!