Noreen Kinney's Irish Soda Bread
Cookbook
Published by Houghton Mifflin Harcourt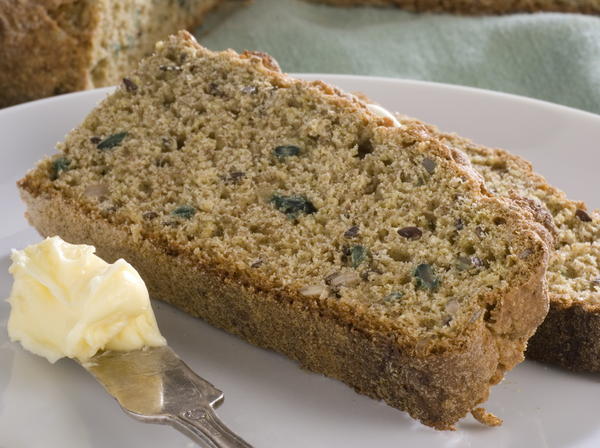 This image courtesy of Kelly Gorham
I am indebted to Irish food expert and cookbook author Noreen Kinney, for sharing her family's Irish soda bread recipe. This bread is meant to be eaten plain with meals, or with cheese or with butter and jam, or used to sop up gravy. According to Noreen: "Strictly speaking, there is no white Irish soda bread with raisins. Traditional Irish soda bread is brown, with a coarse texture and no fruit. It can also contain seeds and flax and bran, depending on the baker's desires. That is the reason I was shocked to see the white item passed off as Irish soda mixing when I arrived in the States. However, in Ireland there is a famous old bread that was very popular with the poorer people in times past, and considered quite a treat for a special occasion or on Sundays. It is still popular today. Depending on which part of the country one is in, it is known as spotted dick or spotted dog. Basically it is derived from Irish soda bread, but it uses white flour in place of the traditional flours and other ingredients that go into the true Irish soda bread. To enrich the recipe, people added raisins when they became available, and they might add a full egg beaten into the milk, plus some white sugar. So it is the old Irish spotted dick that folks here call Irish Soda Bread." Everyone who makes Irish soda bread adds her or his own personal touches to the bread. To the mixture of whole wheat flour and white flour, Noreen, on any given day, might add wheat bran, oat bran, wheat germ, oats, sunflower seeds, flaxseeds, or poppy seeds. She varies proportions and grains depending on how she wants the bread to turn out. Think of the following proportions as guidelines, and feel free to vary the grain additions according to your tests, adding from 4 to 5 ounces total by weight for each loaf. The bread's crust is coarse and firm, while the inside is rather dense but moist. A cross indented (not cut) on top of the bread allows the bread to be easily separated into quarters. Oddly, the sunflower seeds change color during baking, flecking the bread with an emerald green. The unexpected appearance of flecks of green in the bread the first time I made it, surprised me. I could tell the color came from the sunflower seeds, but why did this happen? Food chemist Shirley Corriher, author of the classic Cookwise, had the answer. "Sunflower seeds are chock-full of good for you things," Shirley said, and by that she meant they're loaded with antioxidants. Among these are flavonoids, which turn yellow when they come into contact with an alkali (baking soda in the recipe). Other antioxidants, anthocyanins, react by turning blue. Put blue and yellow together, and you get green. Nifty.
NotesStoring:

The loaf keeps well at room temperature, wrapped in plastic wrap, for 2 to 3 days. The entire loaf or quarters of it can also be frozen when completely cool. Wrap in plastic wrap, place in heavy-duty resealable plastic bags, and freeze for up to 2 weeks. Thaw completely before unwrapping. If desired, refresh the bread in a preheated 300°F oven for 10 minutes.
Makes1 round loaf
Dietary Considerationhalal, healthy, kosher, peanut free, soy free, tree nut free, vegetarian
Five Ingredients or LessYes
Taste and Texturenutty, savory
Type of Dishbread, quickbreads
Ingredients
1¾ cups unbleached all-purpose flour
1 cup whole wheat flour or graham flour, plus more for shaping
3 tablespoons cold unsalted butter, cut into tablespoon-sized pieces
2 teaspoons baking soda
1¾ teaspoons salt
2 tablespoons granulated sugar
¼ cup wheat bran
¼ cup oat bran
¼ cup untoasted wheat germ
2 tablespoons flaxseed
1/3 cup raw sunflower seeds
1 large egg
About 1¾ cups buttermilk
Instructions
Adjust an oven rack to the center position and preheat the oven to 425°F. Coat a heavy baking sheet with vegetable cooking spray or line it with a silicone baking pan liner or aluminum foil.

In large bowl, stir together the all-purpose flour and whole wheat flour. Add the butter and work it into the dry ingredients with your fingertips until the fat particles are very fine. Stir in the baking soda, salt, sugar, wheat bran, oat bran, wheat germ, flaxseed, and sunflower seeds.

Beat the egg lightly with a fork in a 2-cup glass measure. Add enough buttermilk to come to the 2-cup line and stir with the fork to combine well. Add the liquid to the dry ingredients and stir with a wooden spoon or rubber spatula until the dough gathers into a thick, wet looking mass.

Sprinkle your work surface with whole wheat flour and scrape the dough onto it. Dust the dough with a bit more whole wheat flour. Pat the dough into a circular shape about 7 inches across and 2 inches high and transfer it to the prepared baking sheet. Don't be concerned about evenness--the loaf should look rustic. Make a cross-shaped indentation on top of the loaf going right to the edges. I use a plastic bench scraper and press it into the dough very gently; don't actually cut the dough. During baking the indentation expands, giving the top of the loaf an attractive pattern.

Bake the bread for about 40 minutes, until it is well browned and sounds hollow when rapped on the bottom. An instant read thermometer inserted into the center of the loaf should register 195° to 200°F. Cool the loaf on a wire cooling rack, and serve warm or at room temperature. Cut into quarters and slice each quarter with a sharp serrated knife. Delicious with butter.
2007 Greg Patent
YOUR RECENTLY VIEWED RECIPES
Free recipes, giveaways, exclusive partner offers, and more straight to your inbox!