Cookbook
Published by Workman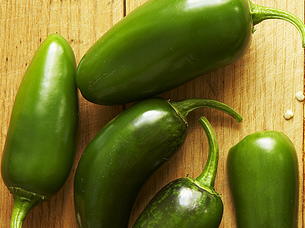 This image courtesy of Joseph DeLeo
Editor's Note: Do you have more jalapeños than you might be able to eat right away? Don't let those hot peppers go to waste! With this recipe for Rosa's Pickled Jalapeños, you can make the vegetables last for a few more weeks. You'll love having these pickled jalapeños on hand the next time you want to eat a snack with some serious heat. These peppers can also be used in this recipe for Red Snapper Veracruz-Style, which is also by the same author. Although this recipe includes quite a few ingredients, it's actually pretty easy to make. You'll love adding this pickling recipe to your repertoire! 

These pickled peppers are a zesty addition to any meal, and the brine also serve as a terrific flavor booster for other dishes (such as the Beef Enchiladas with Ranchera Sauce). All sorts of vegetables, such as mushrooms, green beans, cauliflower, and nopales (cactus leaves), can be combined with the pickles.

Mustard may seem a little unusual in a Mexican recipe, but it is actually quite common in Mexico's urban areas. Use plain yellow (hot dog) mustard if that's what you have, or Dijon if you prefer.
Cooking MethodPickling, Preserving

Taste and TextureHerby, Hot & Spicy, Savory, Sharp, Spiced, Tangy
Ingredients
20 medium jalapenos (about 1¼ pounds)
½ cup olive oil
2 medium white onions (about 14 ounces), cut into 2-inch chunks
2 large carrots (about 10 ounces), peeled and cut into ½-inch rounds
24 garlic cloves, peeled
3 cups cider vinegar
1 cup water
3 tablespoon salt
3 bay leaves
4 fresh thyme sprigs
4 fresh marjoram sprigs
½ lime, cut into ½-inch slices
1½ tablespoons sugar
2 teaspoons yellow or Dijon mustard
12 allspice berries, coarsely crushed
½ teaspoon black peppercorns, coarsely crushed
Instructions
With a paring knife, cut two slits on opposite sides of each jalapeño, starting about ½ inch from the stem end and ending about 1 inch from the tapered end.

Heat the oil in a deep non-aluminum saucepan over medium-low heat. Add the jalapeños, onions, carrots, and garlic and cook, stirring often, until the vegetables are softened but not browned, about 10 minutes.

Add the vinegar, water, salt, bay leaves, thyme, marjoram, lime, sugar, mustard, allspice, and peppercorns. Bring to a boil, then adjust the heat so the liquid is simmering. Taste and add a little more water if the mixture seems to sharp to you. Remember, though, that it will mellow somewhat as it sits. Simmer for 15 minutes. Remove the pan from the heat and cool to room temperature.

Pack the vegetable and their liquid into clean glass jars and refrigerate. They will keep for up to 6 weeks, as long as they are kept refrigerated and all the vegetables are covered in liquid.
2007 Rosa Mexicano
Tags / Related Topics
YOUR RECENTLY VIEWED RECIPES