Pork Shoulder Smoked, Pulled, and Vinegar-Sauced in the Style of North Carolina
Cookbook
Published by Workman Publishing Co.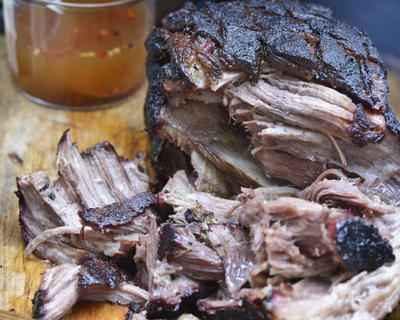 This image courtesy of Matthew Benson
New to the craft of smoking? Start with pork shoulder. Sheathed in and veined with fat, it stays moist—even with prolonged smoking. And unlike a tough muscle like beef brisket, pork shoulder remains tender no matter how you cook it. It's mercifully hard to mess up. To the moist, tender meat add crusty, smoky bark and you'll understand how pulled pork went from a regional speciality (of the Carolinas and Tennessee) to an American—and dare I say global—icon. You don't even need to worry about its appearance (although a whole one is gorgeous), as most pork shoulder winds up served chopped, shredded, or thinly sliced. Pulled pork is as close to set-it-and-forget-it barbecue as anything you'll find in this book, and it's infinitely customizable. Don't be intimidated by the length of this recipe; it's really just a series of simple steps.
Serves8 to 10
Ingredients
1 onion, cut in quarters
2 cloves garlic, smashed with the side of a chef's knife or cleaver
1 or 2 cups cider vinegar
Water
4 teaspoons coarse salt (sea or kosher)
4 teaspoons freshly ground black pepper
2 teaspoons garlic powder
2 teaspoons onion powder
1 teaspoon cayenne pepper or hot paprika
1 Boston butt (upper section of the pork shoulder—5 to 7 pounds)
3 tablespoons butter, melted
12 sesame seed buns, split
Instructions
If using logs, place them in a watertight container just large enough to hold them. Add the onion, garlic, 2 cups of vinegar, and water to cover. Soak the wood for at least 4 hours or as long as overnight. If using wood chunks or chips, place in a large bowl or bucket with the onion, garlic, and 1 cup of vinegar. Add water to cover and soak for at least 1 hour. 

Make the rub: Place the salt, black pepper, garlic powder, onion powder, and cayenne in a small bowl and mix well. Sprinkle the rub on the pork shoulder on all sides, rubbing it into the meat with your fingers. 

Set up your smoker following the manufacturer's instructions and preheat to 225° to 250°F. Drain the wood if you soaked it. Add the wood as specified by the manufacturer.

Place the pork shoulder in the smoker, fat side up. Smoke the pork shoulder until darkly browned and crusty on the outside and the meat reaches an internal temperature of 200°F. (Check it with an instant-read thermometer or remote digital thermometer.) Another test for doneness is to pull on the ends of any protruding bones—they should come out easily. The total smoking time will be 6 to 8 hours. Replenish the wood as needed. 

When the pork is cooked, transfer it to a large cutting board or chopping block. Loosely tent with aluminum foil and let rest for 20 minutes. (Don't bunch the foil around the pork or you'll make the crust soggy.)

If your pork shoulder came with skin (not all will), pull it off and scrape off any excess fat.

Pull out and discard any bones from the meat. Pull the meat into fist-size pieces, discarding any internal bones and large lumps of fat. (But remember, you need some fat to keep the pork moist.) Using a cleaver or a heavy chef's knife, coarsely chop the pork into pieces. Alternatively, pull the pork into shreds using meat claws, two large forks, or your hands. Note: You need to pull the pork when it's uncomfortably hot to the touch (wear insulated food gloves). 

Transfer the pork to a large bowl and stir in enough sauce to give the pork a terrific flavor and keep it moist but not soupy. You'll need 1 to 2 cups. 

To serve, butter then grill or toast the buns. Place ¾ cup pork (about ¼ pound) on each bun. Serve any leftover sauce on the side. Top the meat with slaw, if using, and dig in.
Notes
Fuel: Oak and hickory logs or equal parts oak and hickory chunks or chips—enough for 8 hours of smoking.

Gear: Instant-read thermometer or remote digital thermometer; a meat cleaver or claws, or insulated rubber gloves, for pulling and shredding the pork.

Shop: Buy a cut from the upper shoulder, aka Boston butt, preferably from a heritage breed like Berkshire or Duroc.

What else: If you start with good pork, season it like you mean it, and smoke it with hardwoods. You don't really need more flavor. But, some people—especially on the competition barbecue circuit—like to inject shoulders with melted butter, stock, and/or cider or bourbon. Note that soaking the wood in vinegar is optional, but definitely separates you from the crowd.
YOUR RECENTLY VIEWED RECIPES
Free recipes, giveaways, exclusive partner offers, and more straight to your inbox!