Oven-Roasted Pork Butt with Rosemary, Garlic, and Black Pepper
Cookbook
Published by Hyperion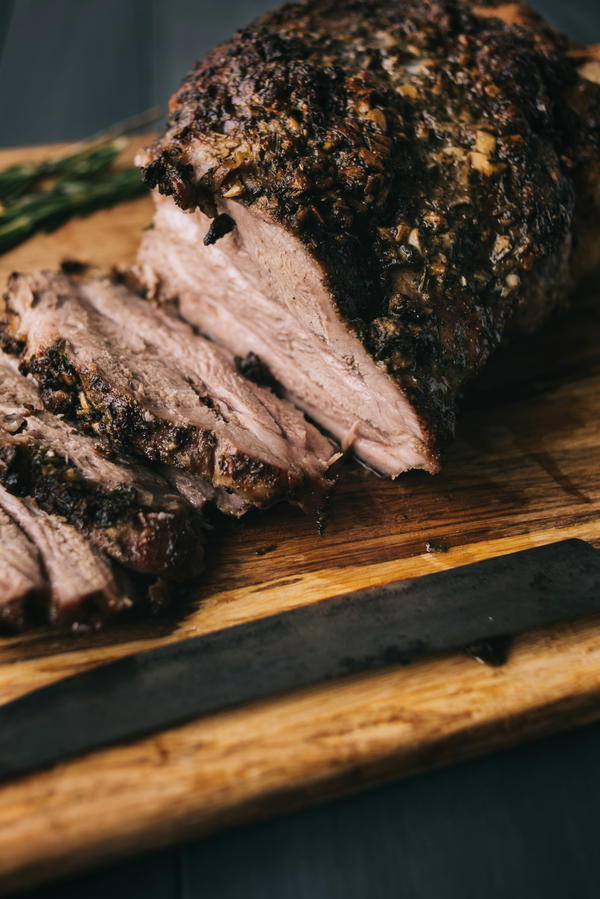 Oven-Roasted Pork Butt with Rosemary Garlic and Black Pepper
This image courtesy of Cookstr
Editor's Note: For a flavorful and satisfying pork roast recipe, look no further than Oven-Roasted Pork Butt with Rosemary, Garlic, and Black Pepper. To make this recipe, pork shoulder is coated in a homemade rub made from smashed garlic, salt, olive oil, rosemary, mustard, and black pepper. Once the roast has been slathered with the rub, it is refrigerated so that the meat can absorb all of the delicious flavors. The pork is then roasted until the meat is tender and juicy. Slice up this oven-roasted pork and serve it alongside your favorite potato and vegetable sides for an amazing meal. Although it takes several hours to cook this pork butt roast, don't let the cook time dissuade you from trying this recipe. You can tackle your to-do list of chores (or just relax with a book) while waiting for dinner.



Serves12 to 16

OccasionBuffet, Casual Dinner Party, Family Get Together, Game Day
Taste and TextureHerby, Meaty, Smoky
Ingredients
1 (5- to 7-pound) boneless pork shoulder
4 garlic cloves, minced
4 teaspoons kosher salt
1/4 cup extra virgin olive oil
2 tablespoons finely chopped fresh rosemary
1 1/2 tablespoon Dijon mustard
1 tablespoon freshly ground black pepper
Instructions
Carefully cut away the skin from the pork shoulder, leaving a 1/8-inch layer of fat.

Using a mortar and pestle or the flat side of a knife, mash together the garlic and salt to form a paste. Stir in the olive oil, rosemary, mustard, and black pepper. Rub the mixture all over the pork and transfer to a large roasting pan. Cover tightly with plastic wrap and refrigerate for at least 2 hours or overnight.

Preheat the oven to 325 degrees F and let the pork come to room temperature. Place the pork on a roasting rack fitted inside a roasting pan, skin side up. Roast, uncovered, until the meat is fork-tender (and reaches 180 degrees F on a meat thermometer), 3 to 4 hours. Let rest at least 10 minutes before slicing and serving.
More About Roasting a Pig
Of all the pork roast recipes a person can prepare, few have the Paleolithic appeal of a roasted whole pig. Be it an infantine suckling or a man-size hog, roasting an entire animal in its recognizable form reduces the art of cooking to its earthiest incarnation, and unites the cook with her hunter-gatherer ancestors--even if hunting means placing an order with the butcher.

There was a time when I was obsessed with pit-roasting a whole pig. I wanted to experience the ultimate in head-to-tail cookery, and planned on savoring bits from the entire beast-especially the tail. I'd had a pig's tail at a barbecue festival in Memphis, and I couldn't get the memory of that fatty, crackling-like morsel with its toothsome cartilage crunch out of my head. And of course I fully expected the ears and snout to prove just as divine. All I needed was a whole suckling pig and a little piece of earth to dig a hole. The rest, I was sure, would be magical. When the right set of circumstances did materialize, it was a down-and-dirty affair involving my then-husband Joe, my hairdresser Mary, and a pale, pink, twenty-pound porker with wide staring eyes and nimble-looking little hooves.

"Piggy, Piggy, hi Piggy!" cried my hairdresser's three-year-old twins as we unloaded our dinner from the car. Joe and I were spending the weekend with Mary, her husband, Michael, and their twins at their country house, and they were easily persuaded that pit-roasting a whole pig was a marvelous idea, even though none of us had ever done it before. The first order of business: Dig a hole. Joe and Michael headed out to the back, shovels in hand. After several hours scratching at the hard, packed soil, they managed to excavate a section of car fender, two burlap sacks, countless rocks, and a trench just deep enough to bury our small, now garlic-slicked pig. "Are you sure this is a good idea? We could put Piggy in the oven," Mary suggested. "Oink, oink!" said the twins.

We persevered, building a fire and gently laying a foil-wrapped Piggy into the hole before covering it with a sheet of metal. Then we waited and waited. It got dark. Mary made macaroni and cheese for the boys and she and I picked the leftovers off their plates. We all drank beer and ate chips. Joe fell asleep on the couch. Eventually we pulled a half-baked Piggy out of the ground and stuck him in the oven. When we carved the meat near 10 p.m., soil clung to the fat. Mary gave up after two bites. "I've had enough of that nasty little pig to last me a lifetime," she said, pulling pints of ice cream out of the freezer. I stuck with it a bit longer, gnawing on the gritty, leathery tail. But my romance with pit-roasted whole pig was decidedly over. Now, when I crave an extreme pork experience, I roast a tail-less hunk of pork butt in the comfort of my own kitchen.

Here's the thing about pork butt (which, by the way, is cut from the shoulder of a pig, not the tush): You have to try really hard to mess it up. Season with salt, pepper, garlic, and herbs, stick it in the oven for three or so hours, and you will pull out a burnished, brawny, melting roast dripping with savory juices and nary a trace of topsoil. You can buy a piece of butt with the skin still attached, which will blister and crackle in the oven and make a tasty nibble for the cook as she carves (eat it fast before anyone realizes what you've got). Or you can have it trimmed for a more restrained and elegant presentation. You can buy it boneless and tied in a bundle, or bone-in in a Flintstonian chunk that will scratch any caveman itch one might have. Any which way, it will be cheap and tasty, without evoking Charlotte's Web — or Lord of the Flies.
2010 Melissa Clark, Inc.
YOUR RECENTLY VIEWED RECIPES
Free recipes, giveaways, exclusive partner offers, and more straight to your inbox!