Milagros's Famous Pernil al Horno
Adobo Mojado Marinated Pork Roast
Cookbook
Published by Page Street Publishing Co.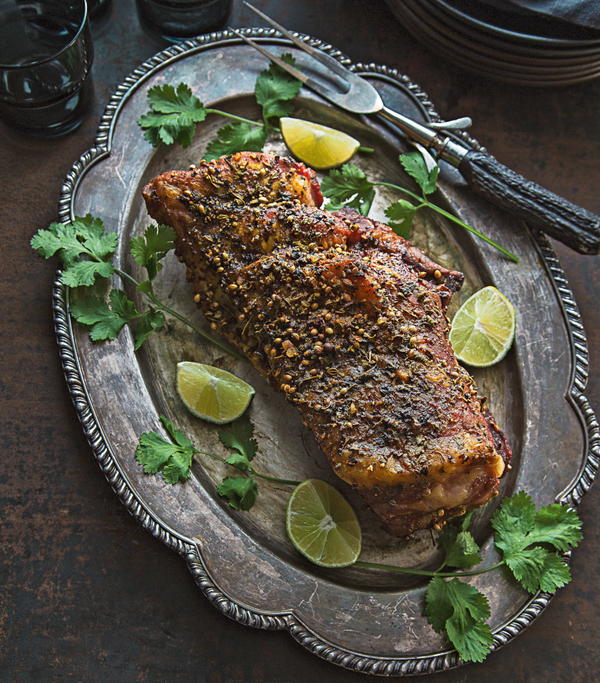 Milagross Famous Pernil al Horno
The flavor that this seasoning blend, called adobo, imparts into the pork roast is absolutely incredible. This is Milagros's famous pork roast recipe that family always requests when visiting her. It is especially popular during the holiday season and can make a great alternative to cured ham if you're looking for something new and exciting. Scale the recipe up to accommodate a whole shoulder roast or fresh ham and start a new tradition!
Serves4 to 6
Ingredients
2 tablespoons (20 g) minced garlic (about 1 whole head)
1 1/2 teaspoon (9 g) fine Himalayan salt
1 1/2 teaspoon (3 g) dried oregano
1 teaspoon (2 g) freshly ground black pepper
1/2 teaspoon ground turmeric
1 teaspoon (2 g) ground coriander seeds
1 1/2 tablespoon (25 ml) extra-virgin olive oil
1 1/2 tablespoon (25 ml) freshly squeezed lime juice
1 (4- to 5-lb [1.8- to 2.3-kg]) bone-in pork shoulder roast
Instructions
In a small bowl, combine all the ingredients, except the pork, to form a paste.

Cut slits in the skin on the top of the roast and pierce all sides of the roast with a knife to help the seasoning blend penetrate the meat. Coat the roast with the paste and place in a large resealable plastic bag or wrap it in a few layers of plastic wrap. Allow to marinate overnight, up to 24 hours.

Before roasting, remove the pork from the refrigerator and allow to stand at room temperature for 30 minutes.

Preheat the oven to 400°F (200°C).

Remove the wrappings from the pork. Roast the pork for 1 hour, uncovered and skin side up, in a pan with sides a few inches tall to accommodate all the fat that will render out during roasting. Then, without opening the oven, lower the temperature to 300°F (150°C) and continue to roast until a meat thermometer inserted into the thickest part of the roast (not touching the bone) reads 185°F (85°C), or for 2 to 3 hours longer (40 to 45 minutes per pound [455 g] of roast). You may wish to check the roast after 1 ½ hours' roasting at 300°F (150°C).

The roast is done when the meat shreds easily with a fork and the fat on top is nicely crisped.
Notes
AIP compliant: Omit the black pepper and coriander seeds from the adobo.
YOUR RECENTLY VIEWED RECIPES
Free recipes, giveaways, exclusive partner offers, and more straight to your inbox!