Grilled Pork Belly Skewers with Coffee and Ginger Beer Glaze
Cookbook
Published by Tuttle Publishing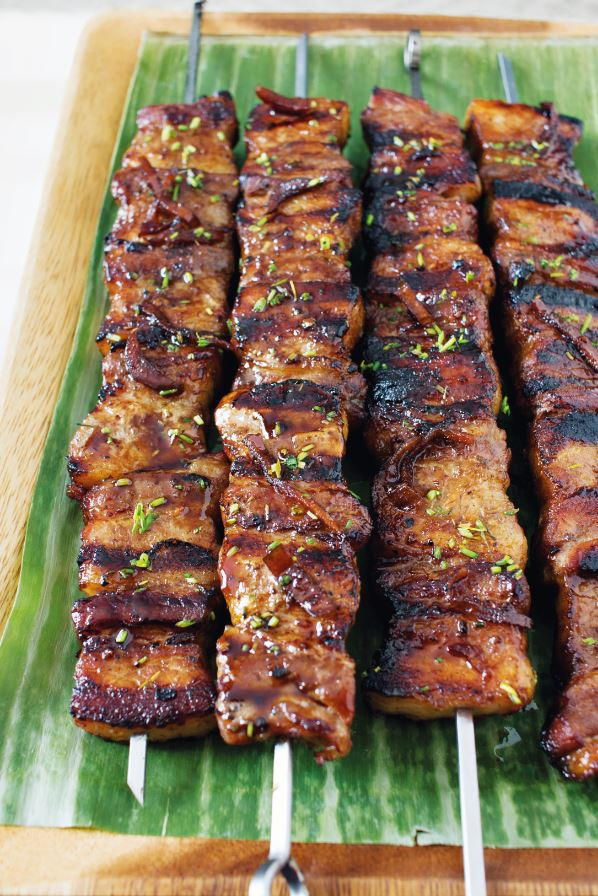 Grilled Pork Belly Skewers
This image courtesy of Tuttle Publishing
Before candied bacon ever became a "thing," Filipinos had liempo-cue: rich, fatty cubes of pork belly threaded onto skewers, grilled over an open flame and brushed with a sticky-sweet glaze usually made from cola or lemon-lime soda.

In place of soda, my version of liempo-cue relies on ginger beer – not only for sweetness, but for a spicy, gingery bite as well. I also find that the addition of coffee and molasses provides a depth of flavor that plays well with the smoke from the grill.
Serves6
Ingredients
2 pounds (1 kg) fresh skinless pork belly
12 ounces (355 ml) ginger beer or ginger ale
1 cup (250 ml) strong brewed coffee
4 tablespoons soy sauce
2 tablespoons molasses
1/4 teaspoon freshly ground black pepper
2-inch (5-cm) piece fresh ginger, peeled and cut into thin matchsticks
1 tablespoon brown sugar
Six 12-inch (30-cm) bamboo or metal skewers
Instructions
Place the pork belly in the freezer for 20 to 30 minutes to make it easier to slice. Remove from the freezer and cut into pieces 1 inch (2.5 cm) square and ½ inch (1.25 cm) thick. Arrange in a single layer in a large baking dish.

In a large bowl, whisk together the ginger beer, coffee, soy sauce, molasses, black pepper and ginger. 

Reserve 1 cup of the marinade and refrigerate in a lidded container. Pour the remaining marinade over the pork, then cover and refrigerate overnight.

If using bamboo skewers, soak them in water for at least 30 minutes prior to grilling. Preheat a grill for indirect cooking.

Remove the pork from the marinade, discarding the used marinade. Thread the pork onto skewers and set aside.

Combine the 1 cup reserved marinade and the brown sugar in a small saucepan over high heat and bring to a boil. Continue to boil, stirring frequently, until the liquid is reduced by half and thickened to a glaze, 5 to 10 minutes. Remove from the heat and set aside.


Place the pork belly skewers on the cool side of the grill and brush glaze on all sides. Continue to grill the pork over indirect heat, turning and rotating the skewers frequently, until much of the fat has rendered off, about 10 minutes total.

Working in batches, move some of the skewers to the hot side of the grill over direct heat. Brush the pork with more glaze while turning the skewers frequently. Continue to grill until nicely browned, glazed, and charred, 4 to 5 minutes total. Repeat until all skewers have been grilled over direct heat. Because there is so much fat in the pork belly, the flames from the grill will flare up, so be careful to keep rotating the skewers from the hot side of the grill to the cool part as necessary.

Serve with a side of rice, along with Green Mango Hot Sauce (page 28) or Grilled Tomato and Green Onion Skewers (page 52).
YOUR RECENTLY VIEWED RECIPES
Free recipes, giveaways, exclusive partner offers, and more straight to your inbox!