Fish-Fragrant Pork Slivers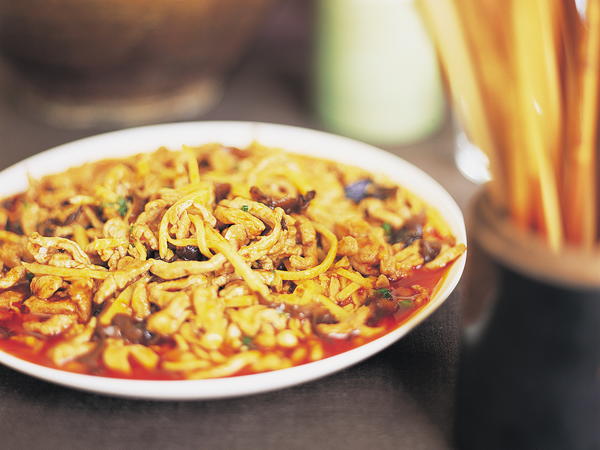 This image courtesy of Tara Fisher
Editor's Note: Fish-fragrant dishes are one of Sichuan's most successful recipe styles that has moved from home cooking into the main stream. This famous style highlights the Sichuanese's love for hefty combinations of flavors. In this fish-fragrant style you will find salty, sweet, sour and spicy, and frequently these Chinese fish dishes are infused with garlic, ginger, and scallions. Fish-fragrant pork slivers is considered the most famous of all of Sichuan's "fish-fragrant" dishes. Sichuanese chefs are known to use fine strips of lettuce stem in this dish as a crunchy element. But the more easily available bamboo shoots or celery would make a great substitute for this Chinese ground pork recipe. Cook this dish quickly to preserve the pork's tenderness.

The so-called fish-fragrant flavor is one of Sichuan's most famous culinary creations, and it epitomizes the Sichuanese love for audacious combinations of flavors. It is salty, sweet, sour, and spicy and infused with the heady tastes of garlic, ginger, and scallions. The hot taste comes from pickled chiles, which also stain the cooking oil a brilliant orange-red. The most classic fish-fragrant dishes are based on pickled chiles chopped to a puree with the blade of a cleaver, although some versions use Sichuan chili bean paste instead, which is made with pickled fava beans as well as chiles. This delicious combination of flavors is thought to have originated in traditional Sichuanese fish cooking, which would explain why other ingredients prepared in the same way would have instantly recalled the taste of fish to those who ate them, hence the name. Some food experts, like the famous chef Xiao Jianming of the Piaoxiang Restaurant in CHengu, say the flavors conjure up the actual taste of tiny crucian crap (ji yu), which are widely eaten in Sichuan – another explanation for the title. The term may also be connected with the fact that whole crucian carp, which are particularly delicious, are sometimes actually added to vats of pickling chiles to improve their taste. Everyone agrees that the fish-fragrant style grew out of home cooking and was only later adopted by professional chefs. Fish-fragrant dishes have been one of Sichuan's most successful culinary exports, but the strangeness of the term has led to a great variety of translations on English-language menus: "mock-fish", "sea-spice" (a great misnomer in inland Sichuan) and "fish-flavored" among them. The two Chinese characters literally mean "fish" and "fragrant", which is why I prefer my translation. Fish-fragrant pork slivers is the most famous of al Sichuan's "fish-fragrant" dishes. Sichaunese chefs tend to use fine strips of lettuce stem (wo sun) as a crunchy element in this dish, but I've written the recipe using the more easily available bamboo shoots or celery. This dish should be cooked very quickly, to preserve the tenderness of the pork.
Serves2
OccasionCasual Dinner Party, Family Get-together
Ingredients
A small handful of dried cloud ear mushrooms
10 ounces boneless pork loin (the meat from about 2 pork chops), preferably with a little fat
2/3 cup fresh or canned bamboo shoots or 2 celery stalks
Salt
Peanut oil
2 tablespoons pickled chili paste
1 ½ teaspoons finely chopped garlic
2 teaspoons finely chopped fresh ginger
2 scallions, green parts only, very thinly sliced
¼ teaspoon salt
1 teaspoon light soy sauce
1 tablespoon potato flour or 1 ½ tablespoons cornstarch
1 tablespoon cold water
1 teaspoon shaoxing rice wine or medium-dry sherry
1 ½ teaspoons white sugar
1 ½ teaspoons Chinkiang or black Chinese vinegar
¾ teaspoon light soy sauce
½ teaspoon salt
¾ teaspoon potato flour or 1 1/8 teaspoons cornstarch
3 tablespoons chicken stock of water
Instructions
Cover the cloud ear mushrooms in very hot water and soak for 30 minutes.

Cut the pork into thin slices (ideally about 1/8 of an inch thick), and then cut these into long, fine slivers. Place in a bowl, add the marinade ingredients, and stir in one direction to combine.

Blanch the bamboo shoots in boiling salted water for a minute or two. Rinse in cold water; then slice thinly and cut the slices into very fine strips to match the pork. If you are using celery, cut them into thin strips. Sprinkle with a few pinches of salt and let them sit for 15 minutes or so to drain out some of their water content.) Thinly slice the cloud ear mushrooms, discarding any knobby bits. Combine the sauce ingredients in a small bowl.

Season the wok, then add a ¼ cup of cool oil to the wok and reheat over a high flame.

When the oil is beginning to smoke, add the pork and stir-fry briskly. As soon as the strips have separated, push them to one side of the wok, tip the wok toward the other side, and tip the chili paste into the space you have created. Stir-fry very briefly until the oil is ready and fragrant, and then add the garlic and ginger and mix everything together, tilting the wok back to normal. Stir-fry for another 30 seconds or so until you can smell the aromas of garlic and ginger. Tip in the bamboo shoots and mushrooms and stir-fry briefly, until just hot.

Stir the sauce in its bowl, and then add to the wok. Stir quickly to incorporate, throw in the scallions, toss briefly, and turn onto a serving dish.
2001 Fuchsia Dunlop
YOUR RECENTLY VIEWED RECIPES
Free recipes, giveaways, exclusive partner offers, and more straight to your inbox!