Baby Back Pork Ribs Glazed with Honey
Cookbook
Published by APL Publishing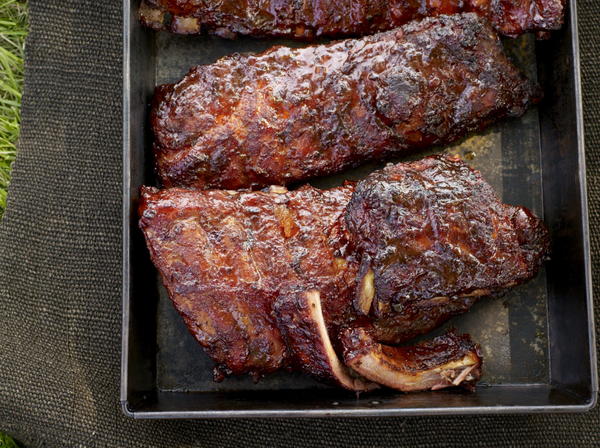 Baby Back Pork Ribs Glazed with Honey
This image courtesy of David Loftus
Editor's Note: These Baby Back Pork Ribs Glazed with Honey are sweetly spiced with the flavors of mustard, apples, and honey to make BBQ ribs you'll never forget. This is a great recipe to make for the big game or a summer cookout - it's a hit with kids and adults alike. This pork ribs recipe is meant for the grill to give the ribs a slightly smoky flavor. With homemade barbecue sauce and tender ribs, you definitely can't go wrong.

Honey has long been a buddy to barbecuers. It caramelizes beautifully, plus it's a great flavor carrier-you can infuse it with anything from jalapenos to fruit juice- and thickener for sauces. Those who compete on the barbecue circuit often harness honey for a technique virtually unknown to recreational cooks: They drizzle onto their smoked ribs a mixture of honey, butter or margarine, and a splash of fruit juice just before giving the racks a final blast of smoke. Don't ask me how, but along with candying the meat a bit, the potion brings the ribs to a new degree of tenderness.
Serves8
Cooking MethodBarbecuing, Grilling
Dietary ConsiderationEgg-free, Lactose-free, Peanut Free
Taste and TextureGarlicky, Meaty, Savory, Smoky, Spiced, Sweet
Ingredients
4 racks baby back pork ribs, about 2 3/4 lbs each (see Notes)
Mustard Moisturizer:
1/4 cup prepared yellow mustard
1/4 cup water
1 tablespoon Worcestershire sauce
1 tablespoon apple cider vinegar
Seasoning Blend:
6 tablespoons mild chili powder, preferably Chimayo, Ancho or Hatch
3 tablespoons sweet paprika
3 tablespoons firmly packed dark brown sugar
1 1/2 teaspoons dry mustard
2 1/4 teaspoons coarsely ground fresh black pepper
3/4 teaspoon Old Bay Seasoning
1 teaspoon ground cinnamon (optional)
Wrapping Mixture:
1 cup firmly packed light brown sugar
1 cup honey
1/4 cup apple juice
Honey BBQ Sauce:
1 cup Apple Barbecue Sauce or your favorite BBQ sauce
1/2 cup honey
2 tablespoons apple cider vinegar
1/2 Granny Smith apple, peeled cored and grated on a Microplane grater
About 1/2 cup Apple Juice Spray
Apple Juice Spray:
1 cup unsweetened apple juice
1 cup water
APL BBQ Sauce:
1/2 cup canola or vegetable oil
5 garlic cloves, peeled and coarsely chopped
1 medium sweet white onion coarsely chopped
1 green bell pepper coarsely chopped
2 teaspoons kosher salt, plus additional as needed
1/4 cup bourbon
3 tablespoons chile powder
1 tablespoon coarsely ground fresh black pepper
1/4 teaspoon ground allspice, plus additional for seasoning
1/4 teaspoon ground cloves, plus additional for seasoning
1 cup firmly packed dark brown sugar
2 cups water
2 cups ketchup
1/2 cup unsulfured blackstrap molasses
1/2 cup prepared yellow mustard
1/2 cup apple cider vinegar, plus additional as needed
2 teaspoons hot sauce
1/2 cup apricot preserves
1 jalapeno chili, grated on a Microplane grater, stopping before the seeds
1/2 Granny Smith apple, grated on a Microplane grater
Instructions
Preheat an indirect barbecue drip pan and fruitwood (preferably apple), a ceramic cooker with deflector plate and fruitwood (preferably apple) or a charcoal or gas grill with a box or packet of fruitwood (preferably apple) to 275 degrees Fahrenheit.

Combine all of the Mustard Moisturizer ingredients. Combine all of the seasoning blend ingredients. Rub a thin layer of the Mustard Moisturizer on all sides of the racks and lightly sprinkle with the seasoning blend on all sides. The remaining seasoning blend will be used later in the cooking.

If using a ceramic cooker, the racks can be placed an inch apart on a rib. They might need to be trimmed to fit the cooking surface so the lid can close. If using a larger indirect or direct barbecue, no additional trimming is necessary. Place the ribs in the cooker and cook for 2 hours.

Meanwhile, combine the Wrapping Mixture ingredients.

Tear off 8 sheets of heavy-duty aluminum foil. Working with 2 sheets of foil at a time, place a quarter of the Wrapping Mixture on the foil, top with a rack of ribs, and wrap in the foil, crimping to seal. Wrap with the second sheet of foil. Repeat for three remaining 3 racks of ribs.

If using a ceramic cooker, stack the packets on top of each other. If using a smoker, place the ribs on sheet pans for easier movement.

Place the packets back in the cooker, meat side down, and cook for 1 hour, flipping half way through.

Remove the racks from the cooker and let rest in the foil packets for 20 minutes.

Remove the ribs from the foil and dust lightly on both sides with additional seasoning blend. Place the ribs back in the cooker, meat side up, for 30 minutes.

Meanwhile, combine the Honey BBQ Sauce ingredients.

Remove the racks from the cooker and brush with an even, but not too thick layer of sauce. The layer should evenly coat the ribs but should not clump. Place meat in the cooker, meat side up, for 25 minutes to tighten up the sauce.

Paint a cutting board with some of the remaining sauce.

Remove the ribs from the cooker and place on the prepared cutting board adding additional sauce as needed to cover, but not excessively coat. Spray twice with apple juice spray. Cut the ribs from the racks and dredge to coat the exposed sides with the remaining BBQ sauce.
For APL BBQ Sauce:
Pour the oil in a large saucepan and cook over medium heat until it starts to shimmer. Stir in garlic, onion, bell pepper and salt. Cook, stirring occasionally until the vegetables have softened, about 10 minutes.

Pour in the bourbon and cook until the alcohol has cooked off, about 5 minutes. There will no longer be the strong smell of alcohol.

Combine the chili powder, black pepper, allspice and cloves and add to the pan. Cook, stirring continuously, until fragrant, about 3 minutes.

Stir in the brown sugar, water, ketchup, molasses, mustard, vinegar, hot sauce and preserves. Bring the mixture to a boil, stirring occasionally to be sure nothing sticks to the bottom and burns. Reduce to a simmer. Continue to simmer, stirring often, until thickened, about 45 minutes.

Add the jalapeño and apple. At this point the sauce can be left chunky or blended in a blender (blend in small batches since it will be hot), or in a bowl using an immersion/stick blender until smooth.

Season to taste with additional allspice, cloves, salt and vinegar to taste.
For Apple Juice Spray:
Combine the water and juice and place in a spray bottle. (For Apricot Spray, substitute apricot nectar for apple juice.)
Notes:
I don't remove the membrane from the back of the ribs. It helps hold it all together.
2013 Adam Perry Lang
YOUR RECENTLY VIEWED RECIPES
Free recipes, giveaways, exclusive partner offers, and more straight to your inbox!