Sweet and Tangy Pork Chops
Cookbook
Published by Knopf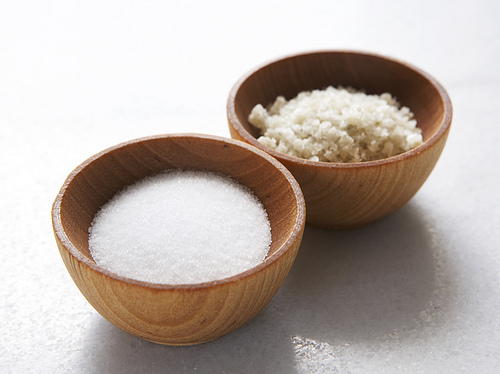 This image courtesy of Joseph DeLeo
Tony: One of the most important skills for any grill master is knowing when a cut of meat is cooked to the desired temperature. This is particularly important when it comes to pork chops, because they can dry out quickly if they're overcooked. Technology has made this easier, with the advent of instant -read meat thermometers, but Lord knows we've all been in situations where the thermometer has gone missing, and then what happened? Dad burned the chop! Which is why we recommend all cooks acquaint themselves with the Neely "feel test." Gina: Tony's just like Pat, always feelin' things in the kitchen. I tease all the brothers about this, call them the "Feely Neelys," And this is supposed to be a family cookbook! Tony: Most of us rely on sight and smell in the kitchen, Gina, but you gotta learn to feel as well, especially when grillin'. One surefire way of testing chops and steaks for doneness is our feel test, and it couldn't be easier to master: All you need is a hand and a finger. Here's what you do: Relax your left hand and turn it palm-side up. Now take the index finger of your right hand and poke at the soft area of flesh below the thumb on the left hand. Note the give in the flesh. That's how a cut of meat with an internal temperature of rare (cool, red center) will feel. Now open up your palm, extending the fingers on your left hand. Again, take the index finger of your right hand and poke at the area of flesh below the thumb on the left hand. The flesh will be somewhat tauter, but it will still have some give. That's how a cut of meat with an internal temperature of medium (warm, pink center) will feel. Now stretch the fingers on your left hand as far as they will go, tightening the hand and fingers as if they were a rubber band stretched to capacity. Again, take the index finger of your right hand and poke at the area of flesh below the thumb. See how tight that is, how little give there is. That's a well-done steak. So there you have it: Rare feels fleshy, medium is taut but still has some give, and well done is tight as a drum. Next time your steak is on the grill, give it a poke. Gina: You can even poke at your gal, tell her you're practicing (but make sure you say that her backside is tight as a drum)!
Serves4

OccasionCasual Dinner Party
Dietary ConsiderationEgg-free, Gluten-free, Lactose-free, Peanut Free, Soy Free
Taste and TextureHot & Spicy, Juicy, Meaty, Savory, Smoky, Spiced, Sweet, Tangy
Ingredients
Four 1-inch-thick bone-in center-cut pork chops
Kosher salt
½ cup Neely's Barbecue Seasoning (below)
2 cups Neely's Barbecue Sauce
1½ cups paprika
¾ cup sugar
3¾ tablespoons onion powder
Instructions
FOR THE BARBECUE SEASONING:

Stir together the ingredients in a small bowl. Stored in an airtight container in a cool, dry place, this seasoning will last for up to 6 months.

Season the chops with salt and Neely's Barbecue Seasoning, and refrigerate for at least 1 hour. About 30 minutes before you are ready to cook the chops, take them out of the fridge and allow them to come to room temperature.

Preheat the grill to 250°F, preferably over hickory and charcoal.

Place the chops on the grill away from the flame, using indircet heat, and cook for about 45 minutes, turning once. Wrap the chops in a foil packet, and return them to the grill or place them in a 180°F oven, and cook until they are very tender and pull easily away from the bone, about 40 minutes more. Brush the chops with a generous amount of sauce during the last 10 minutes of cooking, then serve them with additional sauce.

nice thick chop for him, because that is what he loves.
Notes
Tony's Tip: Most of us know how to cook chops on the grill: Season the meat, throw the chops down on the grill grate over direct heat, and flop them once (the hotter the grill, the better). But the above method, cooking with indirect heat, also works well. And if you cook over indirect heat, the best way to finish the meat is in a foil wrap, to keep it as juicy and tender as can be. I don't insist on a standard thickness for chops, because my guests have their own pereferences. My daughter Madison loves thin pork chops—she won't even eat a thick one—so that's what I prepare for her. But if pat is coming over, I grill a 
2009 Patrick Neely and Gina Neely
YOUR RECENTLY VIEWED RECIPES
Free recipes, giveaways, exclusive partner offers, and more straight to your inbox!