Salty Key Lime Tart with Triple Coconut Frozen Custard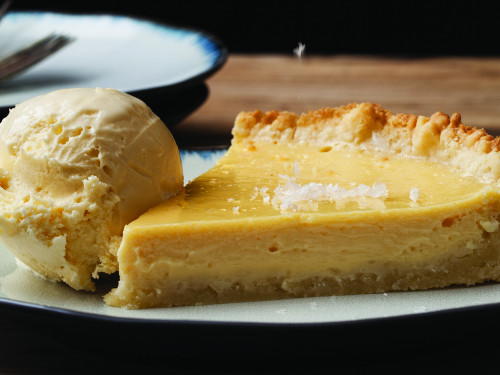 Salty Key Lime Tart with Triple Coconut Frozen Custard
Editor's Note: Here's a new and refreshing take on the traditional key lime dessert! In this recipe for Salty Key Lime Tart with Triple Coconut Frozen Custard, you'll combine a medley of flavors that will result in a dessert that is creamy and unique. This tart recipe takes some prep work, but the results will be worth it. You'll discover this pie is definitely a show-stopper that will win over even the most died-in-the-wool dessert traditionalists in your group of friends!

We have long been fans of salt in desserts: a little in ice cream, a little in chocolate cake. It highlights accents in a sweet palette that may get lost—helping bring to the foreground, say, the lime and coconut in this combo. But there's no doubt that this tart takes our love of salt over the top. If you're unsure, omit the flaked salt on top—there'll be enough salt in the crust to carry that mineral flavor forward in each bite.

This one's a salty shortbread crust topped with a sour lime curd. We used cake flour to create a shorter, crisper crust. And we added confectioners' sugar (with its attendant cornstarch) as well as extra cornstarch to pull out the moisture. There's no chance of this tart going boggy!

Key lime juice is, of course, squeezed from key limes, smaller, more acidic, and more heavily perfumed limes than the standard, Persian limes. Key limes are actually grown in many places besides the Florida Keys—and were not even indigenous to those islands. You can use standard lime juice in this tart but the more moderated flavor will not stand up as well to a salt garnish.

We didn't solely rely on the coconut fat in coconut milk to make an ice cream. We tried that—the texture was still too icy. So we added eggs. Then we added cream. Now it was worthy of that salty lime tart. But for an even more sophisticated flavor, toast the coconut on a baking sheet in a 325 degree F oven until aromatic, stirring occasionally, about 5 minutes. The coconut will brown a bit at the edges, so the ice cream will not be as white (and not as aesthetically pleasing), but the taste will be more reminiscent of coconut cream pie.
Yields1 9-inch tart
Occasional Fresco, Buffet, Buffet Meal, Casual Dinner Party, Family Get Together
Taste and TextureSalty, Sweet, Tart
Type of DishDessert, Tart
Ingredients
For the Crust:
1 1/2 cups cake flour
9 tablespoons confectioners' sugar
5 teaspoons cornstarch
2 teaspoons kosher or coarse-ground sea salt
10 1/2 tablespoons (1 stick plus 21/2 tablespoons) cold unsalted butter, cut into small bits, plus additional for greasing
Up to 1/4 cup heavy cream, as needed
For the Filling:
One 14-ounce can sweetened condensed milk (do not use low-fat or fat-free)
3/4 cup key lime juice
2 ounces regular cream cheese, at room temperature
1 large egg, plus 2 large egg yolks, at room temperature
1 tablespoon all-purpose flour
2 teaspoons finely grated lime zest
1 teaspoon flaked sea salt, such as Maldon
For the Custard:
1 1/4 cups heavy cream
1 cup canned cream of coconut
2/3 cup regular coconut milk (do not use "light" coconut milk)
1/2 cup packed sweetened shredded coconut
4 large egg yolks, at room temperature
1 teaspoon pure vanilla extract
Instructions
To Make the Crust
Preheat the oven to 325 degrees F. Lightly butter the inside of a 9-inch springform baking pan.

Put the cake flour, confectioners' sugar, corn- starch, and kosher salt in a food processor. Cover and pulse until well combined. Add the butter, cover, and pulse until the mixture resembles dry, coarse sand. With the machine running, pour in the cream in 1-tablespoon increments just until a slightly sticky dough forms when you press bits together between your fingers.

Pour the crumbles into the prepared spring- form pan and press into a crust, evenly coating the bottom of the pan and pressing the crust 1 inch up the sides. Lay a sheet of aluminum foil in the pan to cover the crust. Bake to set for 17 minutes. Transfer to a wire rack; remove the foil. Maintain the oven temperature.
To Make the Filling and Finish Up
Clean and dry the food processor. Add the condensed milk, lime juice, cream cheese, egg, egg yolks, flour, and zest. Cover and process until smooth, scraping down the inside of the canister at least once. Pour the filling into the warm crust.

Bake until puffed and set, about 17 minutes more. Transfer to a wire rack and cool for 1 hour. Remove the sides of the springform pan. Refrigerate the tart for at least 2 hours before serving, tenting loosely with plastic wrap when cold. Sprinkle with the flaked sea salt after slicing into wedges to serve. Store loosely covered in plastic wrap in the refrigerator for up to 2 days.

Pro Tip: The crust amalgam won't look like a dough when you've added the right amount of cream. In fact, if it comes together into a ball in the canister, you've added too much and need to start over. Instead, you should be able to press bits and crumbles together to form a dough—not that they've already gotten to that stage in the processor.
To Make the Custard
Mix the cream, cream of coconut, coconut milk, and shredded coconut in a large saucepan. Set over medium heat and warm until small bubbles begin to fizz around the pan's inner perimeter.

Whisk the egg yolks and vanilla extract in a large bowl until smooth and creamy. Whisk in about half the hot cream mixture in a slow, steady stream until smooth, then whisk this combined mixture into the remaining cream mixture in the saucepan until smooth. Set over low heat and cook, stirring almost constantly, until the mixture thickly coats the back of a wooden spoon and the temperature registers 170 degrees F, 4 to 7 minutes.

Pour the mixture into a medium bowl and refrigerate for at least 4 hours or up to 1 day, covering once the mixture is cool.

To freeze it: Prepare an ice-cream machine. Stir the cold custard and freeze it in the machine according to the manufacturer's instructions, until it can mound on a spoon without immediately melting at the edges. Store in a sealed container in the freezer for up to 1 month.

A la mode it: If you serve the tart with flaked salt sprinkled on each serving, make sure you keep it on the lime curd, not on the nearby frozen custard. The frozen custard should be a salt-free break, as it were.