Braided Almond-Cream Wreath (Kranzkuchen)
Cookbook
Published by Ten Speed Press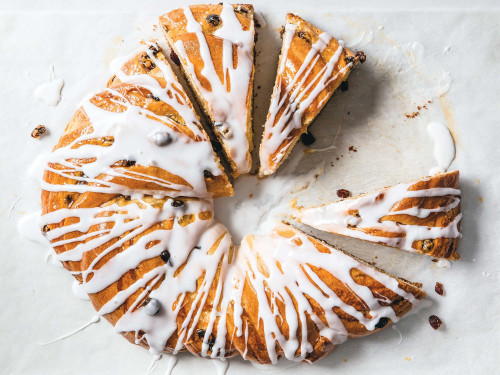 This image courtesy of Aubrie Pick
If Schlesische Mohnrolle is my favorite thing to buy at Hutzelmann, our favorite bakery in Berlin, then Kranzkuchen is my husband's. Max has a soft spot for Kranzkuchen, an almond-paste and rum-raisin– stuffed sweet wreath. He has tried many Kranzkuchen in his life, but he says that absolutely none come close to Hutzelmann's version, sold in thick slabs all year long. It is glorious: sticky and rich, winey with rum and almond paste, chewy, and flaky all at once.

I tried many times to re-create their Kranz (which means "wreath") at home and never quite got it right, but in the process I developed this recipe, which is pretty darn good. Forming the wreath requires a bit of moxie because once you roll up the almond-cream-filled dough and slice it lengthwise, you have to wrap the 2 strands around each other without allowing the filling to leak too much. After baking, when the Kranzkuchen is golden brown and shiny from the apricot glaze and topped with a drizzled glaze, it's as beautiful as it is delicious. I suggest you bake this when you have a lot of people to feed at once—it's best the day it is made.
Makes1 (13-inch/33cm) wreath
Ingredients
Dough
3 1⁄4 cups, scooped and leveled, minus 1 tablespoon/ 400g all-purpose flour, plus more for kneading
1 1⁄2 teaspoons instant yeast
1⁄3 cup/70g granulated sugar
1⁄4 teaspoon salt
3⁄4 cup plus 1 tablespoon/190ml whole milk
1 egg
8 tablespoons/115g unsalted high-fat, European-style butter, at room temperature
2⁄3 cup/100g raisins
Filling
3 tablespoons dark rum
Juice of 1⁄2 lemon
1 pound/455g almond paste
1⁄4 cup/50g granulated sugar
1 egg white
1 to 2 tablespoons whole milk
3 1⁄2 tablespoons/50g unsalted butter, at room temperature
1⁄4 teaspoon salt
Glaze
1⁄2 cup/150g smooth apricot jam
13 tablespoons/100g confectioners' sugar
2 tablespoons water
Instructions
To make the dough: In a large bowl, stir together the flour, yeast, sugar, and salt. Then add the milk and egg and stir briefly. Add the butter and knead the dough briefly by hand in the bowl. Scrape it out onto a lightly floured work surface and continue to knead it for several minutes. You may need to add 1 to 2 additional tablespoons of flour, but resist the urge to add more; the dough should be quite soft and rich. You won't be able to knead it as long as other yeast doughs, but try to get it to a point where it's no longer too sticky and can be formed into a ball.

Place the ball back in the bowl. Cover the bowl with a clean dishcloth and place in a warm, draft-free place for 1 hour to rise.

To make the filling: Place the raisins in a small bowl and add the rum and lemon juice. Set aside to macerate for 30 minutes.

Heat the oven to 350°F/180°C. Line a baking sheet with parchment paper. In a medium bowl, combine the almond paste, sugar, egg white, 1 tablespoon of milk, butter, and salt; knead together by hand until well combined. Knead in the raisins and their macerating liquid. The mixture should be creamy but will still hold its shape when spread. If necessary, mix in the remaining 1 tablespoon of milk. Set aside.

When the proofing hour is up, gently tug the dough onto a work surface. Roll out the dough to a 13 by 16-inch/33 by 40cm rectangle. You can pull the edges out to form neat corners.

Scrape the filling onto the dough and, using a bench scraper, spread the mixture out evenly over the dough, leaving a 1-inch/2.5cm border on one of the long sides. Starting from the other long side, roll up the dough. Using a sharp bench scraper, cut the roll of dough in half lengthwise, leaving about 1 inch/2.5cm at one end still attached. Working quickly, twist the 2 strands around each other all the way down the length of the roll. Then form the wrapped dough strands into a circle. Next, slice through the end that you left attached and tuck the end pieces at both ends underneath each other to make a neat closure.

Transfer the wreath to the prepared pan (you may need someone to help you do this) and bake for 45 minutes at the second-lowest rack position, rotating halfway through. When finished, the loaf will be golden brown all over and should sound slightly hollow when tapped. It will still be quite soft.

To make the glaze: Just before the end of the baking time, heat the apricot jam over medium-high heat until loose and bubbling. When the wreath emerges from the oven, immediately brush it all over with the hot jam. Place the pan on a rack to cool.

When the wreath has almost fully cooled, sift the confectioners' sugar into a small bowl and whisk in the water. Whisk until smooth and lump-free. You want a thick but pourable glaze. Add more sugar or a drop more water as needed. Drizzle the glaze back and forth over the entire wreath. Wait 1 hour for the glaze to set and the cake to cool completely and then slice and serve. The cake is best eaten the day it is made, but it can be kept at room temperature, loosely wrapped in plastic wrap, for 2 additional days.
Reprinted with permission from Classic German Baking by Luisa Weiss, copyright 2016. Published by Ten Speed Press, an imprint of Penguin Random House LLC.
YOUR RECENTLY VIEWED RECIPES
Free recipes, giveaways, exclusive partner offers, and more straight to your inbox!