Apple-Cheddar Turnovers
Updated March 20, 2023
Cookbook
Published by Harry N. Abrams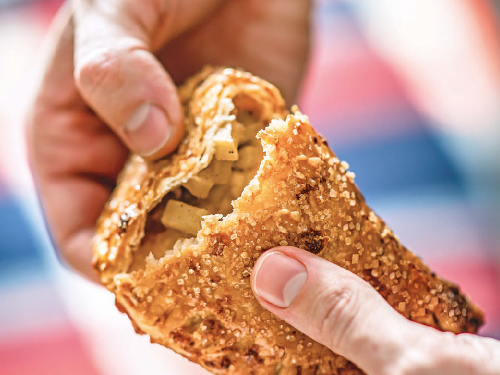 The first time Allison heard that some people enjoy Cheddar cheese on top of their apple pie, she was just a kid, with a very limited palate, and her first reaction was, "Huh?!" As she got older and her tastes became more sophisticated, she soon learned to appreciate this American diner staple. The sharp creaminess of the Cheddar is a great savory foil to the sweet and tart apple filling, and that sweet-savory contrast is especially appropriate at brunch time. This is basically a portable version of that slice of pie—whip up a bunch and enjoy them on the go or at your breakfast table with a cup of coffee, some morning sunlight, and something great on the stereo.
Ingredients
1 recipe All-Butter Pie Crust with cheese added just before the final step (see instructions)
1 cup (115 g) shredded sharp Cheddar cheese
½ cup (110 g) firmly packed dark brown sugar
1 tablespoon cornstarch
½ teaspoon ground ginger
1/2 teaspoon ground cinnamon
1/2 teaspoon kosher salt
2 pounds (910 g) firm, tart apples (Granny Smith, Mutsu, and Macoun are all good choices), cut into ½-inch (12-mm) cubes
1 large egg
¼ cup (60 ml) whole milk or water
Raw sugar, for sprinkling
Instructions
At the final stage of preparing the pie crust, before wrapping it in plastic to rest, mix ½  cup (55 g) of the shredded cheese in with the dough mixture. Then proceed as instructed.

While the dough is chilling, make the filling: In a large mixing bowl, combine the brown sugar, cornstarch, ginger, cinnamon, and salt. Add the apples and toss them with the sugar-spice mixture.

Preheat the oven to 375F (190C).

After the dough has chilled, allow it to rest for about 5 minutes at room temperature to soften up. Divide it into quarters, and roll out each quarter on a lightly floured surface into a round 5 to 6 inches (12 to 15 cm) in diameter and about ¼ inch (6 mm) thick. Spoon the apple filling into the center of each dough round, being careful not to overfill.

In a small bowl, whisk together the egg and milk or water to make an egg wash. Use the egg wash to wet the outer edge of each round, then fold one side of the dough over the filling to meet the other edge, and press gently with the tines of a fork all the way around to seal.

Transfer the turnovers to a parchment-lined baking sheet. Using a paring knife, cut one or two steam vents into the top of each turnover. Brush each with egg wash and sprinkle with raw sugar and the remaining ½ cup (55 g) Cheddar cheese.

Bake for 20 minutes, rotating once halfway through, then lower the heat to 350F (175C) and bake for another 20 minutes, or until the crust is golden brown and the juices bubbling up have thickened. Remove the turnovers to a wire rack to cool. Serve them warm or at room temperature. The turnovers will keep in an airtight container in the refrigerator for up to 5 days. To reheat, warm them in a preheated 350F (175C) oven or toaster oven for 5 minutes.
YOUR RECENTLY VIEWED RECIPES
Free recipes, giveaways, exclusive partner offers, and more straight to your inbox!