Zucchini, Sweet Corn, and Basil Penne with Pine Nuts and Mozzarella
Cookbook
Published by Workman Publishing Company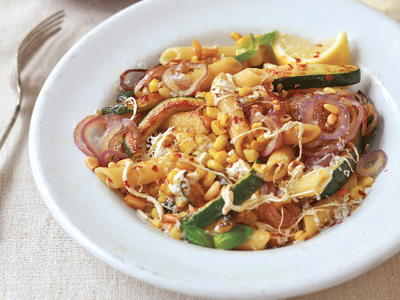 This image courtesy of Matthew Benson
Editor's Note: If you're facing a bounty of fresh vegetables from your backyard or farmers market and are at a loss regarding what to do, then keep reading! This recipe for Zucchini, Sweet Corn, and Basil Penne with Pine Nuts and Mozzarella will be the perfect addition to your summertime recipes while also incorporating some of your favorite fresh vegetables.

Zucchini, corn, and basil are quite a trio—one that I turn to over and over again. Here, they come together in a bright summer pasta showered with lemon juice and studded with pine nuts and mozzarella. I am sure you will want to enjoy it all season long. Salting the pasta water is imperative here. It is responsible for much of the flavor in the simple sauce.
Serves4 to 6

Ingredients
Fine sea salt
3/4 pound good-quality dried penne
2 tablespoons extra-virgin olive oil
1 small red or yellow onion, thinly sliced
2 large garlic cloves, minced
2 medium zucchini, cut into 1/4-inch by 3-inch sticks
Kernels from 2 ears fresh corn
1/4 teaspoon crushed red pepper flakes
1 tablespoon unsalted butter
1 cup loosely packed fresh basil leaves, coarsely chopped
1/4 cup toasted pine nuts
2 ounces mozzarella cheese, torn into bite-size pieces
2 to 3 tablespoons freshly squeezed lemon juice
Freshly shaved parmesan cheese, for garnish
Your best extra-virgin olive oil, for garnish
Lemon wedges, for serving (optional)
Instructions
Bring a large pot of water to a boil and salt it generously (add 1 tablespoon of salt for every 4 quarts). Cook the penne according to package instructions until just shy of al dente, about 10 minutes. Drain the pasta, reserving at least 2 cups pasta water for the sauce.

Heat the oil in a large, deep skillet or Dutch oven over medium heat. Add the onion and cook, stirring occasionally, until it starts to brown lightly, about 5 minutes. Add the garlic and cook, stirring constantly, until it becomes fragrant, 30 seconds. Add the zucchini, turn the heat up to high, and cook, stirring occasionally, until the zucchini softens, 6 to 8 minutes. (You will need to add up to 1 cup of the reserved pasta water, a little at a time, as the zucchini cooks and becomes dry and sticks to the pan.)

Adjust the heat to medium and add the corn, ½ teaspoon of salt, the red pepper flakes, and the butter. Cook, stirring occasionally, for 2 minutes more. Add the penne and 1/2 cup of the pasta water, and stir well to incorporate. Cook, stirring often, until the pasta is well coated and the sauce has thickened, about 2 minutes.

Turn off the heat and add half of the basil, the pine nuts, and the mozzarella. Add the lemon juice to taste and stir well to incorporate it. Scoop the penne into individual shallow bowls, making sure to evenly distribute the zucchini and corn. Top with the remaining basil, a fresh shaving of parmesan, and a drizzle of your best extra-virgin olive oil. Serve with lemon wedges if you wish.
Copyright 2016 Cara Mangini
YOUR RECENTLY VIEWED RECIPES