Squash Ravioli with Fried Sage
Cookbook
Published by Chronicle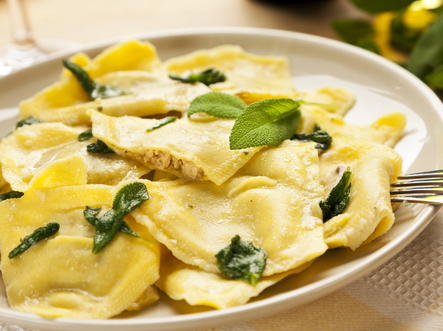 This image courtesy of Shutterstock
Ravioli are fun to make at home and less work than lasagne or cannelloni because you don't have to boil the pasta before you fill them. If you are painstaking—rolling the pasta very thin and being precise in your work—you will have beautiful ravioli far more delicate than any you can buy. It is important to make your pasta sheets as straight-edged as possible or you will have to trim them and throw a lot of dough away. Thinness is also critical because the dough is doubled around the filling. These ravioli are filled with well-seasoned squash puree and sauced simply with melted butter, a shower of Parmesan, and crisp fried sage leaves. They are too delicate to drain. You will need a wire-mesh skimmer or other strainer to lift them out of the boiling pasta water.
OccasionCasual Dinner Party
Recipe CourseAppetizer, Main Course
Dietary ConsiderationHalal, Kosher, Peanut Free, Soy Free, Vegetarian
EquipmentFood Processor, Pasta Maker
Taste and TextureButtery, Cheesy, Creamy, Herby, Savory, Spiced
Type of DishFresh Pasta, Stuffed Pasta
Ingredients
1 small butternut squash (1 to 1½ pounds)
3 tablespoons freshly grated Parmesan cheese
3 tablespoons fine bread crumbs (see Notes)
Freshly grated nutmeg
Salt
1 large egg yolk
Fresh Egg Pasta made with 2 extra large eggs and
approximately 1 2/3 cups unbleached all purpose flour
Semolina for dusting
8 tablespoons unsalted butter
2 tablespoons extra virgin olive oil
30 large fresh sage leaves
Salt
Freshly ground black pepper
¾ to 1 cup freshly grated Parmesan cheese
Instructions
Preheat the oven to 400°F. To make the filling, cut the squash in half lengthwise and scoop out the strings and seeds. Put the squash halves in a baking dish, cut side up. Cover and bake until tender when pierced, about 1 hour. Cool, then scrape the flesh away from the skins. Puree the flesh in a food processor until smooth.

Measure 1 cup squash puree into a bowl. (Discard any remaining puree or reserve for another use.) Add the cheese, bread crumbs, and nutmeg and salt to taste. Stir in the egg yolk.

Roll the pasta on the pasta machine into sheets as thin as you are comfortable working with. (I roll it to number 7, two steps thinner than I do for fettuccine.) Lay the sheets on clean dish towels as you make them.

Prepare the ravioli while the pasta is still fresh and somewhat moist. On a work surface lightly dusted with semolina, lay 1 sheet flat. Dot the sheet with small mounds of filling in two parallel rows, using a scant 1 teaspoon filling for each mound. The mounds should be about 1 inch apart and the rows about 2 inches apart. Keep the mounds far enough from the edges of the dough to allow room to seal the ravioli. With a pastry brush dipped in cold water, lightly moisten the edges of the pasta dough and moisten a strip between the rows.

Top with another sheet of pasta dough (four hands are helpful here, but not essential), carefully aligning the edges. Press between the mounds and between the rows to seal the ravioli. Use a fluted pastry wheel to cut between the ravioli. Transfer them to semolina-dusted trays or dish towels to rest while you prepare the sauce. If you are not going to cook the ravioli immediately, you need to turn them every 20 minutes or so to prevent them from sticking to the trays or towels.

Bring two large pots of salted water to a boil over high heat.

Meanwhile, prepare the sage leaves: Melt 2 tablespoons of the butter with the olive oil in a large skillet over moderately low heat. Add the sage leaves and cook slowly, turning them occasionally, until they crisp, 5 to 7 minutes. Transfer them to paper towels to drain and sprinkle with salt.

Pour the fat from the pan into a small cup and let the dark particles settle to the bottom, then pour the clear fat back into the skillet. Add the remaining 6 tablespoons butter and melt over low heat. Season to taste with salt and pepper.

Add the ravioli to the boiling water, dividing them between the two pots. Cook until al dente, 3 to 4 minutes, depending on how dry they are and how thin your pasta is. Stir them often so they don't stick to each other. Check by lifting one out with a strainer and cutting off a bit of the edge to taste. When the ravioli are done, lift them out of the pot a few at a time with a skimmer or strainer, letting excess water drip back into the pot. Divide them among warmed bowls, drizzling each portion with the melted butter and sprinkling with some of the cheese and sage leaves. Serve immediately.
Notes
Bread crumbs for pasta should be almost as fine as cracker crumbs. To make them, use country style bread that contains only flour, water, yeast, and salt. Don't use breads that have fat or sugar in them. The bread should be quite stale. If it isn't, dry it out in a low oven. Let cool, then break it into chunks, crust and all, and put the chunks in a food processor. Process until the crumbs are fine. If the crumbs remain course, the bread is probably not dry enough. Spread the crumbs on a baking sheet and put them back in the low oven to dry further, then cool and process again.

Sieve the crumbs to remove the coarsest one. If you have enough coarse crumbs, you can process and sieve them one more time. Discard any crumbs that fail to go through the sieve the second time. Half a pound of stale bread should yield about 1 cup of fine crumbs.

Store bread crumbs in an airtight container in the freezer. They will keep for 6 months.
2004 Janet Fletcher
YOUR RECENTLY VIEWED RECIPES
Free recipes, giveaways, exclusive partner offers, and more straight to your inbox!