Lobster Mushroom Mac 'n' Cheese
Vegan mac 'n' cheese gets an elegant (and delicious) upgrade.
Cookbook
Published by Page Street Publishing Co.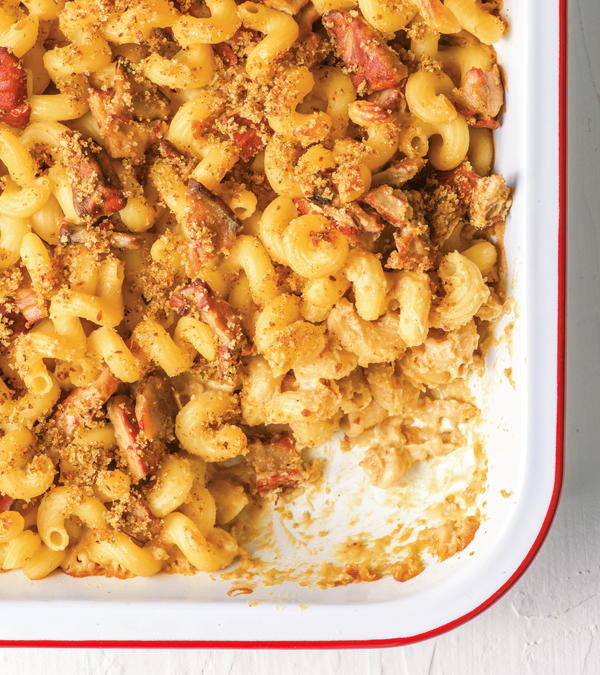 Lobster Mushroom Mac n Cheese
Mac 'n' cheese is like the Holy Grail of vegan cooking, a must-have on every vegan restaurant's menu and in every vegan home because we all need a little pasta and cheese in our lives. But this is no ordinary mac 'n' cheese. It's a classy, sophisticated version that is elevated with the addition of lobster mushrooms, probably the most fun plant-based proxy in this book! They are orangish-reddish in color, kind of look like cooked lobster meat and have a faint seafood-esque flavor. Mixed with an extra-decadent cheese sauce made with roasted garlic, this basic casserole is not so basic. Make it on date night and serve it with a glass of champagne!
Serves4 to 6
Ingredients
Lobster Mushrooms
1 ounce (28 g) dried lobster mushrooms, soaked overnight
Cheese Sauce
1 cup (240 ml) Cashew Cream (page 165)
2 tablespoons (30 ml) melted refined coconut oil
2 tablespoons (30 ml) ume plum vinegar
2 tablespoons (16 g) nutritional yeast
1 tablespoon (15 g) mashed roasted garlic, (see note on page 42)
1 tablespoon (15 ml) freshly squeezed lemon juice
1 tablespoon (17 g) mellow white miso
Pinch of salt
Mac 'n' Cheese
1/2 pound (226 g) uncooked cavatappi
1 1/2 tablespoon (8 ml) good olive oil, divided
3 shallots, thinly sliced
1/4 cup (60 ml) mushroom soaking liquid, strained well
3/4 cup (180 ml) water
2 tablespoons (16 g) Seasoned Breadcrumbs (page 178)
Instructions
To prepare the mushrooms, lift them out of the soaking liquid, squeezing them as you go, and add them to a strainer. Rinse the mushrooms to remove any grit. Chop into bite-sized pieces and set aside.

Strain the soaking liquid through a paper towel and set aside.

To prepare the pasta, bring a large pot of salted water to a boil. Cook the pasta according to the package instructions. Drain the pasta, reserving some of the water, and put the pasta back into the same pot.

To make the cheese sauce, add cashew cream, oil, vinegar, nutritional yeast, roasted garlic, lemon juice, miso and salt to a blender. Blend until smooth. The cheese sauce can be made ahead of time and stored in the refrigerator for up to 3 days or in the freezer for up to 3 months. If it has thickened up, add a splash of water and mix well.

Preheat the oven to 350°F (175°C, or gas mark 4). Place a 13⁄4-quart (1.6-L) baking dish on top of a half sheet pan.

Heat a cast-iron or nonstick skillet over medium-low heat. Add 1 tablespoon oil. When it starts shimmering, add the shallots and salt, and cook until translucent, about 5 minutes.

Add the chopped mushrooms to the shallots and stir around. Add the mushroom soaking liquid and water and bring to a high simmer. Cook low, slow and uncovered, stirring occasionally, until the liquid has almost evaporated and the mushrooms are soft, about 30 minutes.

Pour the mushroom-shallot mixture and cheese sauce over the pasta. Use tongs to gently mix everything together. Add a little pasta water to make the sauce silky.

Pour the entire mixture into the baking dish.

In a small mixing bowl, combine the breadcrumbs and 1⁄2 tablespoon oil, working it all together until the oil is completely incorporated into the breadcrumbs. Sprinkle on top of the mac 'n' cheese.

Bake for 30 minutes, until the top looks crispy and the sauce is bubbling. Let stand for at least 10 minutes to cool slightly.
Note
Dried mushrooms can be found in the market or ordered online. They are easy to reconstitute, but there is some difference of opinion on whether or not to use the soaking liquid for cooking. On the pro side, the liquid is full of flavor. On the con side, there may be some grit left over. Not one to waste a thing in the kitchen, I recommend straining the liquid through a paper towel and using it in the sauce. If you are concerned, strain it twice—or leave it out and substitute water or vegetable stock.
YOUR RECENTLY VIEWED RECIPES
Free recipes, giveaways, exclusive partner offers, and more straight to your inbox!