Basic Muffins
Cookbook
Published by Houghton Mifflin Harcourt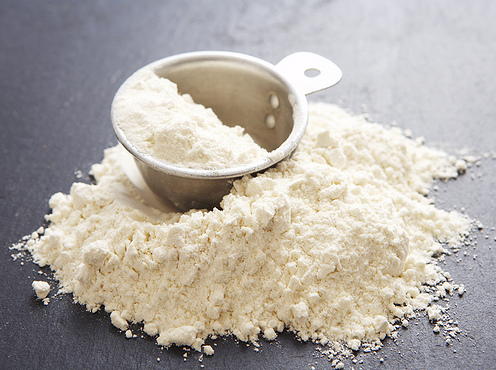 This image courtesy of Joseph DeLeo
Fast, easy, and almost infinitely variable (there isn't a single quick-bread batter that cannot be baked as muffins, or vice versa) muffins have somehow become the domain of doughnut shops. But baking at home gives you control over fat content and quality of ingredients, and introduces you to one of life's great luxuries: the fresh-from-the-oven muffin.
Makes8 large or 12 medium muffins

Dietary ConsiderationPeanut Free, Soy Free, Tree Nut Free, Vegetarian
Taste and TextureButtery, Light, Sweet
Ingredients
3 tablespoons melted butter or canola or other neutral oil, plus some for greasing the muffin tin
2 cups (about 9 ounces) all-purpose flour
¼ cup sugar, or to taste
½ teaspoon salt
3 teaspoons baking powder
1 egg
1 cup milk, plus more if needed
Instructions
1 Preheat the oven to 400°F. Grease a standard 12-compartment muffin tin.

2 Mix together the dry ingredients in a bowl. Beat together the egg, milk, and butter or oil. Make a well in the center-of the dry ingredients and pour the wet ingredients into it. Using a large spoon or rubber spatula, combine the ingredients swiftly, stirring and folding rather than beating, and stopping as soon as all the dry ingredients are moistened. The batter should be lumpy, not smooth, and thick but quite moist; add a little more milk or other liquid if necessary.

3 Spoon the batter into the muffin tins, filling them about two-thirds full and handling the batter as little as possible. (If you prefer bigger muffins, fill the cups almost to the top. Pour ¼ cup water into those cups left empty.) Bake 20 to 30 minutes, or until the muffins are nicely browned and a toothpick inserted into the center of one of them comes out clean. Remove from the oven and let rest for 5 minutes before taking them out of the tin. Serve warm.

Banana-Nut Muffins: This is good with half bran or whole wheat flour. Add ½ cup roughly chopped walnuts, pecans, or cashews to the dry ingredients. Substitute 1 cup mashed very ripe banana for ¾ cup of the milk. Use honey or maple syrup in place of sugar if possible.

Bran Muffins: Substitute 1 cup oat or wheat bran for 1 cup of the all-purpose flour (you can use whole wheat flour for the remainder if you like). Use 2 eggs and honey, molasses, or maple syrup for sweetener. Add ½ cup raisins to the prepared batter if you like.

Blueberry or Cranberry Muffins: Add, 1 teaspoon ground cinnamon to the dry ingredients; increase sugar to ½ cup. Stir 1 cup fresh blueberries or cranberries into the batter at the last minute. You can also use frozen, blueberries or cranberries here; do not defrost them first. Blueberry muffins are good with ½ teaspoon lemon zest added to the batter along with the wet ingredients. Cranberry muffins are excellent with ½ cup chopped nuts and/or 1 tablespoon minced orange zest added to the prepared batter.

Spice Muffins: Add 1 teaspoon ground cinnamon, ½ teaspoon each ground allspice and ground ginger, and 1 pinch ground cloves and mace or nutmeg to the dry ingredients; use 1 cup whole wheat flour in place of 1 cup all-purpose flour. Add ½ cup raisins or currants to the prepared batter if you like.

Sour Cream or Yogurt Muffins: These are very rich and tender. Reduce baking powder to 1 teaspoon, and add ½ teaspoon baking soda to dry ingredients. Substitute ½ cups sour cream or yogurt for the milk and cut the butter or oil back to 1 tablespoon.

Coffee Cake Muffins: Mix together ½ cup packed brown sugar; 1 teaspoon ground cinnamon; 1 cup finely chopped walnuts, pecans, or cashews; and 2 extra tablespoons melted butter. Stir half of this mixture into the original batter with the wet ingredients, and sprinkle the rest on top before baking.

Savory Muffins: Cut sugar back to 1 tablespoon. Add up to 1 cup of minced cooked bacon, minced ham, or shredded cheese—alone or in combination—to the batter just before baking.
Notes
Nine Easy Changes to Basic Muffins

These changes can be made alone or in combination.

1. Substitute whole wheat flour for half the all-purpose flour.

2. Add one-half cup chopped raisins, currants, dares, figs, prunes, or apricots to the batter.

3. Add one-half cup or more chopped walnuts, pecans, or cashews to the batter.

4. Use two eggs, and separate them. Add the yolks as usual; bear the whites until stiff bur nor dry and fold in very gently at the last moment. This produces lighter muffins.

5. Add ground cinnamon, nutmeg, mace, ginger, and/or allspice to taste.

6. Add one-half to one teaspoon grated ciTrus zest.

7. Add up to one-half cup chocolate chips to the batter.

8. Add other fresh fruits, such as raspberries or grated apple or pear to the batter, as in Blueberry or Cranberry Muffins, above.

9. Sprinkle the tops of unbaked muffins with some sugar, or a mixture of cinnamon and sugar.

1998 Mark Bittman
YOUR RECENTLY VIEWED RECIPES
Free recipes, giveaways, exclusive partner offers, and more straight to your inbox!