27+ Quick and Easy Vegetarian Recipes: Meat-Free Recipes for Breakfast, Lunch, and Dinner
Updated July 26, 2017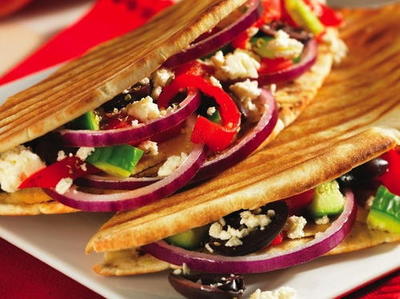 Greek-Veggie-Panini
If you're a vegetarian, you know that it can sometimes be hard to find recipes that fit your dietary needs. With 27+ Quick and Easy Vegetarian Recipes: Meat-Free Recipes for Breakfast, Lunch, and Dinner, you don't need to look any further! So many recipes out there include meat in one way or another, whether it's a sprinkling of bacon bits or a full-on chicken. It's especially difficult to find vegetarian dinner recipes that will please the whole family, since kids tend to be picky eaters!

To give you a hand, we've rounded up more than 27 of the best vegetarian recipes on our site - just for you! All of these vegetarian meal ideas are family-friendly and kid-approved, making your weekly cooking that much easier. You'll find breakfast ideas for vegetarians, side dishes, vegetarian dinner recipes, and more. These recipes use vegetables to their full advantage, combining them with spices and seasonings to create vegetarian dishes that pack a punch. No matter what meal you're cooking, you'll find plenty of vegetarian recipe ideas here that will suit your needs! You will love exploring new types of cuisine when you take a look at these vegetarian meals. In addition, many of these recipes are easy to make, so you can get them on the table without much fuss. Whether you've been a vegetarian for years or just want to try cooking something new, these recipes are sure to please.
Are you looking for even more healthy recipes? Then keep reading! This collection of recipes that are easy to make and healthy, too, will be just what you need:  21+ Easy Healthy Recipes for Every Meal
27+ Easy Vegetarian Recipes: Meat-Free Recipes for Breakfast, Lunch, and Dinner
What is your favorite vegetarian meal to share with friends?
Tags / Related Topics
YOUR RECENTLY VIEWED RECIPES