30 Easy Vegetarian Dishes
These quick and easy vegetarian recipes will win over anyone!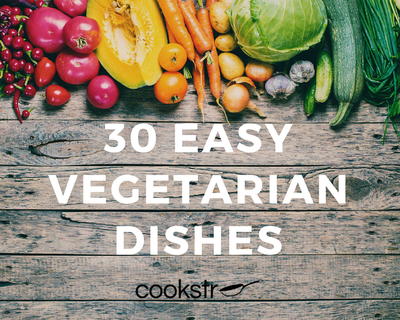 If you're a vegetarian, you know that it can sometimes be hard to find recipes that fit your dietary needs. With 30 Easy Vegetarian Dishes, you don't need to look any further! So many recipes out there include meat in one way or another, whether it's a sprinkling of bacon bits, a cup or two of chicken stock, or a full cut of beef. It's especially difficult to find vegetarian dinner recipes that will please the whole family, since kids tend to be picky eaters!

To give you a hand, we've rounded up 30 of the best vegetarian recipes on our site — just for you! All of these vegetarian meal ideas are kid-friendly recipes and will be a hit with everyone in your family, making your weekly cooking that much easier. You'll find breakfast ideas for vegetarians, side dishes, vegetarian dinner recipes, and more. These recipes use vegetables to their full advantage, combining them with spices and seasonings to create vegetarian dishes that pack a punch. No matter what meal you're cooking, you'll find plenty of vegetarian recipe ideas here that will suit your needs! You will love exploring new types of cuisine when you take a look at these vegetarian meals. In addition, many of these recipes are easy to make, so you can get them on the table without much fuss. Whether you've been a vegetarian for years or just want to try cooking something new, these easy vegetarian dishes are sure to please.
Table of Contents
Are you looking for even more healthy recipes? Then keep reading! This collection of recipes that are easy to make and healthy, too, will be just what you need:  21+ Easy Healthy Recipes for Every Meal
Easy Vegetarian Recipes for Breakfast
Breakfast is the most important meal of the day. If you're looking for an easy vegetarian breakfast, the following breakfast recipes have your back. Each recipe is filling, nutritious, and of course, vegetarian! Whether you're craving salty or sweet, there are vegetarian breakfast recipes here for you. These recipes can be served any day of the week, but are also special enough to serve at your family's next big brunch, too. If you're pressed for time, you could prepare some of these recipes the night before. You'll love starting your day on the right foot with these hearty, filling, and delicious recipes!
Vegetarian Lunch Ideas
By the time lunch rolls around, you're probably craving something that's not too heavy but will give you that energy boost you need to get through the day. These vegetarian lunch recipes include sandwiches and salad recipes that are full of veggies to get you out of that midday slump! If you're tired of preparing the same sandwich or want to eat something more nourishing than whatever you could find in a vending machine, then these vegetarian meals are for you. You'll love the bold variety of flavors and seasonings in these recipes! In addition, some of these recipes can be made in advance, so add these recipes to your meal prep rotation.
Vegetarian Dinner Recipes
Finding meatless recipes for weeknight meals can be a hassle, but these vegetarian dinner recipes are mmm-azing. Filling and flavorful, each of these delicious vegetarian recipes is chock-full of vegetables and spices to create a unique dinner experience you won't soon forget! We've even included a recipe for mushroom caps, which can be served as sandwiches or incorporated in some of your favorite vegetarian meals for added flavor. The next time you feel your meal planning is stuck in a rut, make sure to change things up with these recipes. You'll love having an assortment of meals right at your fingertips that are anything but dull and tasteless. 
Vegetarian Recipes for Side Dishes
Sometimes it's the side dish that makes the meal. Each of these vegetarian side dishes goes perfectly with any dinner. Non-vegetarians will love them too, so they're perfect to bring along to a potluck or dinner party! Some of these side dishes are so hearty, they could just about be served as the main dish at a potluck or for a busy weeknight dinner. You'll love the bold use of flavors in these tasty side dishes.
Tips for Adapting to a Vegetarian Diet
After taking a look at the recipes above, you're likely ready to get cooking. And who can blame you? Whether you want to slowly add vegetarian options to your weekly meal planning or plan to dive in and make only meat-free meals going forward, there are a few things to keep in mind. 

* There is more than one type of vegetarian diet: What is a vegetarian diet, anyway? According to the Mayo Clinic, there are several ways that people identify as vegetarians. From pescatarians (those who eat fish, but not meat) to vegans (those who do not eat animal products) and everything in between, the vegetarian diet is fluid and allows for some flexibility. 

* Talk to a medical professional: It's one thing to prepare the occasional vegetarian meal, but if you're planning to stick to a vegetarian diet, then National Institutes of Health advises talking to a medical professional. They can help you navigate ways to eat healthy and to make sure you're getting protein and vitamins.

* Try different types of cuisine: If your entire household is adapting to a vegetarian diet, then consider easing into it. Allow and encourage the members of your household to provide input regarding meal ideas, too. 
If you're also looking for some vegan recipe ideas, then we can help you out! This collection of vegan recipes includes ideas for appetizers, breakfast, lunch, dinner, and even dessert. Yep, you read that right! Find your next favorite vegan meal when you take a look at these 
What is your favorite vegetarian meal to share with friends?
YOUR RECENTLY VIEWED RECIPES
Free recipes, giveaways, exclusive partner offers, and more straight to your inbox!